'I always had the patience and temperament to play a long innings'

'I enjoy batting against fast bowlers'

'The confidence from the previous two seasons has done me a lot of good'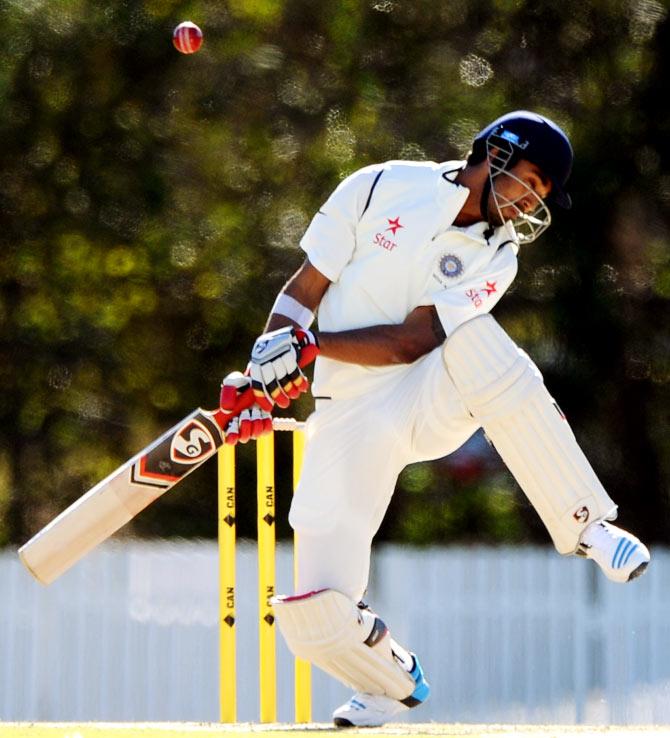 KL Rahul in action for India 'A' during the Quadrangular Series match against Australia 'A' in Brisbane in July 2014. Photograph: Matt Roberts/Getty Images
Karnataka youngster KL Rahul does not only boast of a first name similar to that of India batting great Rahul Dravid, but he also matches his temperament and insatiable appetite for runs.

The 22-year-old literally barged his way into India's Test squad by scoring a mountain of runs in domestic cricket. The failure of senior pros Virender Sehwag and Gautam Gambhir at the domestic level left him as the only option for the reserve opener's slot in the gruelling four-Test series in Australia, starting next month.

The right-hander, who hails from Mangalore, amassed 1035 runs, including a century in the final, for Karnataka in the Ranji Trophy last season, and recently scored a century in each innings for South Zone in the Duleep Trophy final against Central Zone.

Rahul spoke to Harish Kotian before his departure for Australia on his elation at being selected for the upcoming Test series against Australia and how he worked on his technique to improve his batting skills.

It is never easy to make it to the Indian Test squad. What does this selection mean for you, personally?
It is very big for me; I just can't believe it still. I am very, very happy that all my efforts and all the hard work that I, my family and coaches have put in together has paid off. It is a big thing for someone coming from a very small town like Mangalore, with not a lot of cricketing background. I am very excited about getting into the team and doing better than what I have been doing for the past so many months.

This year you scored more than 1000 runs in domestic cricket, including a century for Karnataka in the Ranji Trophy final. Then you hit a century in each innings for South Zone in the Duleep Trophy final. Was there a conscious effort to build on starts, especially taking into account last season when you failed to continue after getting off to good starts?
As I have been playing, with a little bit of experience I have learnt the value of making it big and converting the starts into bigger scores. Everyone gets 20s and 30s, but to get to the next level you have to make it big. When you read the newspapers, you find that the guy who has scored a hundred or a double hundred, people see only his name; so I have realised it. I have worked on my game and fitness and I am happy that in the Duleep Trophy final I could do well. I hope to continue in the same form.

To score big hundreds you need immense powers of concentration. How do you work on building up your levels of focus?
Personally, I felt that I always had the patience and temperament to play a long innings, but only after the last season I felt that I was lacking in the fitness department. If you are feeling light, and you are not feeling tired in your body, you can obviously concentrate more. In the off-season I worked a lot on my fitness; that is the one of the main reasons for me being able to get those big scores.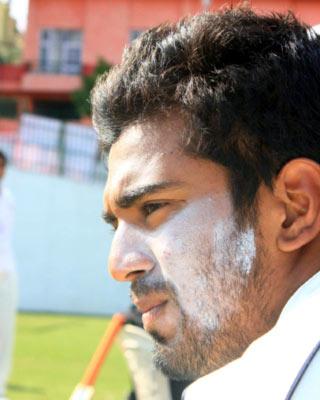 Another part of your batting that has changed recently is your positive intent and scoring runs at every opportunity. You seem to have realised that getting runs is more important than staying at the wicket. When did that change happen?
True. As I said, it comes with experience and with a little bit of confidence. I have always liked to attack the bowlers and batting is all about getting runs. I have worked on my game and the confidence from the previous two seasons has done me a lot of good. That is the only change and it is not a conscious effort to become positive. I have always felt like I am a positive player. That is my game and I wish to continue in the same way.

In the middle of the last domestic season you were promoted to open the innings for Karnataka. Did it help you become more focussed?
I have always enjoyed batting; even now I enjoy batting at any position. Last year also, in the four-day games I opened the batting for my state, Karnataka, and in the One-Day and T20s I played all over, from No. 3 to No. 5. I just enjoy batting, scoring runs and contributing for my team.
In junior cricket I have always batted at No. 3, so it was not a big change for me to open the batting. I enjoy batting against fast bowlers. As you said, it requires a lot of concentration; it is a very challenging job and I love the challenge.

You toured Australia earlier in the year with the India 'A' team and played a couple of four-day unofficial Test matches. What lessons have you learned from that experience?
I did learn a little bit on the Australian tour, though the wickets were not the usual Australian wickets where there's a lot of pace and bounce. It was slightly on the slower side. But I learned a lot from that tour where I got starts in both the matches but could not convert. Since I have come back from the Australian tour I worked a lot on my batting and became mentally strong and physically more aware of my strengths and weaknesses; it helped me a lot.

You must have spoken to your coaches, team mates and former players who have played in Australia. What changes do you think you must make in your batting Down Under?
We all know that the Australian bowlers are going to be quicker and the wickets will be bouncy and fast. So it is going to be a different challenge. We will have time to prepare for the tour. We will do our best and not leave any stone unturned in our preparation so that we can go there and perform well.
We are going early, a couple of weeks before the Test series starts, and we have a couple of practice games as well. That will help us to get used to the pace and bounce of the Australian wickets.

A batsman needs a good back-foot game to do well on Australian wickets. You also worked on your back-foot game in the last year. Can you give more details on that?
To be successful in any country you need to be a good player both off the front-foot and the back-foot. But playing in Australia is going to be different from playing in India. It will be a different challenge for us and we will all be tested. I am sure we are all very keen and eager for this challenge.

Rahul Dravid is someone who has followed your career for the last few years and is confident of you doing well. Did you have a word with 'The Wall' after you were selected?
I definitely plan to speak with both Rahul Dravid and VVS Laxman. I am sure they will have some great advice, which I will use in my batting.