'Anyone who watched me batting in Tests would know that I was up for it. I was ready to fight it out.'
Hrishikesh Kanitkar discusses his chequered career in this lively conversation with Haresh Pandya for Rediff.com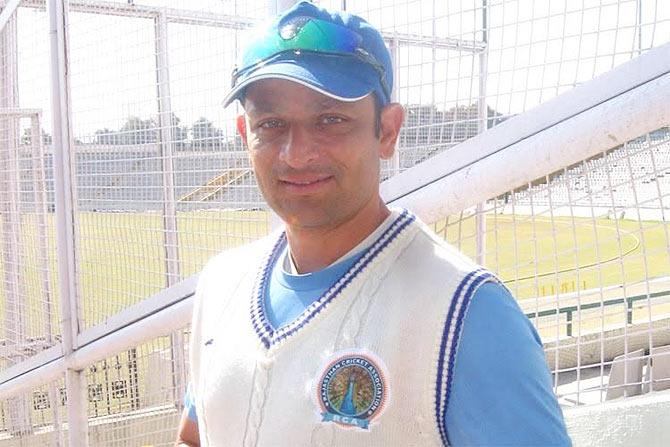 Former India all-rounder Hrishikesh Kanitkar. Photograph courtesy: Hrishikesh Kanitkar
It was as an attractive, promising, left-hand batsman that Hrishikesh Kanitkar made his India debut in ODIs in December 1997. Two years later, he made his Test debut on India's disastrous tour of Australia in 1999-2000. He carried the weight of high expectations on his shoulders. After all, he was immensely talented and former India player Hemant Kanitkar's son.
The Indian batting line-up in those years was studded with gems like Sachin Tendulkar, Sourav Ganguly, Rahul Dravid and Venkatsai Laxman. It was not easy for another batsman, howsoever talented, to find a place in the Indian team.
Hrishikesh Kanitkar was reasonably successful in the limited opportunities he got in ODIs and Tests. Not being a regular member of the side meant he was never certain of his place for the next game nor was he sure of his batting position, if selected. He was always on trial.
A batsman of his class deserved more opportunities -- not just 34 ODIs and two Tests -- and better results -- not just 339 runs in ODIs and 74 runs in Tests -- in terms of performance.
That he was unlucky in both formats wasn't for want of effort on his part, but because of a variety of other factors.
After recently announcing his retirement from the game, the 40 year old looked back on his playing days with Haresh Pandya.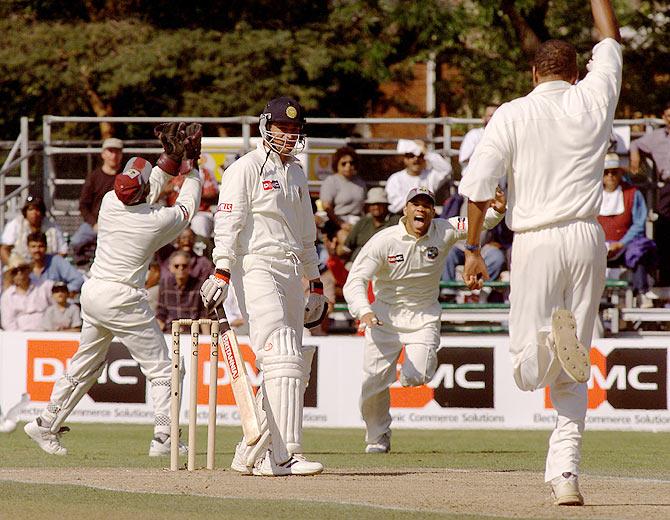 Hrishikesh Kanitkar stands dejected after he is caught behind by West Indies wicket-keeper Ridley Jacobs off the bowling of Corey Collymore in a One-Day International, September 12, 1999. Photograph: Reuters
You announced your retirement from first-class cricket less than a month after your father passed away. What made you take the decision?
The decision was purely a cricketing one. The motivation for long hours of nets, fielding and catching practice wasn't there anymore.
You had a pretty long and fairly impressive first-class career. With what kind of feeling do you look back at your career?
I look back at my career with a feeling of total satisfaction and thankfulness in my heart. I've thoroughly enjoyed every moment of my career.
Any regrets at not having got to play in the Indian Premier League and earn a few bucks in the bargain?
No regrets at all. When you've played Test cricket for your country everything fades in comparison. Of course, I would have loved to play in the IPL, naturally, but it wasn't to be.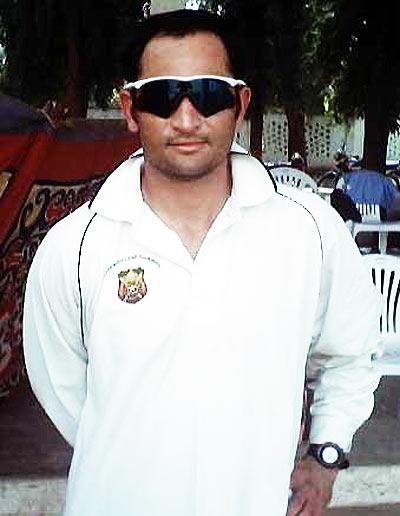 Did you ever figure out why you had such a short Test career? Was it because of better talent available or was it a clear case of fierce competition for every place in the Indian team?
At that level, unless you are someone like Sachin Tendulkar or Brian Lara, basically someone very special, you do need some time to get comfortable. I scored 45 in the second innings on my Test debut, against Australia in Melbourne. It was the second highest score (after Tendulkar's 52) of the Indian innings (195) and I was starting to get to know Test cricket better.
Another couple of good innings could have made a difference. It's a massive step up from first-class cricket and one needs some time to adjust.
There was a feeling in many quarters that you deserved more opportunities, at least in One-Day International cricket. Why do you think you were denied these opportunities?
The ODI team was packed with stalwarts when I made it to the international level and so I didn't get to bat higher up. It's tough to score big batting at No 7 or No 8 because of the limited number of balls.
You never had a fixed position in the batting order. Nor did you have a regular place in the Indian team. Do you think this was one of the reasons why you did not often justify your true genius?
I invariably batted lower down and, yes, not at a certain place in the order. So getting big scores was very tough.
In ODIs, one needs to bat higher up to really make a mark as a batsman. See all those who do well; they bat higher up.
It was said you were lacking in what they call solid mental toughness required at the highest international level. Was there any truth in such talk?
Mental toughness has been one of my strengths. Anyone who watched me batting in Tests would know that I was up for it. I was ready to fight it out. The difference is getting a decent run as a batsman.
Did the pressure of performing and securing your place in the Indian team, whenever you got the opportunity, affect your batting sometimes?
Like any other international batsman, I, too, had to face the pressure. That's normal. Sometimes it can affect a player, but I never got out because of the pressure to perform. It didn't affect my batting.
You did not get to play for India in the Sourav Ganguly era. Was it a case of being unwanted or was it because of the presence of too many left-hand batsmen in the team?
I didn't play in that era. I don't know the reason.
Your name is forever associated with that historic Independence Cup final in Dhaka in January 1998, which you helped India win by batting intelligently and spectacularly in fading light. What are your particular memories of that match?
I remember the pressure leaving my body as I stepped on to the field on the way to bat. I remember the calm focus I had while batting. I kept telling myself to watch the ball closely and trust my instincts. I was totally living in the moment.
It was unbelievably dark out there in the middle. And, finally, I remember the proud feeling on winning the game for India.
Did your winning knock in that final put some pressure on you, because people started to believe that you could finish off tight matches in style?
No, that's something I was proud of doing. There was no additional pressure.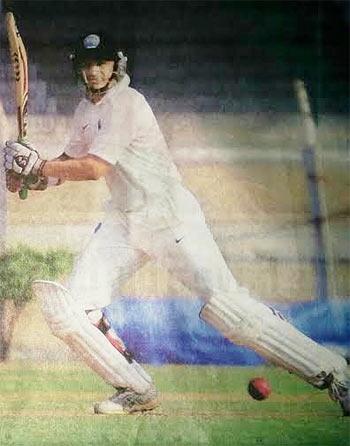 Was your bowling talent seldom or never properly utilised by your India captains?
I think I did okay as a bowler in the limited-overs format. My job was to try to keep it tight and get a few overs in.
Did being Hemant Kanitkar's son always put some pressure on you as a cricketer? What influence did he have on your cricket and subsequent career?
No. No pressure. He was very cool with my successes and failures. He treated them the same. I was fortunate to have a father like him.
He told me earlier on that there is no shortcut to success and that once set I shouldn't throw away my wicket.
My first-class batting stats reflect that -- 33 hundreds, 46 fifties. Not a bad conversion rate. That's how much of a positive influence he had on me.
Did you become a cricketer because your father was also one?
The atmosphere at home helped. His Test cap helped. I revered that cap. He said to wear it on my head I would have to earn it. He never allowed me to wear his Test cap.
Why did you, or rather what made you, leave Maharashtra and play for Rajasthan?
I knew I had a lot of cricket left in me. I knew I could contribute to younger players' development in the role of mentor. I loved cricket too much to leave so soon.
What's your most unfulfilled ambition as a cricketer?
Test and ODI hundreds. Contributing more to my beloved Team India in any way possible.
In what capacity would you like to serve Indian cricket now that you have called it a day?
Definitely, as a coach. I love to work with players and help them realise their true potential; also in any capacity the BCCI wants me to work. I am very interested in commentary too. So that's an avenue I've open to me.