'We are No 1 in the world, we played like the No 1 team in the world.'
'It is not just about being No 1 for the season. Whatever matches we play in the future we want to maintain that.'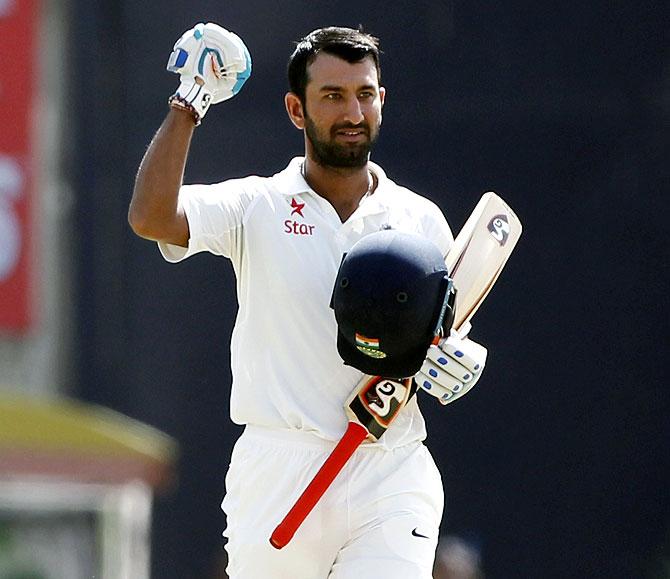 IMAGE: Cheteshwar Pujara celebrates scoring a century. Photographs: BCCI
There was no stopping Cheteshwar Pujara this season.
Pujara scored 1,316 runs in 13 Tests with four hundreds and eight fifties to register the most Test runs by an Indian batsman in a season and the second most worldwide behind Ricky Ponting's 1,483 made in 2005-2006.
Reminiscent of the legendary Rahul Dravid, whose position in the Indian batting order he has taken at No 3, the 29-year-old Saurashtra star showed immense concentration to hit a double century against Australia in Ranchi, when he stayed at a wicket for more than 12 hours during his 525 ball knock.
His 92 against Australia in the second Test in Bengaluru -- which he rates as his best knock of the season -- paved the way for India's comeback in the series after they had been beaten in the series opener in Pune.
'Chintu' Pujara then kept his form going with another fifty in the final Test in Dharamsala.
While he was sadly not picked up for this year's IPL, Pujara may utilise the off time to hone his skills in English county cricket, preparing himself for the season ahead which will see India play a lot more away from home including a series in South Africa.
In a freewheeling interview with Rediff.com's Harish Kotian, India's run machine dwells on his magical run and reveals why he sledged the Aussies.
How satisfying was the series win against Australia?
It was a very important series for the entire team.
In the way we fought throughout the series, it wasn't easy because of the way they started off in the first Test.
To come back in the series after losing the first game was a remarkable achievement.
All the players felt close to each other, because everyone contributed at some point or the other.
We believed in ourselves, we were very confident.
Even after losing the first Test we had a chat that we are going to win the series 3-1. In fact, we were very close to winning the series 3-1.
In Ranchi, we were in a dominating position, but they managed to draw the match.
All in all, a very good series. Everyone enjoyed good cricket.
This will rank as one of the most memorable Test series ever.
Where did the motivation and belief come from to bounce back so strongly?
We always believed that we can do well in any conditions and the way we played throughout the season.
We won against New Zealand, England and Bangladesh, so whatever matches we played we knew we could win because we were playing as a team and everyone was contributing.
After the first Test, Anil bhai and Virat (coach Anil Kumble and captain Virat Kohli) had a chat that we will bounce back strongly.
It was ultimately the team which believed in themselves.
All the players knew that we didn't perform to our potential in the first Test and we wanted to bounce back.
Whoever got the opportunity wanted to perform and do well for the team.
It was a real challenge for the batsmen as coach Anil Kumble said the team played at 13 new venues all of which had different conditions.
As a batsman how do you prepare for varying conditions?
As we saw in the Australia series you went from a dustbowl like Pune to a good wicket like Ranchi and then to a bouncy track like Dharamsala.
What is the key to adjusting on such different wickets?
I have played a lot of first class matches, so I had some experience of playing in each and every venue.
At some point I have played at Dharamsala, Bengaluru and Ranchi, so the domestic experience helped me a lot.
Apart from that, when you are in good form or batting well you just need to look at the ball rather than worrying about what kind of bounce is there on the wicket.
You just look at the ball and play to the merit of the ball.
My technique has always been good, which has always helped me play in the most difficult conditions.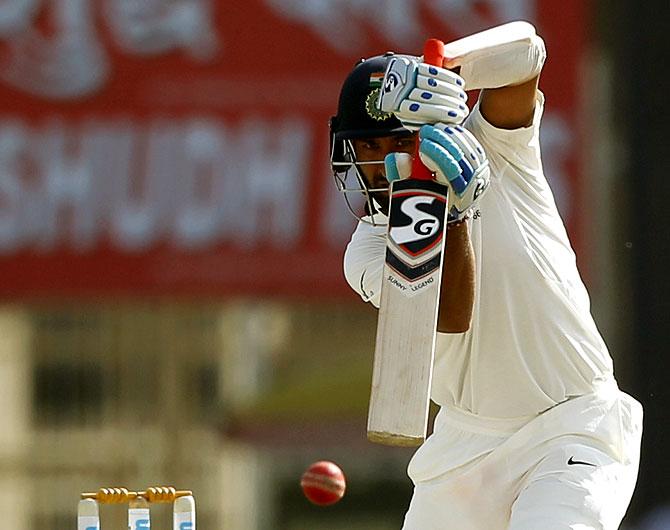 IMAGE: Chintu Pujara is a fine successor to the legendary Rahul Dravid at the No 3 position.
How high do you rate the double century in the third Test in Ranchi?
Is there any knock during the home season which you rate highly?
This was my best double century, the one I scored in Ranchi.
We were under a lot of pressure. At one point we were something like 340 for six.
When Wriddhiman Saha walked into bat, we had a chat and we decided that we would look to build a partnership.
I would like to thank Saha for the way he batted during that partnership.
If I got my double century in that match, it was only because of Wriddhiman Saha because he allowed me to play my game.
If there was no partnership, then I might have got around 130, 140 and we would have lost three more wickets.
This is one of my best double hundreds because the circumstances were such that we wanted to get close to their total.
We were 110 runs behind at that stage and once we had a partnership we felt we could push for even more.
Once we reached their total, then we thought if we have a decent lead we have a chance of winning this game.
So everything went smoothly.
Initially, it was difficult, but as the game progressed it became easier.
For me personally, the 92 I scored in Bengaluru was one of the best innings of this season. We had to win that Test to stay in the series.
We had to put up a decent total to win the Bengaluru Test and that is why I say 92 is the best innings of this season.
After the series win against Australia, Virat Kohli said this about you on Twitter: 'Delighted to see the grit and determination of this guy. What a champion. Least mentioned but most effective.'
Are you comfortable being someone who doesn't go out and hog the limelight?
I am okay as long as I keep contributing with the way I have been.
I am happy with the way things are progressing. I don't want to mention anything else because ultimately what matters is the contribution.
As long as I keep contributing to the team's success and as long as the Indian team keeps winning I am okay with whatever happens.
It was very kind of Virat to mention that because he has been watching me.
He has been one of the great players. If you look at this home season he has been superb.
Apart from the injury, throughout the season he has scored so many runs.
If you look at his work ethic it is remarkable and it was good to hear that from someone like him.
What makes you so calm and composed in the face of such extreme pressure?
During the Australia series, you had to face so much sledging when you batted, yet you went about your job quietly and efficiently.
I think it is the preparation and the practice which I started learning at the age of eight.
I started this game at the age of eight, I played my first state level game at the age of 12.
After that I have been playing this game vigorously, I have been preparing for whatever challenges comes up.
I would like to thank my father (Arvind Pujara) who started training me at an age where I should have started because of which I had enough experience of playing in different conditions, playing against different teams.
In domestic cricket, someone would have done some sledging at some point of time so I knew how to tackle sledging.
Ultimately, you have to be confident of what you do when it comes to focusing hard.
And when it comes to concentration, I think it is the practice which I have done day-in and day-out for so many hours from a young age which has helped me focus when I should and not to get disturbed by any sledging and still bat the way I have been batting.
This time we saw you give it back to the Australians. You were sledging them when you were fielding close to the batsmen.
What made you do that? Was this the first time you resorted to sledging?
Not really. In 2014, when we went to Australia I did a little bit of sledging, but this time we didn't want them to get away with the sledging.
If they say something, they have to be prepared to hear it back.
And my sledging was simple.
I was just trying to remind them of their weak points. They were also aware that they had some weakness and I was only trying to pinpoint it.
There were many controversial incidents during the Australia series, both on and off the field.
Did that helped bind the Indian team together?
We were always together. If something happened off the field we didn't play too much attention to it.
We were always focussed on what we had to do.
Whether they were sledging or not, we knew what we had to do and we were very focussed on our cricket.
When it came to sledging I can say it motivated all our players to perform even better and it got the best out of all our players.
Have you seen a better Indian bowling performance than in the second innings of the Dharamsala Test?
Everyone bowled unbelievable spells, which was very crucial in the victory.
When it comes to this season and this series, it was one of the best bowling performances.
It was a decent wicket. If any team batted well on that wicket, they could easily go past 200 or 250 or even reach 300.
Our bowlers showed a lot of discipline and we took some good catches, so all in all it was a very good team effort in Dharamsala.
In the coming season, India won't have so many home Tests. You could spend a lot of time away from home.
So how are you looking to prepare for the coming season?
Are you looking to play on the English county circuit?
I am talking to a few counties. I am very much looking forward to playing a few county games this season.
We will have to wait and see how things progress.
I haven't made any decision. The Test series just got over and I got to spend some time with my family.
I will take a call on that in the near future.
You have played county cricket before, having turned up for Derbyshire and Yorkshire in the past. How much did it help improve your game?
I enjoyed playing there, I enjoyed being part of the culture.
Playing in those conditions does help because you can't compare Indian pitches to what we get in English conditions.
It is a different experience altogether and when you play there, obviously you learn a lot.
You play on different pitches, you gain a lot of experience out of it.
I enjoyed being a part of Yorkshire and Derbyshire. It was a very good experience being part of county cricket.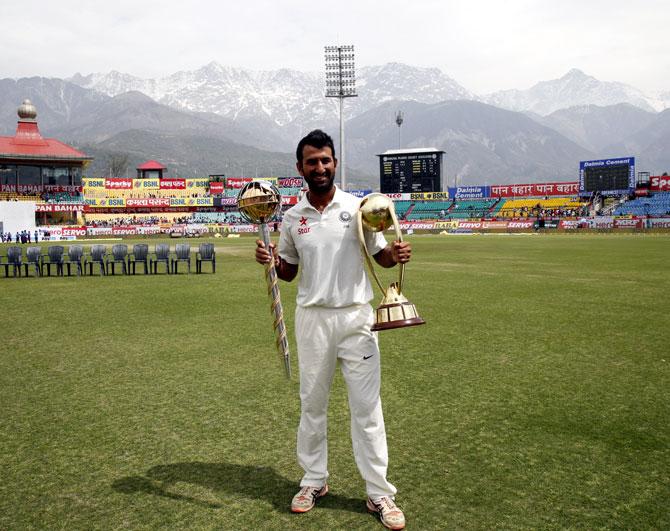 IMAGE: Cheteshwar Pujara with the ICC Test Championship mace and the Border-Gavaskar trophy after the fourth Test in Dharamsala.
Was it disappointing to miss out on the IPL again? Is it something you have taken in your stride?
That is something I don't even want to comment much on because whatever has happened has happened and I can't do much about it.
My priority is always to play for the Indian team and the way things went this season I am happy with the way the Indian team performed.
We are No 1 in the world, we played like the No 1 team in the world and we will have to maintain this.
It is not just about being No 1 for the season. Whatever matches we play in the future we want to maintain that.
One point I would like to mention is that whoever got a chance, someone like Jayant Yadav, who played a few games, but whenever he got an opportunity he scored a hundred or he took a few wickets in the series against England.
And then someone like Kuldeep Yadav, who played his first game in Dharamsala, he picked up four wickets.
Even Karun Nair, when he played against England, he scored a triple hundred.
So the young players, whoever got the opportunity to play this season, they succeeded because they were well prepared.
Do you regularly visit your academy in Rajkot where you train youngsters free of cost?
We have around 25, 30 players in the academy. I haven't visited the academy this home season because I was busy playing.
Usually during the domestic season whenever I play in Rajkot, I visit the academy.
We want all the young cricketers to progress in their career and whatever facilities are provided we want them to make good use of it and learn good cricket.
It was my father's dream. He always felt that all the cricketers whoever wants to take up this game they don't get the best of facilities if they belong to a small town like Rajkot.
When I started playing cricket, I was practicing on concrete pitches, so he wanted to build an infrastructure which can help budding cricketers, who are talented but can't afford to play the game.
We have some players who can't even afford to buy bats.
Was your father satisfied with your showing in the home season?
He was really happy with how things went about in the home season.
If I perform well he will say 'Well done.'
He want me to do well all the time, which is a good thing.
He knows I am capable of contributing in each every game because I have the talent and I have the temperament.
So he expects me to contribute each and every time and contribute in a winning cause.
He is not an expressive person, he will say well done.
If I am making any mistakes he will always pinpoint them and tell me I could have done better.