From winning the Under-19 World Cup to becoming Test captain, Virat Kohli has made rapid strides in international cricket. Pradeep Sangwan, his team mate from junior cricket, writes about the man they fondly call 'Cheeku'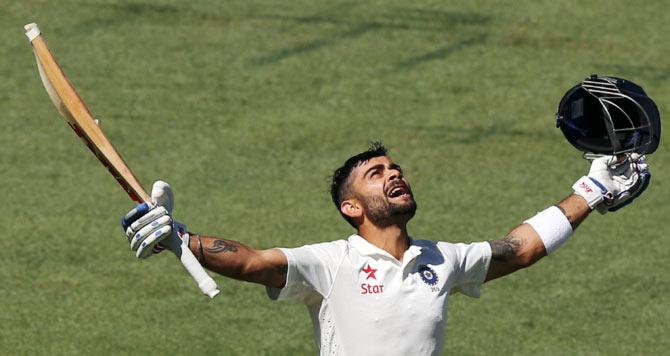 Virat Kohli celebrates his century during the first Test in Adelaide. Photograph: Michael Dodge/Getty Images
My first memories of Virat Kohli are hazy. It was the middle of 2005 and I was barely 15 at the time, still finding my feet in junior cricket. I was being coached by AN Sharma and Kohli was training under Rajkumar Sharma at the West Delhi Cricket Academy. In fact, Kohli was one of the early enrollers at the academy when it opened in 1998, and had been playing there for the better part of seven years.
- India eye fresh start as new skipper Kohli takes charge
At a camp for the Delhi under-17 team was when I encountered Kohli. Shy and a tad soft-spoken, he epitomised the typical teenage cricket prodigy. I used to open the bowling for the team and Kohli was an attacking top-order batsman - much like today, but a lot less refined. His raw talent was there for all to see.
At that age, every batsman wanted to play shots and leave an impression on the coaches. Possessing a robust technique and blocking deliveries would not get you anywhere, hitting massive sixes would. Kohli was no different. It's just that he was extraordinarily special. He was a brilliant player of spin and liked to dominate fast bowlers - a trait he probably picked up from his idol, Sachin Tendulkar.

In the Delhi under-17 team, Kohli was the mainstay of the team. Once he used to get his eye in, it was almost impossible to get him out - a quality that has made him the great batsman he is today. And the best part about his batting was the blistering pace at which he scored, no matter how long he batted. He was clearly the most talented batsman in the team, but he often took it upon himself to score all the runs.
Young, precocious men single-handedly ready to take on the world are a rarity in Indian sport. But Kohli was an exception. He wanted to do everything, and all on his own. Our coach, Ajit Chaudhary, would often tell him to go easy on himself and stop taking over the responsibility of others in the team. In fact, it was Chaudhary who gave him his nickname, 'Cheeku'.

We were in Mumbai for a four-day game and Kohli came to the morning practice fresh from a visit to the barber. He had cut his hair short and they stood up - like 'Cheeku', the rabbit, in Champak [comic books]. Chaudhary gave him that name and it has been with him ever since.
Virat Kohli sets his field as David Warner (left) looks on. Photograph: Scott Barbour/Getty Images
Aggression is a word that is synonymous with Kohli today. But seeds of this aggression were sown at a very young age. When I used to bowl, he used to always give me attacking fields, even if I was being hit around by the batsmen. And that is something that a bowler loves - your captain's unwavering faith in you. This aggression came to the fore during the 2008 under-19 World Cup in Malaysia. The tournament proved to be a major turning point in most of your lives.

With a tenacious captain like Kohli, we always had the chance of going all the way. There was a sense of arrogance with which he went about his business. But the smugness was never repellent, it was almost pleasant. I vividly remember the night before our third group match against the West Indies. Tanmay Srivastava had been in scintillating form in the first two matches, while Kohli had got out playing loose shots in those two games. Infuriated with himself, he told me in our hotel room that he would go and get a hundred the next day.
The self-belief in his voice was unmistakable. The following day, he kept his word. He blazed to a 74-ball 100, leading us to a comfortable win. We all knew that he was going to be a great batsman, but the World Cup in Malaysia also saw the birth of a formidable leader. It was due to Kohli's charismatic leadership that we beat South Africa in the final and lifted the trophy.

When he was still a teenager and did not care much about what he was eating, Kohli was at heart a foodie who loved to gorge on chicken tikka and tandoori chicken. He loved anything that had chicken in it. Now, of course, keeping in mind the strict diet that international players have to follow, these dishes have been replaced by salmon, salad, and lamb chops. Also a lover of music, Kohli's playlist was full of the latest Punjabi songs that he listened to during the endless hours we spent travelling in the team bus.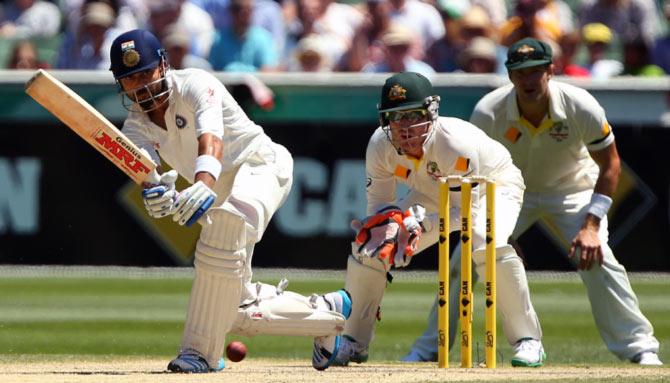 Virat Kohli bats during the third Test in Melbourne. Photograph: Chris Hyde/Getty Images
Kohli, the man as well as the cricketer, has evolved considerably in the last few years. He is no longer just a talented cricketer, he is a global superstar. When I look at his batting now, there is no noticeable weakness. During his under-19 days, he struggled particularly against the incoming ball. Now, he has made that his strength by developing a flick that he plays through midwicket. In the ongoing tour of Australia, he has also shown the mastery he has over reverse swing, playing the likes of Mitchell Johnson and Ryan Harris with effortless ease.

Some say that he is unduly aggressive at times, but that is what makes him different. His ability to infuse belief into his team mates has remained intact over the years. An impetuous, outspoken 26-year-old may not seem the ideal candidate for leading India, but Kohli will take Indian cricket places, and in the process, cement his place as of one of the greats of the modern game.