'No, you don't require tantrums, or beating a tattoo on the helmet or rude and hostile gestures to make a point.'
'A true fast bowler lets the ball do the talking as it crashes into the stumps,' says veteran sports commentator Kishore Bhimani.
IMAGE: Ishant Sharma asks Dhammika Prasad to try and hit him on the head during Day 4 in the third Test. Photograph: Dinuka Liyanawatte/Reuters
Skipper Virat Kohli couldn't hold back his exuberance. 'An angry fast bowler is a captain's delight.' he gloated in Colombo even as the groundsman was commencing the tedious job wrapping up the day's proceedings. This is just ahead of the rangy and hirsute Ishant Sharma being stood down for a Test match for his hat-trick of offences against the agreed and well-known code of behaviour in Test cricket.

The question an aficionado might well ask is "Really?" Was Kapil Dev ever an angry fast bowler? Or for that matter Imran Khan or the vastly dignified Sir Richard Hadlee? Or even Wasim Akram? Of the Caribbeans I have had the privilege of watching in their vintage years neither the deadly Andy Robert nor 'Whispering Death' Michael Holding were ever either raucous or temperamental. Joel Garner spoke in a whisper and Srinath was a gentle soul. But more about them later.

Are we going to judge bowling acumen and classic demeanour by standards of Jimmy Anderson? Even by today's highly exacting standards, just look at Dale Steyn -- all aggression and destructive intent, but seldom a word of abuse or a gesture of indecency.

No, you don't require tantrums, or beating a tattoo on the helmet or rude and hostile gestures to make a point.
A true fast bowler lets the ball do the talking as it crashes into the stumps or traps the helpless batsman leg before, or catches the edge to end the innings. Yes, bowling bouncers, even occasionally in excess, is an acceptable weapon of constructive aggression.
Even the 'stare' -- that famous dismissive and challenging look deep into the eyes of the batsman -- is an acceptable part of the traditions of cricket.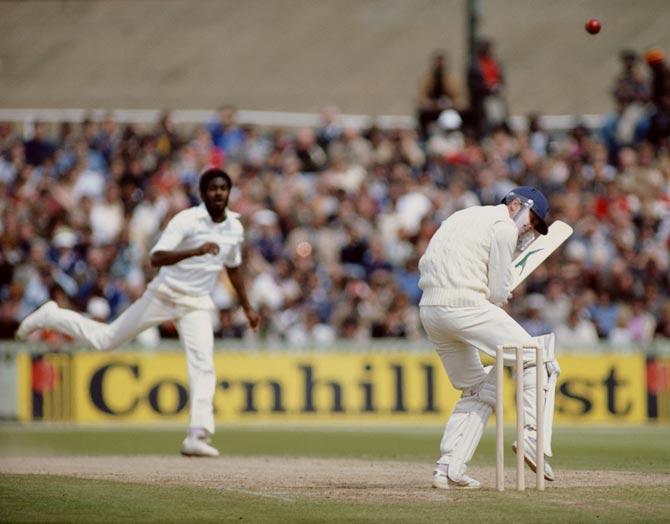 MAKING THE BALL TALK! IMAGE: Michael Holding, the fast bowler they dubbed Whispering Death' bowls a bouncer to Geoff Boycott during the third Test at Old Trafford in Manchester, July 10, 1980. Photograph: Adrian Murrell/Getty Images
Who will, for instance, forget the awesome wide-eyed, piercing look that was part of the armoury of Mutthiah Murlitharan? Wesley Hall could work up quite a demonic 'angry eyes'. Of course, if you objected or looked at the umpire, you were nothing less than a cry baby. Kapil Dev always had a smile and Imran sported a patrician aloofness.

Yes, Jeff Thomson was perhaps a bit different. He had the killer instinct as the story below illustrates. The late Peter Mcfarline, the distinguished cricket writer of the Melbourne Age told me the story of Thommo knocking out the hapless Tony Opatha with a bouncer in the 1975 World Cup. The poor Sri Lankan bowler got up wobbly, steadied himself and looked at the Queensland bowler drawing a cross on his own forehead menacingly and following up with another deadly bouncer. Exit Opatha!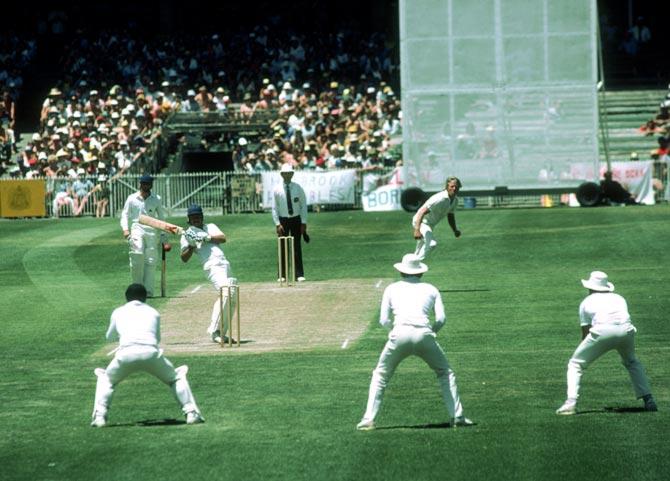 IMAGE: Jeff Thomson bowls a bouncer to Allan Lamb during the fourth Test in Melbourne in 1983. Photograph: Adrian Murrell/Getty Images
Thommo's partner Denis Lillee could be fiery and volatile -- ask Javed Miandad or Sunil Gavaskar or a host of lesser batsmen who have been at the receiving end of his uncontrollable temper. What a quartet they were -- Thommo, Lillee, Rodney Marsh and Ian Chappell. But there is a lesson of sorts here. Thommo and Lillee played under Ian Chappell, who was no slouch himself when it came to sledging or getting under the skin of the opposition at any cost.
Yes, as John McEnroe will tell you this exerts pressure on the opposition and not any the less on those supervising the game.

The point is it is somehow not the Indian tradition -- never has been and hopefully, never will be. Yes, there will be the occasional naked torso following an aggressive removal of the shirt or the walkout ala Melbourne (but then it might be claimed by apologists that it was in the presence of the great Lillee, Greg Chappell and two vastly controversial umpires!)

And let us not dwell to much on the slapping of Shantakumaran Sreesanth by Harbhajan Singh or one or two other contraventions nearer home because they are more in the way of comic relief as in a circus (which is much closer to the IPL than serious cricket!)

The role of the captain is vital. It bears repetition that the leadership determines the nature of aggressive cricket. Tony Greig encouraged some aspects of cricket that might be described as across the limits. So did Ian Chappell. Thus it was that these two, often arraigned against each other made for fascinating if beyond the red line, contests!

It might be said that Clive Lloyd presided over such an armageddon that he did not need any violent recriminations on the field. Viv Richards, Gordon Greenidge and himself with the bat and a battery comprising Malcolm Marshall, Michael Holding, Andy Roberts, and Joel Garner, any other variety of pyrotechnics became quite redundant. And they seldom happened.

Now coming back to Kohli, his 'captain's delight' appears flawed. Sri Lanka are surely fielding the weakest side I have seen in four decades.
The Indian side, even in restructuring appears superior on paper. I really feel that Indian players should behave, surely, with some generosity as say Rahul Dravid, Sachin Tendulkar or V V S Laxman might have done.
If this kind of an incident were to take place against the Aussies, God forbid, we might just think it is tit for tat as in the Harbhajan-Symonds clash or one two issues in England.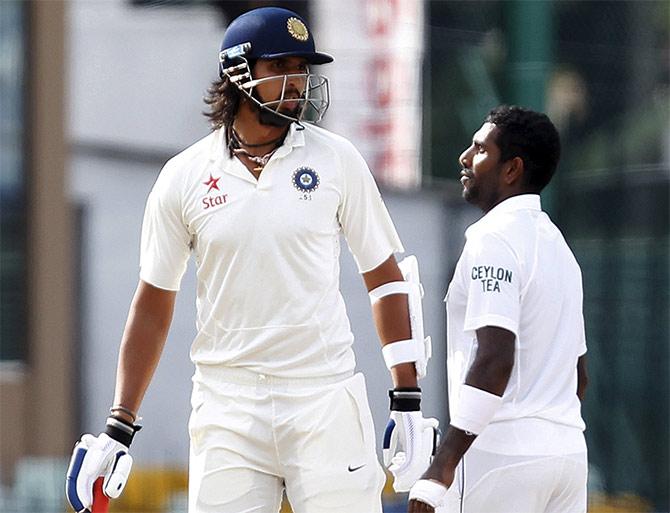 IMAGE: Ishant Sharma, left, argues with Dhammika Prasad on the fourth day of the third Test in Colombo. Photograph: Dinuka Liyanawatte/Reuters
Also, issues featuring Darrell Hair or Mike Denness required closer scrutiny and were duly dealt with by a powerful Indian Cricket Board, the BCCI. The media stood by the team in the era of Tony Greig and even one or two Pakistani issues but I do feel that Sri Lankans have always been on the same page as us.

No, I for one would have been happy if Kohli would have acted as the mediator, or even better, moderator. The spectre of Indian missing a Test match on disciplinary grounds is sad.

How would other recent Indian captains have reacted to the unfortunate incident? Well, Mahendra Singh Dhoni would just keep quiet and sort it all out in the dressing room with his arm round one of the Sri Lankan's shoulders.
Sachin and Dravid might have sorted it out diplomatically on and off the field. Mohammad Azharuddin would have just mysteriously shaken his head and certainly not spoken to the media!
If Kapil Dev was the skipper with the issue, it might never have come to this stage.