On the eve of the Bengaluru Test match, a diehard cricket fan pens a heartfelt note to the Indian captain.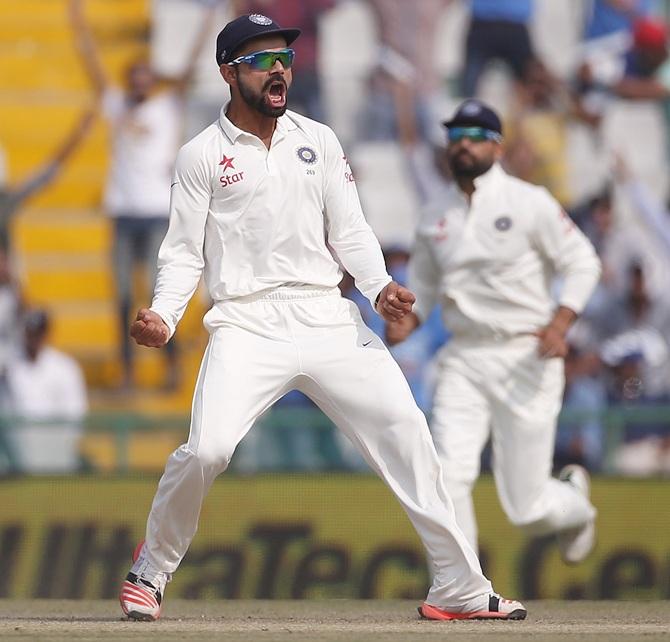 Image: Virat Kohli on the field. Photograph: Adnan Abidi/Reuters.
Dear Virat
First of all, sorry to disturb you at a time when you must be busy preparing for the second Test against Australia. But do spare some time to read this note from a die-hard cricket fan.
As a fan, I am very disappointed at our defeat in Pune. It's not the loss which hurt me, but the way the world's No. 1 team capitulated was more disheartening.
Team India literally surrendered before the likes of Steve O'Koffee and Steven Smith. If you had lost the match after putting up a solid fight, it wouldn't have hurt so much. For, as your predecessor Captain Cool would have said, win and loss is all part and parcel of the game.
But the way our batters caved in, in both the innings, was more hurtful.
Moreover, the way the team moved on the field, especially in Australia's second innings, was very upsetting. Our fielders dropped as many as five catches, allowing the Aussie captain to score another ton against us. There was simply no energy in our players, they seemed so dispirited. You all looked tired, jaded and frustrated. As if you had already given up on the match and were preparing for the Bengaluru Test.
The team didn't show any fighting spirit in any department of the game, whether bowling (especially in the second innings), batting, fielding, or even the effective use of DRS.
In fact, our batsmen, including you, my skipper, allowed the opposition to use our own tactics against us, in our backyard, and against a bunch of the world's best players of spin.
Not a single batsman dropped anchor on the horrendous Pune pitch. All of them, one after and another, went back to the pavilion with paltry runs on the board, and we lost the match by a big margin. That too inside of two and a half days.
It's not that I don't understand that you must be tired after a long home season. You may be feeling bored. It happens to all of us. Doing the same thing over and over again can be mentally and physically exhausting. I am glad you took it on the chin and said, yes, we messed up, but it won't happen again.
Virat, we remember you as a fighter who simply will not give up. Your first assignment as captain against the same opponent, where you fought like a gladiator till the end, is still etched in our memories. Eventually India lost that match but you stole our hearts. You gave us hope that this captain, and this team under him, will not go down without a fight.
On the eve of the second Test, I hope you will rediscover that fighting spirit, get your team-mates to give their best, and go on to not only win the match but also the series against Australia.
All the best!