With part-timers like Suresh Raina and Rohit Sharma capable of bowling a few overs of spin, India might have ended up picking one spinner too many in their squad, says Harish Kotian.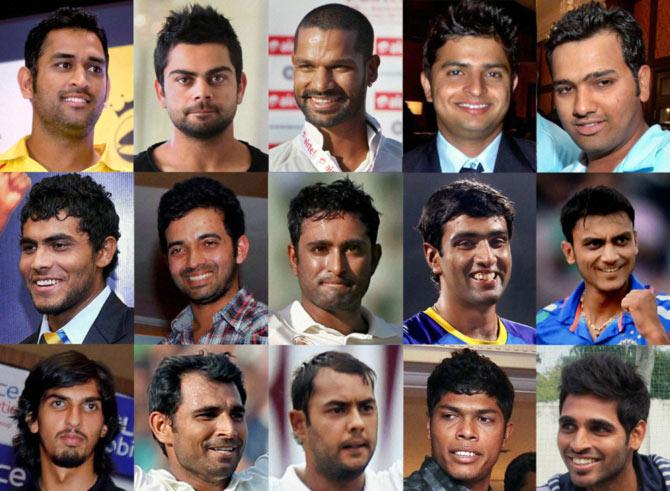 India's World Cup squad. Photograph: PTI
In the end it boiled down to logic than sentiment as far as the Indian selectors were concerned. Yuvraj Singh was the hero of India's World Cup triumph in 2011 but four years down the line there was no place for him.
- Meet India's 15-member World Cup squad

And not without reason! The left-hander did not figure in the Indian One-Day International team the whole of last year. Despite his superb run for Punjab in the Ranji Trophy which includes three centuries in a row it made little sense to draft the left-hander and disrupt the team combination a month away from the World Cup.

The selectors' task was made easy because nearly all of India's 15-member squad auto-picked themselves except for a slot or two.
- ICC World Cup schedule

Interestingly, given the choice between specialist bowlers and all-rounders, the selectors decided to opt for the latter.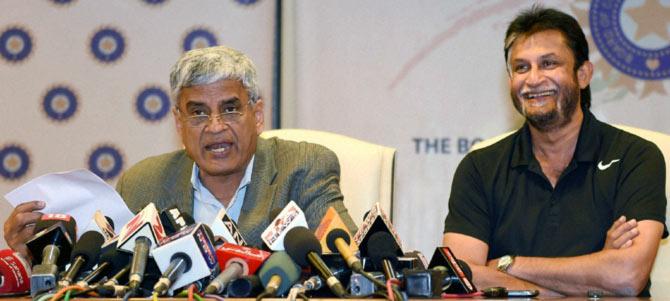 BCCI secretary Sanjay Patel (left) with chairman of selectors Sandeep Patil. Photograph: PTI
But given India's bowling woes in the ODIs in the last year, it would have made more sense to opt for an extra fast bowler for either Axar Patel or Stuart Binny, both of whom are regarded as bowling all-rounders.

With Ravindra Jadeja expected to be fit for the World Cup start, it remains difficult to see how Axar would make it to the playing eleven with off-spinner Ravichandran Ashwin a definite starter.

With part-timers like Suresh Raina and Rohit Sharma capable of bowling a few overs, India might have ended up picking one spinner too many in their squad.

It is criminal to waste a slot when you have only 15 and that too for a tournament as big as the World Cup.

Talking about medium pace all-rounder Binny, his bowling is a big question mark. The pitches, in big tournaments like the World Cup are generally hard and flat, and a bowler with limited ability like Binny would prove to be easy fodder for the batsmen.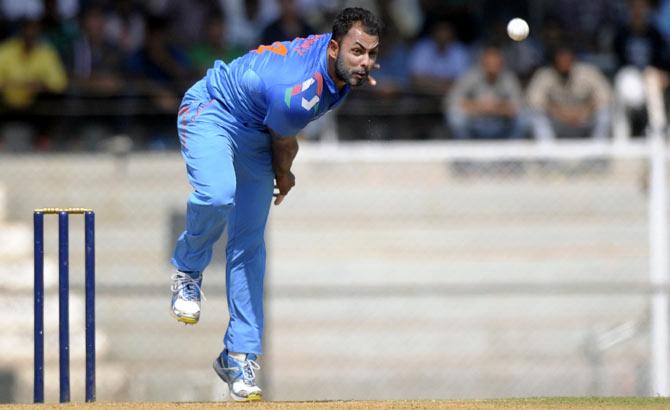 Stuart Binny. Photograph: BCCI
He will have to replicate the role Yuvraj so successfully played for India in the 2011 World Cup, making vital contributions with both bat and ball. Binny has successfully managed to make an impact as the all-rounder with good effect over the years for both his state team Karnataka and Indian Premier League's Rajasthan Royals.

Fast bowling will be India's big concern at the World Cup. Bhuvneshwar Kumar, Ishant Sharma, Umesh Yadav and Mohammed Shami are all part of the Test team in the ongoing series against Australia. They have gone for plenty of runs even in the Tests, including a lot of boundaries, and need to put in a lot of hard work in the nets to improve upon their showing for the limited overs format.

Hence, it would have made a lot of sense to include an extra pace bowler as a back up rather than an extra spinner since the four fast bowlers except for Bhuvneshwar, who is recovering from an injury, have bowled a lot of overs in the Test series.

But it is clear from India's selection of just four frontline bowlers that they are more dependent on the spining all-rounders and their batting more than their pacers.

There is no doubting India's batting prowess with the batsmen right from No. 1 to No. 6 all capable of winning matches on their own single-handedly.

But even for a batting line-up as good as India, chasing a target in excess of 300 in every match would prove too much. India's pacers have been found wanting in the death overs and it is a concern which captain
Mahendra Singh Dhoni has publicly admitted in the last couple of years, but has not been able to find a solution. It could be one area which would hurt India a lot in the World Cup.

Only the West Indies and Australia have successfully defended World Cup titles and it is not beyond India to replicate the feat if only their bowlers get their act right.
- Tell Us! Do you agree with India's 15 for the ICC World Cup