Enough with the cheeky question marks. Enough with the half-baked compliments and the cryptic monikers! Be true and call the man what he is - the greatest Indian batsman of all-time.
True, he's a gentleman, he's a wall, he's a quintessential team man, India's greatest No. 3 ... all that. But all that's still a blatant understatement of his true standing -- as India's greatest batsman.
Yes, the other guy from Mumbai notwithstanding!
- I leave with sadness, but also with pride: Dravid
For too long now, Rahul Dravid's telling contributions to India's cricketing story book have been heedlessly censored, and he has been unofficially, and rather unfairly, labelled as second best. In all the apathy surrounding this plot, the prejudice of the masses may be excused, but the betrayal of the pundits -- the correspondents and the former cricketers -- cannot.
Dravid's case is compelling; give the man his due.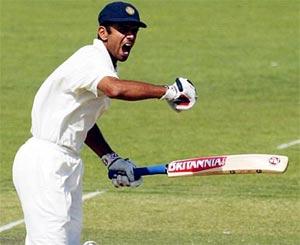 Like it or hate it, there is simply nothing like Test cricket; even within the radius of cricket. There's a profound difference between competing over three hours and competing over five days. No matter how good a player is, he cannot legitimately earn the right of passage to greatness without being able to scratch it in Tests; and anybody with even a fleeting interest in the game will tell you that.
The game may be cloaked in a serene white, but there is no mollycoddling in it -- no gags on bouncers. So you can have the gift of a Yuvraj Singh or the temperament of a Mahendra Singh Dhoni and kill it in ODIs, but if you can't pick the length, on the go, as required in Tests, you can get your face smashed through the grills and never be able to survive the game again.
Dravid not only just had the skill and temperament but also had the mental fortitude to build his great wall, brick by brick.
India, the cricketing nation, had reached the summit of One-Day cricket and was a decent outfit in that format, long before the arrival of Sachin Tendulkar in 1989. But Test cricket in India was another story altogether. Until the emergence of Dravid in 1996, India, in its fifty years of cricketing history, had eked out a pitiable three Test series victories overseas, barring the two against then minnows New Zealand and Sri Lanka.
Until then watching the team travel was akin to watching helplessly, a kid being thrashed mercilessly. But as Dravid found his footing, things started to change -- India had finally found a man to stand up to its usual tormentors. No doubt, there were other stellar reinforcements to the team in the same period, but it was on the back of Dravid's monumental epics, that the team was carried from strength to strength all the way to Number 1, albeit for a brief period.
- Coverage: Rahul Dravid retires
Too tall a claim? Well, here's the proof; and it's irrefutable.
Arriving seven years after Tendulkar, and having played 24 Tests fewer, Dravid still managed to score more runs than Tendulkar in India's Test wins overseas. He also averages more than any other Indian batsman in overseas Test victories and draws.
In Dravid's time at the crease, India won 15 Tests overseas (excluding the ones against Bangladesh and Zimbabwe) and Dravid was Man of the Match in six of those.
Tendulkar was involved in 13 overseas wins and has one man of the match award, against New Zealand.
Since Dravid's debut in 1996, India has won or drawn 11 Test series overseas (excluding Bangladesh and Zimbabwe), and Dravid was the chief architect in more than a third of those -- Man of the Series when Ganguly's India held Steve Waugh's Australia in Australia after 16 long years; Man of the series when India held Nasser Hussain's England in England after 18 years; Man of the Series when we beat Brian Lara's West Indies in the West Indies after 35 years; Man of the Match in the series decider against Pakistan in Pakistan when we beat them for the first time since the two countries were free in 1947. And get this -- before the last England series, India had lost only one Test when Dravid had scored a hundred; and he had scored 30 of them by then.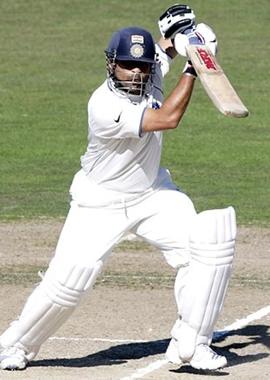 That's the kind of stat that would be hard to match, even for a Tendulkar. Sure, Tendulkar has more runs across the board, a higher average across the board and will soon have a hundred hundreds, but, as mindboggling as they are, they all speak to the sheer quantity of runs he's piled on. What do they tell you about the quality of those runs or the context in which he got them?
Zip. Apart from the phenomenal 146 against South Africa in 2011, and a few obscure supporting acts, Tendulkar has nothing compelling to show that he was as impactful as Dravid in building a team that travelled better and one that would eventually become Number 1.
Yet, for all the truth that an in-depth analysis of stats may offer, it will be a grave injustice to size up Dravid by that alone.
How do you measure the value he provided in times of desperation? How do you rate the ways in which he managed to rise above himself on those occasions? He wasn't the man of the match for his 180 in Kolkata or his 93 in Perth; and rightfully so.
But he battled his own wretched form, to feature in those two astonishing turnarounds for India, against a team that was not only adept at throwing you down on the mat, but also more than happy to stomp on you when you were down and out.
How do you measure the indomitability in those performances? Not even his most ardent supporter would claim that he was a great one-day player, in spite of his ten thousand runs. Yet, remarkably, here, too, he managed to come to the party when it mattered the most -- his World Cup averages are the highest for an Indian across all World Cups.
As remarkable as his achievements are, he has attained them without the undoubted genius that Tendulkar was born with. As Sambit Bal, Editor of ESPNCricinfo writes, 'Cricketers like Tendulkar and Lara were destined for greatness, while Dravid has scripted his own destiny.'
One of the few things that is acknowledged about Dravid is that he is a team man. But, still, it's an aspect of Dravid that cannot be stressed enough. He has kept wickets when the team couldn't find a decent wicketkeeper-batsman, most notably in India's glorious run at the 2003 World Cup.
In ODIs, he has batted from positions one to eight, without so much of a fuss. More extraordinarily, in Tests, where the No. 3 spot was his to own, he has opened the innings to accommodate Yuvraj Singh at No. 6 or to fill in for Virender Sehwag or to make way for VVS Laxman when his own form wasn't up to scratch.
Has Tendulkar ever given up his number four position? In any situation?
In ODIs too, Tendulkar has been adamant about his opening spot; most famously pointing his underperformance in the 2007 World Cup at former coach Greg Chappell, who had made him bat at number four to have someone of his experience guide the middle order.
When a reporter asked Dravid why he didn't wait to retire in the middle of a series, so he could enjoy a fitting farewell, Dravid's response was that he played the game for the right reasons -- which was in his words "to win Test matches for India".
Tendulkar, on the other hand, complained that he "felt let down" when Dravid had declared in Pakistan with him batting on 194. We won that match but that wasn't so much of a comforting factor for Tendulkar, who had missed accumulating another personal stat in his fat kitty.
Dravid's no mug off the field either. While Dravid's batsmanship was in the classical mould, his off-field persona too embodied all the great values of the gentleman's game. It was only when you see a bloke like him, do you realize why it's called the Gentleman's game. Always the articulate, urbane man, he is not just India's greatest ambassador but is also a universally respected spokesperson for the game.
And, at 39, he is just as he was when he first appeared on the international scene, and has hardly ever missed a game for lack of fitness -- given how many kids break down after a couple of years these days, Dravid is but a shining example at foregoing the IPL parties and sacrificing the good life to preserve the body for the game.
Given this incredible story of this incredible man, it's a crying shame that we as a nation have shunned the tangible contributions of Dravid for the unaccounted genius of Tendulkar.
The Aussies, a team we love to hate, but look up to nevertheless, have always had it right -- in spite of a galaxy of batting greats to choose from, they treasured most the less talented but the bloody minded Steve Waugh -- because he delivered when the chips were down.
Glenn McGrath, another champion of an all-conquering Australian team, once said this of Dravid: 'If there was ever a batsman who deserves to be included in Australia late-90's team from outside Australia, then it has to be Rahul Dravid.'
And that Aussie team was perhaps the greatest team to have ever played the game. But all that the Indian fans care about is what Don Bradman said of Tendulkar's batting style. Irrespective of whether he has scored a duck or a century, the stadiums all across the world have stood up and given Tendulkar one standing ovation after another.
But the real hero has often largely been ignored. Not that the man himself seems to care, but, still, it's a matter of fairness and what we as a cricketing nation truly respect and cherish -- runs or wins.
Tendulkar may have taken the art of batting to an all-new level, but, as far as Indian cricket is concerned, there's Dravid, there's daylight and then and only then, is there Tendulkar.
(Ravi Bhaskar currently resides in Toronto, Canada. He is a full time retail banker and a hobbyist writer who occasionally wishes the two roles were reversed)