'The margin of defeat was 70 runs.'
'If they had included one extra batsman and if he had made 60, 70 runs, the result could have been different.'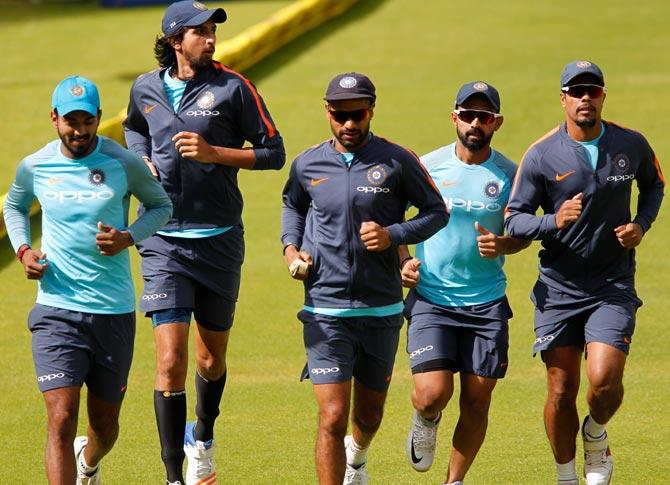 IMAGE: K L Rahul, Ishant Sharma, Shikhar Dhawan, Ajinkya Rahane and Umesh Yadav at a training session. Photograph: Sumaya Hisham/Reuters
It's do-or-die for India as they take on South Africa in the second Test in Pretoria on Saturday, January 13.
Outclassed by 72 runs in the Cape Town Test, the Indians will need to get back to their winning ways to keep the three-Test series alive.
While the bowlers did exceedingly well to push the Proteas on the backfoot, the Indian batsmen failed in both innings.
India scored a paltry 209 and 135 in the two innings of the first Test, with Hardik Pandya, who smashed a brilliant 93, the only batsman to get past the 50 run mark.
Captain Virat Kohli and Coach Ravi Shastri will need to shuffle the team for the Centurion game.
The struggling Shikhar Dhawan could be replaced by K L Rahul. Ajinkya Rahane could come in for Rohit Sharma who looked out of sorts in Cape Town.
Pravin Amre, who hit a century on debut against South Africa in 1992, believes India erred with their combination in the first Test going in with just five specialist batsmen.
Amre tells Rediff.com's Harish Kotian that instead of a fifth bowler, India should have opted for a sixth batsmen especially when they knew conditions were loaded in the bowlers' favour.
Off-spinner Ravichandran Ashwin bowled just 8.1 overs in the two innings. Amre feels if Kohli and Shastri had signed on an extra batsman, the outcome may have been different.
"India should have gone in with six batsmen. The fifth bowler was under bowled," Amre points out.
"I am not saying this after India lost the match, I said this as soon I saw the Indian team at the start of the match."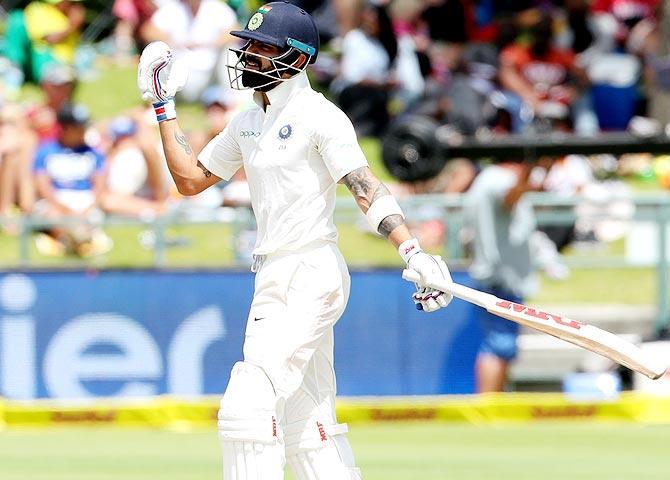 IMAGE: Virat Kohli after his dismissal in the Capetown Test. Photograph: BCCI
"South Africa showed the way in the second innings when they were one bowler short (Dale Steyn was ruled out with a heel injury) but they still bowled India out so quickly," says Amre.
"The margin of defeat was 70 runs," he explains, "which is the score of a batsman. Maybe if they had included one extra batsman and if he had made 60, 70 runs, the result could have turned out to be different."
Having bowled South Africa out for 130 in the second innings, Amre feels India squandered an opportunity to go one-up in the series.
"South Africa looked vulnerable. Under pressure, South Africa are a completely different team and India missed a good opportunity to push for victory after bowling them out cheaply in the second innings," says Amre.
Amre believes it is very difficult for visiting teams to make a comeback in South Africa.
"It is very difficult once you go 0-1 down in a three-match series," says Amre, "but India have a good bunch of players, there are a lot of talented players waiting to come into the team so they can still make a comeback."
Amre has worked with Rahane on his batting in recent years, and he believes that if picked for the Centurion Test, the right-hander can make the difference.
"Rahane is a good player in those conditions," says Amre, "and he proved it in the previous series when India visited South Africa. If given a chance, I am sure he will definitely perform."