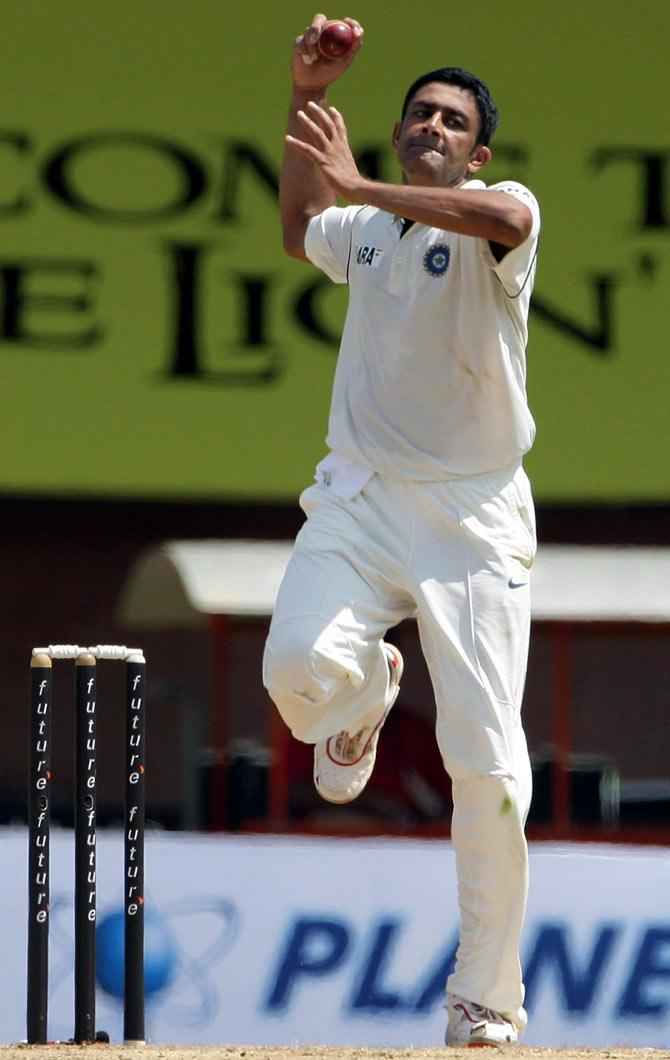 Kumble is one of the only two bowlers ever to have taken all ten wickets in a Test innings, taking 10 for 74. Kumble achieved this against Pakistan in the second Test played in Delhi in February 1999
Kumble held the record for being the fastest Indian bowler to reach 50 Test wickets (in only 10 Test matches) before Ravichandran Ashwin broke the record in 9 Tests
In 2004, Kumble became the third spinner in the history of Test cricket after Shane Warne and Muttiah Muralitharan and the second Indian bowler after Kapil Dev to capture 400 Test wickets
In 2006, Kumble became first Indian to take 500 Test wickets.
Kumble achieved two unique landmarks, both equally important, at the oval in 2007. Not only he went past McGrath's record of 563 wickets, taking up the third place in list of bowlers with most wickets, he also scored his first ever century in Test cricket, taking most number of matches to get to his maiden century.
He is the third highest wicket taker in the history of Test cricket with 619 wickets behind only Muttiah Muralitharan (800) and Shane Warne (708).
Kumble holds the record of bowling 40850 balls in entire Test career, which is highest for an Indian and second highest overall.
Kumble has been one of the pioneers of caught and bowled, and broke Muralitharan's record for most caught and bowled in Test cricket in 2005. Though at the end of the career, both of them ended with the same number of caught and bowled wickets (35), Kumble's ratio with regards to total number of wickets taken was higher in comparison.
While Kumble is not explicitly known for his exploits in the shorter formats, he has one record which will go down in history. Kumble, in a match against Zimbabwe, took his 200th ODI wicket, and became the first spinner ever to take 200 wickets in ODIs back in 1998.
He was the leading wicket taker in the 1996 World Cup with a haul of 15 wickets at an average of 18.73.
Kumble as a batsman proved that he was a match winner for India by adding 52 runs for the ninth wicket and helping the team chase the target of 216 runs in the Titan Cup against Australia, along with Javagal Srinath in October 1996.
Kumble holds the record for the most wickets in a calendar year by an Indian in ODIs with 61 wickets in 1996 (which is also the third-highest total by a bowler of any nationality)
Kumble holds the Indian record of taking most ODI wickets at a particular ground. He took 56 wickets at Sharjah Cricket Stadium.
Kumble's 337 wickets in 271 ODIs are the most by an Indian in this format.
Kumble holds the Indian record of most wickets in international cricket (Tests + ODIs) with 956 wickets in 403 matches. Among all bowlers, only Muttiah Muralitharan (1347) and Shane Warne (1001) are ahead of him.
In the second edition of IPL, Kumble- playing for Royal Challengers Bangalore against Rajasthan Royals- returned the figures of 5 for five, the best figures by a spinner in IPL until recently when Adam Zampa bettered his record.