Advertisement

  

Advertisement

Harbhajan firm on not signing WADA 'whereabouts' clause
August 08, 2009 22:14 IST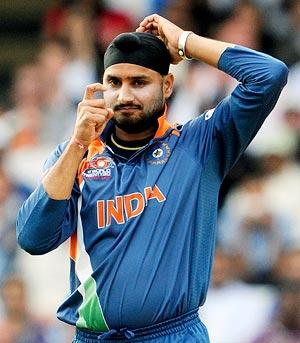 India off-spinner Harbhajan Singh [Images] on Saturday stood firm on his objection to the controversial WADA 'whereabouts' clause, saying he is not bound by the 'unacceptable' rule.
"We are not bound to inform WADA about our whereabouts," Harbhajan said.
"If I go somewhere like buying vegetable and at that time WADA needs my sample then it will become my fault and repetition of the same for more than three times will make me a defaulter," he wondered.
"So this is not an acceptable rule."
The feisty off-spinner said he would want to be remembered like Sachin Tendulkar [Images], Sourav Ganguly [Images], Sunil Gavaskar [Images] and Kapil Dev [Images] after he retires.
"I want to be remembered like them as people remember those players who contribute or serve long years for the country," he said.
Asked to compare the captains under whom he had played, Harbhajan took the easy way out and said all of them are marvellous leaders in their own right.
"I have played under Sourav, [Anil] Kumble and [Mahendra Singh] Dhoni as well. Three of them are marvellous captains. After the match fixing issue Sourav was the captain and he started boosting players to achieve the highest. Sourav is a good friend of mine and he was a great captain," he told India News.
Photograph: Reuters
© Copyright 2009 PTI. All rights reserved. Republication or redistribution of PTI content, including by framing or similar means, is expressly prohibited without the prior written consent.