Home > India > Cricket > Stars We Spotted


Discuss |
Email |
Print | Get latest news on your desktop


Spotted: Sangakkara in Melbourne

September 29, 2008



Reader Abhijit Sahasrabudhe sent us this picture from Melbourne.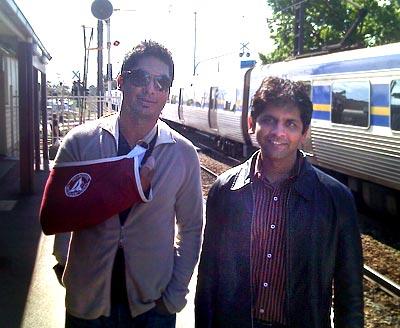 'I was thrilled to see Kumar Sangakkara at the railway station in Melbourne,' writes Abhijit.
'I first asked him whether he was here for a tour or something, but he said he was here for a surgery on his right index finger. It was the same evening he said. He seemed very kind and generous. I said to him, 'I am your big fan but I hate you when you score against India,' and we shared a laugh.'
Thank you, Abhijit, for sharing this picture!
If you encounter your favourite cricket/sports personalities, send us the photograph or video on sportsdesk@rediff.co.in We will feature the best images right here on Rediff Sports or Rediff Cricket.
- Please check more Reader photographs
Now you can keep track of the celebrity pictures through our RSS feeds
Email |
Print | Get latest news on your desktop