Home > Cricket > Australia in India 2008 > Statistics


Discuss |
Email |
Print | Get latest news on your desktop

Sourav Ganguly factfile

October 07, 2008



Factbox on former India captain Sourav Ganguly [Images] who announced on Tuesday he would retire from international cricket at the end of the upcoming home Test series against Australia [Images].

Also see Ganguly's career highlights below the image.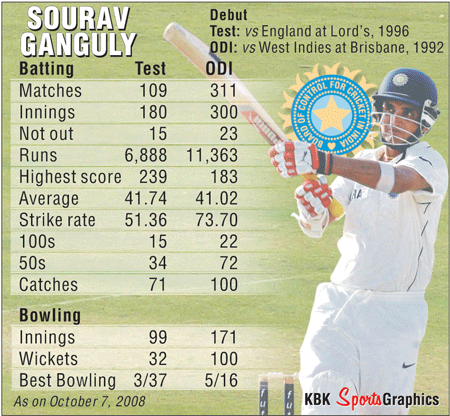 * Born July 8, 1972 in Kolkata.
* Made his one-day debut as a 19-year-old in Australia in January 1992, only to be discarded after one game which experts blamed on his poor attitude.
* Recalled for the Test tour of England [Images] in 1996, Ganguly struck hundreds in his first two Tests before regaining his one-day spot, partnering Sachin Tendulkar [Images] to become the world's most successful opening pair in the short format.
* Named captain in 2000 after Tendulkar quit the job, going on to win an Indian record 21 Tests as skipper, including a sensational 2-1 comeback effort at home over Australia in 2001.
* Led India to the 2003 World Cup final in South Africa [Images], but poor fitness and batting form saw his omission from the one-day side in late 2005, with Rahul Dravid [Images] taking over as captain.
* Recalled before the 2007 World Cup in the Caribbean, Ganguly cemented his spot but was dropped from limited overs cricket again early in 2008 before announcing his retirement from international cricket in October.
Complete coverage: Australia in India 2008
Email |
Print | Get latest news on your desktop