Home > India > Cricket > First Look


Discuss |
Email |
Print | Get latest news on your desktop


'The Wall' erected to honour Dravid

October 06, 2008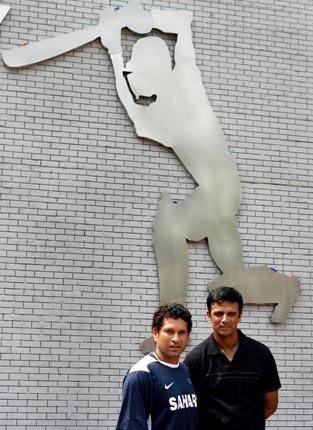 When you walk into the M Chinnaswamy Stadium next time, a major landmark of Bangalore, you will certainly not miss 'The Wall'.
- Coverage: Australia tour of India
Made of 10,000 bricks, this 27 feet high and 15 feet wide structure, erected just a few steps into the stadium, is a unique tribute to home-born cricketer Rahul Dravid [Images], who made it big in world cricket.
The structure was unveiled on Monday by master batsman Sachin Tendulkar [Images] at a brief ceremony in Bangalore.
But why 10,000 blocks?
Simple. The number represents Dravid's 10,000-plus runs in both Test matches and one-dayers.
- Rahul Dravid: Cracks in The Wall?
The highlight of the structure is a large metal statue of Dravid playing his trademark cover-drive. There is a live electronic unit at the right-hand top corner, which displays Dravid's current score in Test cricket, even as he keeps the scoreboards ticking.
The structure, with the words 'Commitment, Consistency, Class' engraved on it, has been built by the Karnataka State Cricket Association (KSCA) along with city-based builder Skyline Group, of which Dravid is the Brand Ambassador.
"I am honoured and humbled by that" is what Dravid had to say.
Among others Test skipper Anil Kumble [Images], former cricketers Javagal Srinath, Venkatesh Prasad, E A S Prasanna and B S Chandrasekhar were present on the occasion.
Photograph: Getty Images | Text: PTI
Email |
Print | Get latest news on your desktop