| | |
| --- | --- |
| Harbhajan Singh | |
| | |
| | |
| | |
| | |
| | |
| | |
November 13, 2008


India have caused Australia [Images] the most pain in the last few years, and the 2-0 rout over the world number one team proves they are ready to take over that ranking in the near future.

The world champions made a mockery of every side they faced, but India still remains their greatest challenge. Sachin Tendulkar [Images] and VVS Laxman dominated their bowlers, while the Aussie batsmen are yet to find a solution to Harbhajan Singh's [Images] guile.

They tried best to unsettle the off-spinner during the Sydney Test earlier this year, but adversity only made him stronger. He took 15 wickets in India's convincing 2-0 victory at home as the visitors were outplayed in every department.

In a freewheeling interview with Chief Correspondent Harish Kotian, Harbhajan discloses the secret of his success against Australia. He also revealed that the departures of Anil Kumble [Images] and Sourav Ganguly [Images] mean a lot to him, as both were his closest friends, and mentors too.

Australia have rarely been outdone so comprehensively in a Test series. How did India do it, despite your injury problems, losing captain Anil Kumble mid-way through the series and Gautam Gambhir's [Images] ban for the final Test?

We were all playing good cricket. Everybody was performing with bat or ball. We were all prepared for this series. We prepared really well, worked hard on our fitness and on our game. We were positive in our minds that we have to win this series.

If someone was not performing, it was responsibility of the other guys in form to stand up, perform and take the team forward. So everybody was up for this challenge.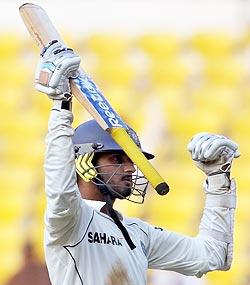 You were the joint highest wicket-taker, with 15 wickets, and also scored two crucial half-centuries in the series. Would you say this was one of your best all-round performances in a series?
Yes, it was probably all-round performances, but it would have been nice to get a few more wickets. If I would have played in Delhi [Images], I would have definitely taken a few more wickets, because that was a good wicket to bowl on. It was turning and bouncing in Delhi, which is ideal for a spin bowler. I missed out on that game because I was injured. I had to take injections to feel better for the next game. So I did whatever was required of me to get fit for the next game. It would have been nice to get another 8 or 10 wickets, but I am still happy that I took 15 wickets. All the wickets were important and it came at the right time, whenever the team required it.
Those two fifties were obviously special. That fifty in the first Test at Bangalore was special because if I hadn't scored those runs along with Zaheer Khan [Images] then the game would have probably gone somewhere else. It is very important from the team's point of view if everybody, including the lower order, can contribute with the bat. And that is what also frustrated the Australians when I and Zaheer were doing well, because we put up 100 runs for the partnership.
Ricky Ponting [Images] told a television channel that you are a better batsman than your record suggests. Do you accept that?
I don't know, but I think whenever I take responsibility I do well. But I still look at myself as a bowler who can bat a bit. I think if I work hard on my batting and pay more attention, this is the right word 'pay more attention', then, definitely, I can contribute more with the bat, which will be great for me and great for the team as well. I will definitely have a look into it because this series has given me a lot of confidence, because I have scored those runs at crucial stages, when the match could have gone anywhere.
It looks like you relish batting under pressure, especially when it is against Australia. You have now scored four half-centuries in the last five matches against them?
It is just that I want to fight; I don't want to give up, not only against these guys, but any other team also. Whenever I play I make sure that I fight till the end, till the time I can. That is what I look to do whenever I play.
Against Australia, I think, I get pumped up more, just because they are a good team. When you have beat or compete against them you have to be at your best and that is what I look to do. I look to be more focussed and do things the right way.
Next time when you play Australia, will you ask for a promotion in the batting order too?
Actually, I should have got a hundred yaar. One hundred in the series would have been great. I think, if the other day, had [Mahendra Singh] Dhoni not got out [in the second innings of the fourth and final Test in Nagpur], we would have both got hundreds.
Do you agree that Australia were very defensive in this series or was it that they had no answers to India's tactics?
It was very surprising. When they came over, they were not sure about their game plan. They were not the same kind of Australian team that we have seen before, in 2001 and 2004. They were a very beatable side this time. They have always been a beatable side -- it is just that they keep on coming back -- but this time they never came back, because they did not have the quality of Shane Warne [Images] and Glenn McGrath in their bowling attack.
It never looked like they could take 20 wickets or score 400 runs if you get Matthew Hayden [Images] and Michael Hussey early. Other than these two guys everybody was just coming and going. They were all giving chances. When they came here, Ricky Ponting made so many comments before the start of the series.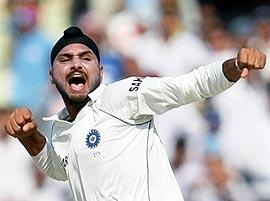 Yes, in fact, before the start of the first Test, Ponting had said, 'I really think we can take them on in the field, almost a new-age type of Test cricket that can make a few of their guys look a bit old and a bit slow.'
Let him say what he wants; we are happy with whatever cricket we play. At the end of the day, we are happy with our result and let him be happy with his modern age cricket and do whatever he does. We are very happy with our cricket, whether is old age or new age. We stuck to our plans and we have done really well.
No wonder in the middle of a series, he came up with a book and started crying again, 'I have done this, I have done that.'
Even Adam Gilchrist [Images] did a very wrong thing by criticising a legend like Sachin Tendulkar in his book. Tendulkar has been such a great player for India and done so many things not only for Indian cricket but also world cricket. I think there is something wrong with him, else you would not point a finger at Tendulkar.
Ponting also tried to distract us with his book by saying various things about the Sydney Test. We had moved on from that Sydney Test but these guys were still stuck at it by writing something new in their books everyday. I had such a difficult time in Australia after that incident, I was blamed by their players and then even the crowds booed me, but I overcame everything, but it seems they have not got over it.
I think they were busy writing for their books, while we were busy preparing for the series. You can see what difference it has made.
Their batting order failed big time, isn't it? No one, except Michael Hussey, looked comfortable in the middle against both pacers and spinners.
They batting order is quite long and they bat till number 9 or 10, but they never looked comfortable. They hardly looked settled; apart from Hussey and one or two other guys the rest were really uncomfortable. They didn't have answers for the reverse swing and against our spinners. They were not able to rotate the strike; they were getting stuck and eventually ended up throwing their wickets.
How big a turning point was that Sydney Test. We have won three matches and drawn three against Australia since that match. Did that match fire up the Indian team? Did you'll want to pay back in this series?
I don't know whether that fired the team or not. As I said, we prepared ourselves from the point of view of winning the series and for that we prepared quite hard. We have come a long way from whatever happened in Sydney because we won in Perth. We won the ODI tri-series and now this series. We have played good cricket lately because we worked as a unit, we are looking forward to proving our game rather looking at what other team is doing.
You have now claimed Ricky Ponting 10 times in Test matches. How satisfying is it to get someone like him so consistently?
It is nice to get Ponting out all the time. He is a good player and has a very good record. He made all statements that he has prepared well for the spinners, improved his technique but I think whenever the pressure comes he still remains my bunny. I think any spinner can get him out early. If he comes in early and has to play a spinner straightaway in a pressure situation then the spinner can get him out.
If you see Matthew Hayden he is different because he can attack and dominate spinners. But for Ponting, any spinner can get him out if you put him under pressure.
Did he also look a bit lost in terms of captaincy during the series?
I don't know about the captaincy, because when the players perform the captain looks good. But when the players don't perform any captain will look bad, his every move will look bad. The players that he had didn't play to potential, they couldn't score runs, they couldn't pick wickets and it made him look like an ordinary captain.
When Warne and McGrath were there in the team, they used to create pressure and take wickets all the time, and in that case any captain will look good.
Interestingly, India had a rough time under Greg Chappell [Images] and now when he worked with Australia as assistant coach even their team was defeated.
I think, actually, that inspired us. Seeing him [Greg Chappell] in their dressing room fired us. Whatever tactics he knew about our team didn't work at all. In fact, I think he helped us more than he helped them. I think they came too early and must have gone through a lot under him.
How a big blow is Anil Kumble's retirement for Indian cricket? You played a lot with him and he was also your spin partner. You have always mentioned that you have learnt a lot from him.
It is a very big moment for Indian cricket that he has gone. The fact is that I won't be bowling with him anymore and I will definitely miss him at the other end. I always used to think that Anil Kumble is here and there is no need to worry and we will bowl as a pair. Now he is not going to be there anymore and I salute him for a great career. I would like to thank him a thousand of times for helping me out in difficult situations, not only in cricket but also in life.
He is a role model for me and I salute him as a cricketer, as a person for whatever he has done. He is such a great guy and I will definitely miss him on the field and off the field as well.
A year back you told us that you are ready to fill in for Kumble whenever he retires. How big a responsibility is it to fill in for someone like Anil?
Those are very big shoes to fill. He wasn't just a good player but a champion player. When you have a champion player leaving then somebody will have to take the responsibility. I will try to do that to the best of my abilities -- to help the team; that is what I am looking to do. I don't know whether I will be able to fill in his shoes and fulfill those expectations but I will give my best shot till the time I play. I will try my best to take wickets and score runs whenever I go out on the field. Those are big shoes to fill, but I will try my best and if I do so I will be very happy.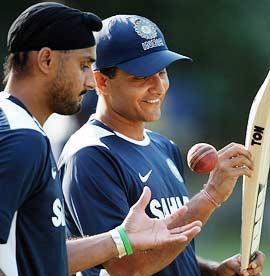 Also, you were very close to Sourav Ganguly, who fought with the selectors to get you in the team in 2001 after which you have not looked back. How do you react to his retirement from the game?
Again, it will be a very emotional feeling that he won't be there in the dressing room and on the field. We have played so much together and spent so much time together that he will be sorely missed on the field and off the field too.
Sourav was a captain and probably the closest captain I have worked with. I have played a lot of cricket under him and he always open to ideas and gave me the fields I wanted. He gave me the confidence that I will be there in the team and that I should just keep bowling well and taking wickets. He was always there for the youngsters. He backed me when I was nowhere, not even in the team. He brought me back in the team against Australia [in 2001] which proved to be the second coming for me as I took 32 wickets in the series. He was the person who gave me the chance to come back into the team again and showed the faith in me. I will never forget whatever he has done for me. He has been a great supporter and a great friend. He is somebody whom I can look up to and say that you have changed my life.
How would you rate Amit Mishra, who made his debut in the series and ended up with 14 wickets? Being the senior spinner are you happy with what you have seen?
I think he bowled well whenever he got the opportunity. It is good to see him coming up and doing well, he ended with 14 wickets. He took the responsibility to bowl well and take those wickets. Now it is up to him how long he wants to play, because, as I said, Anilbhai won't be there and it will be up to somebody to come up, to raise their hand and say I will be the second spinner, take responsibility, bowl well and take wickets for India. I believe he has the potential to do so and I will be disappointed if he won't play for more than 10 years. I definitely believe he can play for 10 years.
You have played quite a lot under Mahendra Singh Dhoni [Images] in one-dayers and Twenty20 [Images]. How would you rate his captaincy and do you believe he has the capability to take the Test team forward too?
Definitely. Dhoni is a very smart guy. He has a very good brain and great ideas. He understands the game well and the best thing about him is that he takes everyone's ideas. Whatever we plan, we what we decide, he sticks to it. That is the key, I think; to take everyone into confidence and play as a unit. He is a fighter himself and it is great to have him as a captain and I hope he continues to lead India for a long, long time.
Even if I don't play after 6-7 years I hope he will still be playing and creating history for India like he has done by winning the Twenty20 World Cup, the tri-series in Australia and this Test series. He has done a great job till now and I hope will continue do so. I wish him good luck and I want to say that we are there to support him all the time as a senior member of the team.
Photographs: Getty Images
More Interviews