Home > India > Cricket > First Look


IPL winner's trophy unveiled

May 19, 2008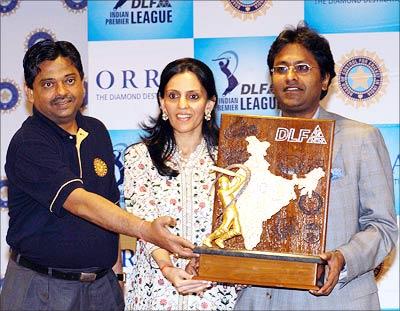 The diamond-studded Indian Premier League winner's trophy, encrusted with rubies and yellow and blue sapphires, was unveiled in Mumbai on Monday by IPL chairman and commissioner Lalit Modi.
"It's a handcrafted and very expensive rotating trophy, the value of which I will not reveal. It has been crafted by Orra's design team," said Modi.
The Antwerp-based RosyBlue Group, owners of the Orra diamond brand, which set up a new diamond production facility in Mumbai last year with an investment of Rs 35 crore, also designed the trophy the BCCI presented Anil Kumble [Images] on his feat of 600 Test wickets.
"The winning team will get a replica of this trophy," he clarified.
The trophy, which has a player in gold leafing holding a bat adjacent to a map of the country with the names of the teams engraved on it and symbolised by eight rubies, was crafted by 14 artisans, said chief designer Mona Mehta