May 13, 2008


Reader Satyendra Tripathi sent us this picture from Jaipur.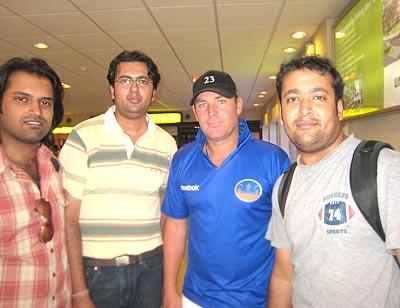 'I met Shane Warne [Images] at Jaipur airport as the Rajasthan Royals team was going to play their match againt Mumbai Indians few days back,' writes Satyendra.
'From left, my friend Monty, myself (Satyendra), Shane Warne and my brother Nitin.'
Thank you, Satyendra, for sending this photograph!
If you encounter your favourite cricket/sports personalities, please mail the photograph or video to sportsdesk@rediff.co.in. We will feature the best images or videos right here on Rediff Cricket or Rediff Sports.
Also see: More Reader photographs