Home > India > Cricket > Statistics


How the foreign players are faring in the IPL

Srinivas Bhogle, Purnendu Maji and Arthur D'Silva | May 09, 2008



As the DLF IPL enters its second half, the Indian players are finally coming into their own: Virender Sehwag [Images], Gautam Gambhir [Images], Rohit Sharma and Irfan Pathan [Images] are among the League's five most valuable players after Match 29.

What about the foreign players? Who's doing well? And who's doing badly?

The table below indicates that Shane Watson currently tops the list, with Adam Gilchrist [Images] at the second place. Michael Hussey and Matthew Hayden [Images] are still in the top 10 although they played just four matches.

Herschelle Gibbs [Images], Ricky Ponting [Images] and Shivnarine Chanderpaul [Images] have proved to be the most disappointing so far. Some players figure low down in the list because they joined late, or were benched for long periods.

Table 1: The most successful foreign players in DLF IPL (after Match 29; based on MVPI)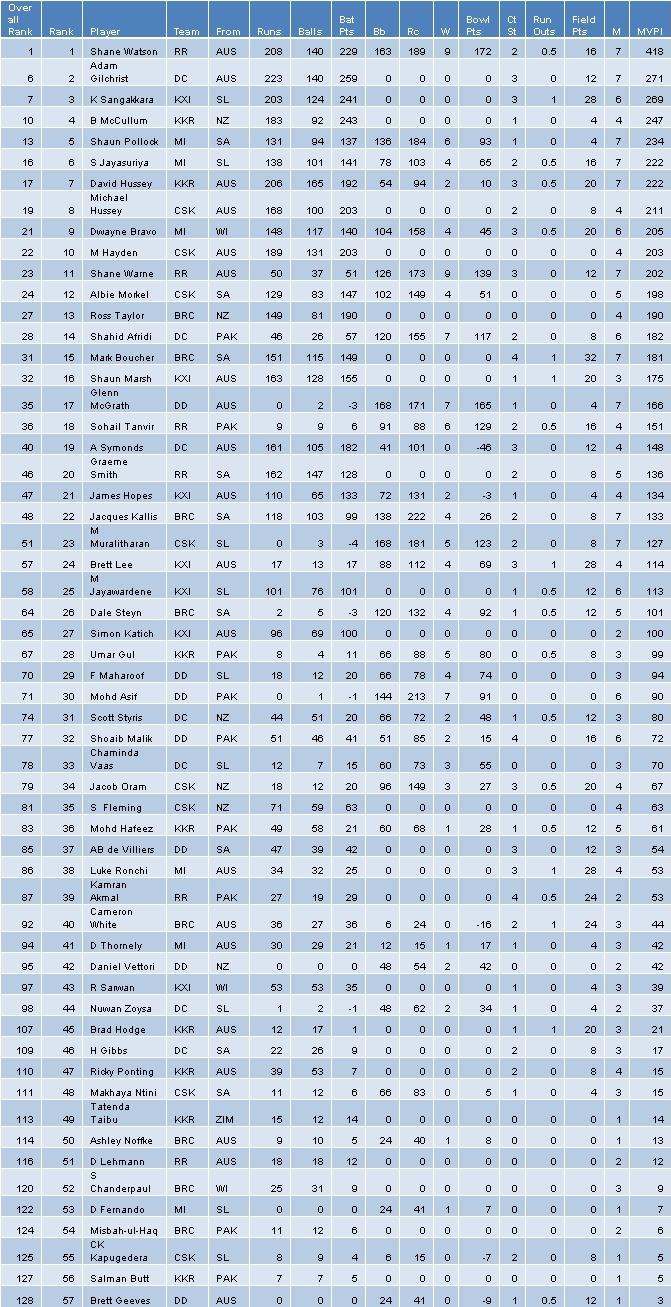 Runs (scored) | Balls (taken) | Bat-pts: Batting points | | Rc: Runs conceded | Bb: Balls bowled | W: Wickets taken | Bowl-pts: Bowling points | Ct/St: Catches taken / Stumpings | Run outs (participated) | Field-pts: fielding points | M: Matches played | MVPI = sum of batting, bowling and fielding points | *Run outs are counted as 1 (wicket) for a direct hit, and 0.5 (wicket) if the fielder is an equal participant in a run out dismissal.
Which foreign players have so far provided the best returns on investment? Table 2 provides the complete list. Some numbers in the table below may be inaccurate because we don't have confirmations of the exact money offered to some of the players.
Table 2: The foreign players offering the best value for money (after Match 29; based on PVI. The PVI indicates the dollars paid for every 'run'):

DD: Delhi Daredevils | CSK: Chennai Super Kings | DC: Deccan Chargers | RCB: Royal Challengers Bangalore | RR: Rajasthan Royals | KKR: Kolkata Knight Riders | KXI: Kings XI Punjab | MI: Mumbai Indians
M: Matches played | MVPI: Most valuable player index | Money offered; some estimates may be incorrect | MA: Matches available | MF: Fraction of money earned so far | PVI: Paisa vasool index; dollars paid for every run equivalent scored

Srinivas Bhogle, Purnendu Maji and Arthur DSilva work for Cranes Software International [Get Quote] Limited, Bangalore.