| | |
| --- | --- |
| Balwinder Singh Sandhu | |
| | |
| | |
| | |
| | |
| | |
| | |
Advertisement
June 23, 2008


If anything, Balwinder Singh Sandhu will be always remembered for that special delivery which left Gordon Greenidge dumb-founded in the 1983 World Cup final.

One of the best batsmen of his era, West Indies [Images] opener Greenidge offered no stroke to the medium pacer and the delivery crashed on to his stumps. The mighty West Indies, comprising the likes of Viv Richards [Images] and Clive Lloyd [Images], caved in tamely thereafter as India registered a historic World Cup triumph.

Twenty-five years down the line, Sandhu talks about the delivery, which became famous as the 'banana skin delivery', and also what made the 1983 World Cup victory possible, in an exclusive interview with Special Correspondent Harish Kotian.

How fresh is the victory? Does it feel the achievement has completed 25 years now?

People keep reminding us about that victory, they don't allow us to forget it. Indian cricket fans keep reminding us and keep thanking us even now.

The 1983 World Cup win was a big turning point in Indian cricket history. It also gave self-belief to Indians that we can also win big tournaments.

Was it the icing on the cake that you beat the defending champions and the best team of that era -- the West Indies -- to win the Wold Cup?

Yes, definitely. The West Indies was the best team of that era and beating them twice in the World Cup was a very big thing. Even that victory against them in the opening league game itself was a big thing. But beating them in the final was a greater achievement; it was a big day for Indian cricket.

What made that victory in the final possible?

By the time we reached the semi-final stage the whole team was thinking in one direction and our targets were common. So everyone was spending their mental energy in one direction. And when the whole team starts thinking in one direction, then God also helps you.

Would you agree that your special delivery to get rid of Gordon Greenidge helped give the Indian bowlers a big boost despite defending just 183?

It became a special delivery because it got the wicket of Gordon Greenidge. I was his fan before playing international cricket and I have always been his fan. And I believe that, Greenidge getting bowled, by leaving the ball, he made that delivery more special. I think Greenidge's wicket, combined with the occasion -- that is the final of a World Cup, made that delivery a special delivery.

I had bowled that delivery even before that match too and got wickets in club matches as well. But, in that match, because it was a final and the importance of Greenidge's wicket made that a special delivery.

Still, did you plan to bowl that delivery to Greenidge or it was just coincidence that he failed to read the swing?

I had not bowled a single inswinger till that time. But on the previous tour to the West Indies I had got Greenidge bowled in the second Test match at Trinidad and then again in the first match of the World Cup I bowled him. So when I was coming close to the stumps in my bowling run-up, something inside in my head told me that he was not reading the inswingers well which I was bowling from close to the stumps. So when I bowled that delivery from close to the stumps it hit the seam and came back. When you are into that zone and bowling well, there are certain things which happen and something inside tells you to bowl that particular delivery.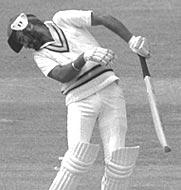 Did all the Indian bowlers get the same inside feeling, which helped them come up with a magnificent performance and successfully defend a meagre total of 183?
All the bowlers were matured by then and I was the only youngster amongst them. We knew how to exploit those conditions very well. At the same time, everyone was matured enough to understand that if we have to win that match we have to get them out and there is no other way to win it. If we had been thinking of restricting them, we would have lost that game; but all the bowlers who came to bowl dug into their past, their experience, and they were thinking only of how to get the batsmen out.
How big a role did Kapil Dev [Images] play as a captain? How much did his leadership skills influence the team?
Kapil was very relaxed; he led the team from the front. He was very easy to approach and so was Sunil Gavaskar [Images], who also supported him a lot. Whenever advice was needed Sunil was there for us always. At the same time, Jimmy Amarnath, who was a cool customer himself, gave Kapil all the support. Overall, I think Kapil did an extremely good job as captain.
How would you rate Kapil's 175 that helped India overcome Zimbabwe after a terrible start?
I think it is one of the best innings ever in one-day cricket. I saw the innings and that is why I know the importance of it. Many other batsmen might have got bigger scores than him after that, but that occasion counted a lot. It came at the crucial stage of a tournament and a crucial stage in the match. After those early wickets, the chips were down but he came up with a magnificent 175 not out; it was fantastic! That is why I would rate it as one of the best innings I have seen, because of the match situation and the occasion.
So how special is it for you personally to come together with all the members of that 1983 World Cup team and celebrate 25 years of the triumph?
It is just fantastic. Whenever the 1983 team meets, we have a very good time; we have a hilarious time. We enjoy a lot every time we meet. We have great fun together; have a lot of leg-pulling. A tremendous sense of humour can be seen amongst us. I know it's 25 years since that win, but nothing has changed in our relation as a team.
Can you describe some memorable moments from your experience at the 1983 World Cup?
This is one incident that is still fresh in my mind. I was fielding on the boundary line during the final and there was this West Indies fan who was telling me that India can't win the World Cup, West Indies will win the World Cup.
When I got the first wicket, he again started taunting me saying, 'India can't win the World Cup; West Indies will win the World Cup. Wanna bet man?' He kept on repeating those lines throughout the game even though the West Indies were losing wickets regularly. Even after they were nine down, he kept supporting his team. I think that is the kind of support each team would like to have and that is something I cannot forget. That is the West Indies spirit; they enjoy good cricket, they cheer good cricket and they love their team and cricketing heroes even if they fail at times.
More Interviews