Home > Cricket > India's tour of Australia 2007 > Report


Kumble claims 600 Test wickets

January 17, 2008 14:08 IST
Last Updated: January 17, 2008 17:44 IST



Anil Kumble [Images] became the first Indian bowler and the third in the world to reach the milestone of 600 wickets on day two of the third Test against Australia in Perth on Thursday.

Kumble achieved the record just after the tea break when he had Andrew Symonds [Images] caught by Rahul Dravid [Images] at first slip.

Symonds (66) edged the ball which hit Dhoni's [Images] gloves and went up in the air before Dravid pouched it safely.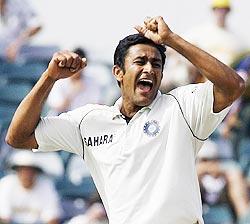 Symonds stood his ground while umpire Asad Rauf took some time to raise his finger even as the appeal grew louder. When the decision finally came in India's favour, Kumble heaved a sigh of relief amidst the applause from the crowd.
In a friendly gesture, Adam Gilchrist [Images] shook hands with Kumble and congratulated him.
Kumble's 600 wickets came in 124 matches at an average of 28.68. He is the third bowler after Sri Lanka's [Images] Muttiah Muralitharan (723) and Shane Warne [Images] (708) of Australia to reach the milestone.
Interestingly, in his career Kumble has captured most number of wickets against Australia. He has taken 104 Australian scalps in 17 matches at an average of 27.5.