| | |
| --- | --- |
| Zaheer Khan | |
| | |
| | |
| | |
| | |
| | |
| | |
Advertisement
April 02, 2008


One thing that frustrates a sportsperson the most is sitting out of the game due to injury. India's pace spearhead Zaheer Khan has often been in that situation. The left-armer had to return from India's tour of Australia because of a heel injury after playing the first Test and since then is working hard on his recovery. His rehabilitation also included a five-week programme in South Africa at the Rosebank Centre for Sports Medicine in Johannesburg.

Zaheer believes his recovery is on track and very soon he'll be back playing at the top level, which could be the Indian Premier League next month, for the Bangalore Royal Challengers.

The 29-year-old, who says he was inspired by Dennis Lillee's book The Art of Fast Bowling in his formative years, spoke with Special Correspondent Harish Kotian on his rehabilitation programme and how frustrating it is to watch his team mates from the sidelines.

How frustrating is it to be on the sidelines and watch the team play while recovering from injury?

Any injury is frustrating, especially when you are doing well. When you have to sit out, whether it is because of injury or whether you are not performing, it is always frustrating for a sportsperson to be away from the game. Obviously, injuries play a crucial part and you cannot do anything about it. You have to be focussed, look to control the controllables and move on.

How big a setback was this injury, considering that you had made a successful comeback?

I am not looking at it that way. All I am focussed is on coming back to the team. When I play international games I want to be fully fit; in fact, more than fully fit! I am utilising my time that way. I went to the NCA [National Cricket Academy] and met up with Paul Close [new Indian physio] for treatment and feedback.

So far it has been very good, positive and I am very happy with my progress. But I still feel that I am still not ready for international cricket. Playing a Test match straightaway would be a tough task. That is what the doctors have also advised me. Since I am away from it, I might as well use my time and sort it out completely. I have been playing for almost a year with this niggle, and I don't want to go back to the old thing. I don't want any niggles, especially in the heel area. I also don't want any area to get affected because there is not enough strength in my leg. I am focussed on getting my strength back and working on overall fitness.

You said that you played with a niggle for around a year. Tell me, are fast bowlers ever completely 100 percent fit? Do they have to bowl with a niggle or two at all times because of the busy international calendar?

You cannot really tell whether they are really 100 percent fit or playing with a niggle; you cannot specify any situation. But there are a few niggles with which you can keep playing, and, obviously, fast bowling is hard work. In Test matches, especially, you bowl a lot of overs in a day and come back the next day and again have to bowl a lot of overs; like when you give the team a follow-on.

There is nothing specific like fast bowlers always have niggles or anything. It is a strenuous job and you have to be ready for it. You have to gauge exactly what niggles you can play with and how far you are supposed to push.

Can you tell us about the five-week rehabilitation programme you underwent in South Africa?

Those five weeks in Johannesburg were very constructive. I was undergoing treatment at the Rosebank Centre for Sports Medicine and the physio was Evans Speachley, who will also be with the Bangalore IPL team. I consulted Dr Mark Ferguson [orthopaedic surgeon, who had also treated Sachin Tendulkar's foot injury] and Dr Ferreira [foot specialist]. There is a treatment called platelet injections -- it is called blood-spinning as well -- and Dr Ferguson gave me that. Every week I got that injection in my heel, for about three weeks. I took a total of three injections, that is one injection every week.

I worked with physios and trainers there to get the strength and stability back in my foot. With this kind of injury it is important to get the strength back and make sure that you are not rushing into things. It is also important to get other areas stronger, because you don't want any other part of your body to be injured.

You have always advocated the need to groom young fast bowlers. How delighted are you to see that India has unearthed a new crop of talented fast bowlers in Ishant Sharma, R P Singh and S Sreesanth?

It is someting great to see, because, if you recall, a lot of fast bowlers were struggling with some injury or niggles before [the] Australia [tour]. We were not sure how the fast bowling would perform in Australia and there were a lot of doubts. But, as the tour went on, we got our answers. We definitely have a very good back-up of fast bowlers in India and it is a great thing to watch. It is great to see people raising their hands, taking responsibility and performing.

But does it put extra pressure on you to comeback as soon as possible, realising that so many fast bowlers are fighting for places in the Indian team?

I am just listening to my body. I will definitely, if I can, play some domestic games; if there are no domestic games going on then, maybe, some club games. But, so far, the progress has been good and I am really happy with that. It is all about getting to your full fitness and then getting back into the game and giving your best.

This is the second time that you are down with this heel injury. It happened in England last year and now again in Australia. What precaution will you be taking to avoid the injury recurring?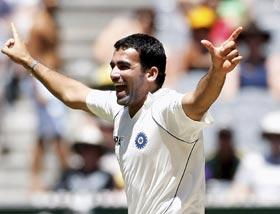 There is no precaution as such. I need to get the area strong. I have been given a programme to follow and which I am following. I have been asked to build it up slowly and not rush things. That is why I took the decision to play some domestic matches; I can gauge exactly where I am standing in terms of my fitness and my bowling.
Have you been recommended any change of action, or your follow through, or any change in your footwear to avoid the injury recurring?
There are no such changes as such as far as my footwear or bowling is concerned. It is just a common injury for an athlete. Many athletes around the world have this planta fascia problem. I was fortunate not to undergo any surgery and I very happy to know that.
When do you expect to come back into the Indian team? Is the third Test against South Africa a possibility, or will it be the Indian Premier League?
I don't want to sort of presume. Obviously, I am looking to play as soon as possible, but I have to listen to my body and see how my body is responding. I was in Chennai to spend some time with Paul Close during the first Test. I also did some bowling sessions there. It will all depend on how my body is responding and how I am bowling. If I am bowling more than 100 percent then why not play [the third Test]?
Right now I am just concentrating on my comeback. The only thing that can excite me now is running in and bowling at more than 100 percent and for long spells.
All the Indian fast bowlers went through some injury problem in the last few months. Do you believe the Indian team physio has to take the blame somewhere, or is it too much international cricket?
You cannot really point the finger at any particular incident or individual. Fast bowling is tough. You will get some kind of injury at some stage. Personally, I enjoy bowling more and playing a lot of matches and I have always been endorsing this.
If given an option between three net sessions and one match, I will always go for a match. I am really happy and I get better when I bowl more. One thing I have always said is that I love playing matches and the more I play it is good for my bowling and match-fitness. I am happy playing as many matches as possible.
How much help was it having Venkatesh Prasad as bowling coach?
If you look at it, since the whole support staff has been in place, it has been of big help. He has been very good with all the youngsters, putting in a lot of effort. There is a lot of healthy discussion going on, generally talking about cricket and fast bowling, about your experiences. I think sharing experiences is always helpful.
Whenever I get an opportunity I make sure I speak to bowlers who have performed at this level. It's been good to see Venkatesh Prasad working with the young bowlers, giving them their space and at the same time making them understand how to be at your best.
Whom did you look up to when you were growing up as a fast bowler?
I was definitely influenced a lot by Dennis Lillee. I was fortunate to work under him at the MRF Pace Academy. I used to read his book The Art of fast bowling and that really sort of inspired me when I started playing cricket in 1996.
I have been visiting the MRF Pace Academy quite a lot. It's been fun watching all the other bowlers, like Wasim Akram, Richard Hadlee or Glenn McGrath. I have been a big fan of Allan Donald; I liked to watch him charge in and also the way he jumped. It was a treat to watch Donald bowl at his peak.
How excited are you to be playing for the Bangalore team in the IPL?
Everyone is excited about the IPL because it is a new concept. We have to see how it goes. I am excited to play for Bangalore and excited that I would be bowling soon. So, all around, it's a good feeling. It's a new concept and we have to see how it goes. A lot of players are not playing for their own state teams.
How do you rate the composition of your Bangalore IPL team, the Royal Challengers?
We have a very good bowling attack. Praveen Kumar has been doing well in one-dayers and I am sure he will be very effective in the Twenty20 version too. Dale Steyn has been bowling superbly and in the high 140s. Nathan Bracken can swing the ball well and he is very good in one-day cricket. It is a very good bowling attack and it will be fun playing with players from different teams, different cultures. It will be fun gelling with them.
How exciting is the prospect of bowling to Indian team mates like Sachin Tendulkar or Sourav Ganguly in the IPL next month?
It will be exciting, but I will take it as another match and give my best. A game is a game and you have to give your best. You play to win always and do the best you can to get victory for the team.
More Interviews