Home > Cricket > First Look


Tendulkar dons poet's hat

Deepti Patwardhan | October 30, 2007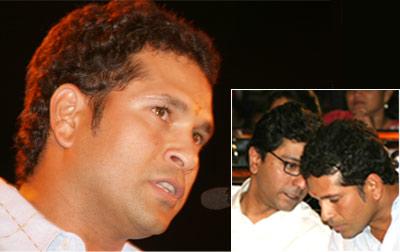 'All-rounder' Sachin Tendulkar [Images] took over a new role on Tuesday when he recited his late father and renowned Marathi poet Ramesh Tendulkar's poem at a function in Mumbai.
The Mumbai batsman recited Prajakta at the event, organized by the students wing of Maharashtra Navnirman Sena at Shivaji Park, where the who's who of Marathi entertainment and literature world also held stage.
"When Raj Thackeray first told me of the event I happily said yes," said Tendulkar. "He only told me later that I had to recite a poem also. Just the thought of it gave me sleepless nights!"
Tendulkar said he chose that particular poem, which talks of undying memories, because he was emotionally attached to it.
"My father passed away during the 1999 World Cup. I joined the team back in England [Images] after coming to Mumbai (to attend the funeral). Fortunately, I scored a century in the first match on my return.
"After scoring every century I point the bat to and look up to the heavens to thank God. This time when I looked up I saw my dad's face; I knew he was watching me. It was a very special feeling and this is what the poem is about so I relate to it."
Along with legendary historian Babasaheb Purandare, well-known Bollywood faces like Mahesh Manjrekar, Sachin Pilgaonkar, Shreyas Talpade [Images] and Sonali Bendre [Images] also read out their favourite poems.
The function was to inaugurate a book exhibition at the venue, which will run for four days.
Photographs: Sanjay Sawant