Home > Cricket > First Look


Spotted: Brian Lara in Barbados

May 02, 2007

Reader Sreedevi Vegunta sent us this picture from New Jersey.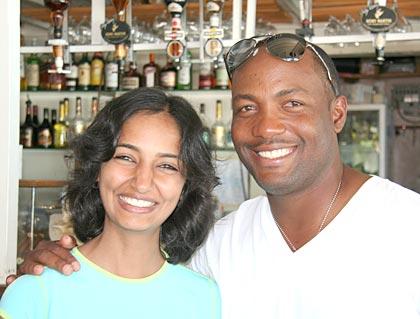 'My name is Sreedevi and I live in New Jersey, USA. I went to Barbados for the ICC cricket World Cup final game. As we went to the beach, close to our hotel, we spotted Brian Lara at the bar,' writes Sreedevi.
'I am a big fan of Brian Lara and all the disappointment of not seeing India in the World Cup final was forgotten in a moment when we met him. He is very humble and talked to us about India's and West Indies's exit from the World Cup.
'I wanted to share this exciting moment of my trip with rediff.'
If you encounter your favourite cricket/sports personalities, please send the photograph or video to sportsdesk@rediff.co.in. We will feature the best images or videos right here on Rediff Cricket or Rediff Sports.