Home > Cricket > India in the United Kingdom 2007 > Interview


The Rediff Cricket Interview / Harbhajan Singh

'This could be the start of a new Harbhajan Singh'

July 30, 2007

Adversity often brings the best out of a sportsman.

For Harbhajan Singh [Images] it could not be a worse time. Already reeling from the Indian team's dismal display in the 2007 World Cup, his misery was compounded when he was axed from the side after the tournament.

But he did not complain. Instead, when the chance came, he joined the English county, Surrey, to stay in touch with the game and get back to his wicket-taking ways.

At Surrey, he has done well in every match he has played.

"Playing county cricket is better than sitting at home and doing nothing. At least, I am playing competitive cricket, which will keep me fit and in contention. I will also learn a lot of things playing county cricket since you get to play in different conditions on different types of wickets. The experience that you gain from playing county cricket can only help you become better," the off-spinner told rediff.com Cricket Correspondent Harish Kotian.

Harbhajan began with a match-winning three-wicket haul against Durham in his first match for Surrey; he then took nine wickets against Worcestershire.

"I came here to enjoy my cricket. Whether I am in the Indian team or not is something that is not in my hands. I can't do anything about it. I can always do things which are in my control -- keep myself fit and make every performance count by looking to take wickets every time I bowl."

He makes it clear he is ready to take over the main spinner's mantle from Anil Kumble when the great man ends his distinguished career.

"Watching Kumble doing so well for so many years now has been a learning experience for me. I am looking forward to matching his efforts and do what he has done in his successful career so far. I know it is difficult, but I will look to fulfill his place whenever he goes."

"I think I am ready to take Kumble's place whenever he decides to quit. I have been playing international cricket for nine years now. I am ready to step into his shoes. It is a tough ask to replace him, but I will try my best and look to match his performances. It has been a great learning experience playing with him over the years."

The 27-year-old Jalandhar native is India's most successful off-spinner, having taken 238 wickets in 57 Tests and 174 wickets in 151 one-day games.

He has been criticised that he bowls defensively these days to stop runs and is not looking to take wickets. Harbhajan counters this, saying whenever he has bowled for India, he has always looked to take wickets.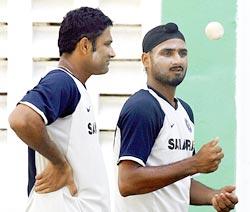 "I always bowl to take wickets. I am just looking to bowl well, trying to hit the right length. I look to bowl in good areas, bowl a lot of dot balls and look to take wickets all the time," he says.
The offie says he follows the basic mantra of line and length and that has helped him achieve success so far for Surrey.
"It is a little bit tough for spinners to take wickets in these conditions, which basically favour seam bowlers. But I always give it my best shot, irrespective of the conditions and wickets," he says.
The Punjab bowler believes he will make a comeback soon.
"I know I have plenty of years in me to serve Indian cricket, so the experience that I gain here, the things that I learn here will help me a lot in the future. This stint with Surrey will make me a better cricketer."
"I basically came here to be fit, get more experience and be in touch with the game, which was not possible sitting back in India since there is no cricket happening," he says.
Harbhajan is backing the Indian team to win its first Test series in England [Images] since 1986.
"The team is doing really well. I am very happy with their performance and I hope they continue performing at the same level. After a difficult time at Lord's they have done quite well at Trent Bridge. Now we have a very good opportunity to win the Test and also win a series in England after a long time. I wish them good luck and hope to see them win this series."
He believes the absence of England's key bowlers gave India a huge edge over the hosts, something he is sure the Indians will capitalise on.
"England are missing Andrew Flintoff [Images], Steve Harmison and Matthew Hoggard [Images] so I think they will really struggle to get our batsmen out. We have such a great batting line-up. All our batsmen -- Sachin Tendulkar [Images], Sourav Ganguly [Images], V V S Laxman [Images] and Rahul Dravid [Images] -- are world class batsmen. England will find it really tough to get them out," he feels.
"It is good to see Zaheer Khan [Images] bowling so well. He has done an exceptional job in the last few months since he has come back into the team. Anil Kumble, as always, is a champion performer. S Sreesanth [Images] and R P Singh have chipped in with important wickets, so our bowlers have done a good job," he says.
He misses wearing the India shirt. "I wish I was with the team, but I can't sit thinking about it all the time. I know my time will come soon. Hopefully, I will also be there taking wickets and winning matches."
Harbhajan says he is fully fit and looks forward to being picked for the one-day internationals against England, which begin next month.
"I am looking forward to being back in the Indian team for the one-day series. I am just raring to go for my country. I am looking forward to serving my country for many more years to come. I have a lot of cricket left in me and my time will come soon."
Harbhajan, the first Indian bowler to take a hat-trick in Test cricket, feels, "It is tough when you are out of the team but you got to believe in yourself. You must tell yourself that this is not the end of the road and keep motivating yourself to do well."
"I constantly tell myself this could be the start of a new Harbhajan Singh. I have set a goal for myself and try to achieve it. I don't worry about things that are not in my control. All I can do is to bowl and bat well when I get the opportunity."
"I am just 27 now and what I know is that spinners mature after 25 or 26. So I still have many years at the top left in me. I will get a lot of opportunities to prove myself in the future. I am not worried that I am out of the team now because I have the confidence in myself."
Harbhajan says he is clueless why he was dropped from the team.
"I was not told when I was dropped from the team. I was not told what my mistakes were. This thing doesn't happen in India. I don't worry about it and I am just working on becoming a better player. I have always performed under difficult situations and this is the same. One thing you need to know is that if you want to perform for your country, you just need to work hard."
He showered rich praise on Tendulkar, saying "Sachin is a great player. He is an unbelievable batsman. I think God just made him to bat and score runs. That is what he has been doing all his life. Even now, when I see him on television, I can see that he is as hungry as he was 17 years back when he started international cricket and that is just amazing."
"He has been a great role model for all of us," Harbhajan says of his old team-mate, "and hats off to him (on getting 11,000 Tests runs). I wish he can get 50 hundreds in both forms of the game before he retires."
"The best part about him is that even when he is not batting well he is tough to get out. Even on a bad day, he will end up scoring a hundred. He can hit boundaries off good balls and he is so difficult to bowl at."
"My target in England is to play good cricket and look to help Surrey reach the next level. They didn't do well at the start of the season, but now they are looking to get back to the top. Hopefully, I can help them achieve their goals and improve their performance. As a professional cricketer, a lot of responsibility rests on me and I know I need to do well. I am looking to do well by looking to take wickets, scoring runs every time I take the field and that is not only good for Surrey but also good for me."
There are few better sights in cricket than watching Harbhajan on song bowling his huge off-spinners interspersed with the odd 'doosra'.
Try as much as you can, but you can never get me down is Harbhajan's mantra. As witnessed in the history of sport, the greatest performers have been the ones who have come back after an odd failure or two.
Photographs: AFP/Getty Images