Home > Cricket > Stars We Spotted


Spotted: Sachin Tendulkar in 1994

January 18, 2007

Reader Gopi Mamidipudi sent us this picture.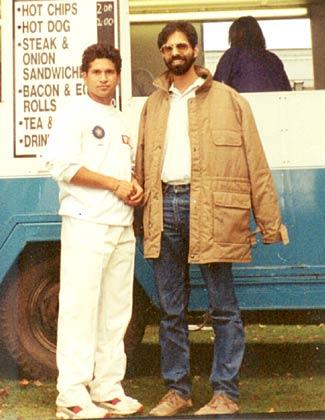 'It rained in the first session of the first day of a Test match at Hamilton, New Zealand, between India and NZ in March 1994. Sachin Tendulkar and Vinod Kambli were standing in line outside this burger van at the ground, and I was right behind them. Sachin was nice enough to agree for this photo that my wife Kamesh took. Fortunately we had a camera with us! This was on March 19, 1994 -- 12+ years ago! The match ended in a draw. Even though India was positioned for a possible victory!' writes Gopi.
If you encounter your favourite cricket/sports personalities, please send your photograph to sportsdesk@rediff.co.in. We will feature the best images right here on Rediff Cricket or Rediff Sports.