Home > Cricket > Stars We Spotted


Spotted: Sachin and Yuvraj in Melbourne

December 24, 2007



Reader Ankur Bhatnagar sent us this picture from Melbourne.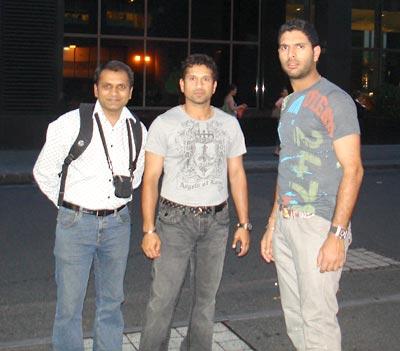 'I am Ankur Bhatnagar. On my visit to Melbourne this month, I got a chance to meet Sachin Tendulkar [Images] and Yuvraj Singh [Images]. It was an amazing experience,' writes Ankur.
'Sachin, Yuvi were very generous to have their photograph taken with me. In fact I got a chance to speak with them about cricket, and wished them best of luck for the Boxing Day Test which is considered as one of the biggest sporting events in Melbourne.'
Thank you, Ankur, for sending this photograph!
If you encounter your favourite cricket/sports personalities, please mail the photograph or video to sportsdesk@rediff.co.in. We will feature the best images or videos right here on Rediff Cricket or Rediff Sports.
Also see: More Reader photographs