Home > India > Sports > Football > Report


Discuss |
Email |
Print | Get latest news on your desktop

Who's better: Ganguly or Dravid?

October 26, 2006 12:16 IST



New Zealand [Images] captain Stephen Fleming [Images] on Tuesday said it is unfair to compare the captaincy of Sourav Ganguly [Images] and Rahul Dravid [Images], as both have their own contrasting styles.

"I think captaining India is probably the toughest job around with so much pressure and expectations from the fans. Both Sourav and Rahul have contrasting styles of captaincy, but both are very strong personalities," he said in Mohali.

Fleming broke Arjuna Ranatunga's record of captaining in the most number of one-day internationals on Wednesday, when he led New Zealand against Pakistan in the ICC [Images] Champions Trophy [Images] match. It was his 194th match as New Zealand captain.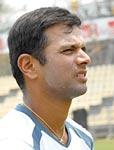 The left-hander believes that while Ganguly was emotional, Dravid takes a measured approach.
"Sourav had quite an emotional streak but Rahul seems more calculated and measured," Fleming said.
"I think the team developed more under Sourav, and Rahul took over naturally. Sourav brought a lot of spark and passion to the side, while Rahul is quite measured," he added.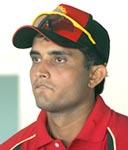 Ganguly is India's most successful captain. He had 21 Test victories to his credit before being dumped last year. Dravid, his successor, along with coach Greg Chappell [Images] has taken the team to a new level, with emphasis on blooding youngsters with a view on the 2007 World Cup.
Is Dravid a better captain or did you prefer Ganguly's style of captaincy?
Email |
Print | Get latest news on your desktop