Home > Cricket > India's tour of West Indies > PTI > Report


Ambrose hates talking cricket

Ashish Shukla | May 30, 2006 15:08 IST



Fast bowling great Curtley Ambrose says that spinners will have a key role to play in the upcoming Test series between India and West Indies as Caribbean conditions no longer favour the quick bowlers.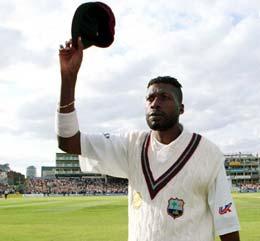 "The pitches in the Caribbean no longer find faster men licking their lips in anticipation. Instead, I expect spinners to play a big role in the forthcoming Test series," says the bowler who himself was a menace for batsmen around the world before hanging up his boots after claiming 405 wickets in 98 Tests at an average of 20.99.
Ambrose, described by former Australian captain Steve Waugh as the "meanest and most perfect fast bowling machine of his time," looks at the West Indies team and puts his finger on a few areas of concern.
"Somebody like Fidel Edwards is not bad. He has the potential. But he doesn't have anyone senior helping him through. He has to find his way through trial and error. I was lucky in this regard that I had the likes of Courtney Walsh and Malcolm Marshall sharing their experience with me," the Antiguan said.
Ambrose, who was known for his stifling accuracy, in particular, chose one of the many nuggets which peerless Marshall passed on to him while he was coming along.
"I remember an advice in particular from Marshall. He told me, 'maan, watch your figures. If you take care of your figures, you would be alright."
"It was a significant message. I realised the more you could dry up the runs, the better chances you stood in getting a batsman out," Ambrose said.
Ambrose took the message to his heart. He says he never liked the tribe of batsmen anyway and hated conceding even an inch to them.
"I didn't like them anyway. A few of them were worthy but I wouldn't take their names now and make them feel happy. I hated conceding runs."
But one name slips through his closed chambers and it happens to be Sachin Tendulkar.
"He was only 17-and-a-half when I watched his hundred in England in 1990 in the Manchester Test. I then said to myself, 'Only 17, hmmm'", the great bowler said.
He has little hesitation in desribing Tendulkar as one of the greatest batsman to have ever graced the game.
"He is not over, maan. He is just 33. He would recover from his injuries. He is still one of your best guys. You would surely miss him in the Test series."
Not only was Ambrose miserly, he was hostile too. He didn't like interacting with opposition and revolted at the sight of news reporters.
"I didn't like to be friendly with rivals. I wanted them to feel the heat. And I didn't like reporters because you people think you know everything," he said.
No wonder Ambrose is arguably the least interviewed of all cricketing legends. The world hasn't heard his side of the story when he stood towering over Steve Waugh at the striker's end in the 1995 home series, like a volcano about to erupt, when his captain Richie Richardson yanked him away.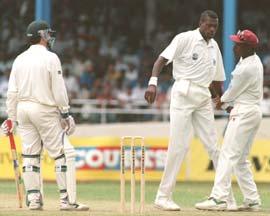 That photograph remains one of the most memorable in the history of the game.
"Yes maan, I could have hit him. It was that close," Ambrose said. Waugh himself has acknowledged in his autobiography that he feared a physical pounding from the mean fast bowler after he twice uttered a four-letter word in his frustration following his inability to hit anything in the middle of his bat.
Ambrose is able to talk about it today because cricket is now out of his system.
"Cricket gave me an identity but it wasn't my first love. I did it as a job, for me basketball and music were my true passions.
"I started the game very late, at around 21 years, and didn't enjoy the day-to-day discipline. I packed up when my body told me to do so. I felt happy to be out of it," Ambrose said.
It's impossible to believe that one of the greatest fast bowler in the history of the game never cherished being on the field and that his undeniable quality was because of natural talent and not due to hours of honing his skills.
"I guess I was a natural. If my run-up was smooth and action fluent, it wasn't because I trained for it."
After retirement, Ambrose does not miss cricket and is not an avid watcher.
"Now I don't even watch the game. I have hardly watched a full game since I retired. I sometimes see a few snatches of play on television and that's about it. I might not even come to watch the first Test on Friday," he said.
Even though Ambrose no longer has time for the game, he picks the 1992-93 tour to Australia as his most cherished one when they overcame a one-nil deficit to emerge 2-1 victors.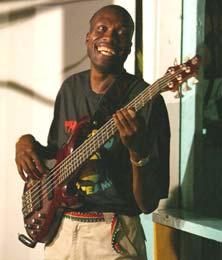 "It was remarkable for we were a largely young team. Except for Courtney (Walsh), Dessie Haynes, Richie Richardson and me, all other guys were young."
It was a nomentous series not only for him, but for cricket in general as a certain Brian Charles Lara first served notice of his talent with a majestic 277 in the Sydney Test.
The scary fast bowler of yesteryears today is happy spending hours sitting by the shores of Antigua and catching fish. He can spend 6-8 hours by the sea shore, angling for fish.
He is heavily into promoting his music band by the name of 'Dread and Bald Head' and strums guitars in the company of his former captain Richie Richardson.
India's tour of West Indies: The Complete Coverage
Would you like to join the Cricket and Cricket Lovers Discussion Group and discuss your cricket views with other cricket freaks? Click here. Have fun!
© Copyright 2006 PTI. All rights reserved. Republication or redistribution of PTI content, including by framing or similar means, is expressly prohibited without the prior written consent.



What do you think about the story?








Read what others have to say:





Number of User Comments: 4








Sub: difficult 2 believe

Ambrose is my all time favourite bowler but it's difficult 2 believe that cricket is not his 1st passion....a statement 4m this demon bowler hurts ...


Posted by Ishan Tripathi









Sub: Hmmm

Why is this article on the front page, when it was published on May 30, 2006? Did rediff run out articles to post? this is ...


Posted by Abhishek









Sub: Great to know

Its great to know that ambrose is enjoying his life even if its not about cricket. a great bowler who used to bowl yorkers from ...


Posted by charanjay singoor









Sub: Great Bowler

Ambrose was certainly a great bowler to have in the team. Between him and Walsh, any time any day any pitch they could be trusted ...


Posted by Venkat






Disclaimer