Advertisement
May 10, 2006 19:08 IST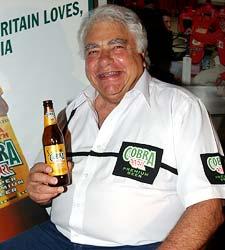 Farokh Engineer was considered one of the finest wicketkeepers of his time.
His keeping skills against the legendary spin quartet of Bishen Singh Bedi, E A S Prasanna, Bhagwat Chandrasekhar and S Venkataraghavan was the stuff of cricketing legend.
Engineer, who played 46 Tests and 5 one-day internationals for India, never curbed his attacking style of cricket. In many ways, he was the Mahendra Singh Dhoni [Images] of his time.
The legendary wicket-keeper, who is based in Britain, now serves as vice-president of the English county club Lancashire, which he played for in his youth alongside West Indian great Clive Lloyd [Images].
In an exclusive chat with rediff.com readers on Wednesday, Engineer said, "Dhoni has impressed me immensely as he reminds me of my younger days."
The transcript:

---
The Farokh Engineer chat says, Hello and welcome to this webchat with Indian legend Farokh Engineer. Post your questions now and we will answer as many as possible.

---
shka asked, Hi farokh sir,whom do u thing is best bestman, Sachin or Lara ?
Farokh Engineer answers, They are both great batsmen and on their days they are both better than each other. And wouldn't it be nice to see Sachin back from his injuries to renew his battle with Lara for the top batsman in the world today along with the likes of Dravid and Ponting.
---
pat asked, Sir, what is your take on the Gangully issue?
Farokh Engineer answers, The Ganguly issue is a sad affair and certain sections of the media have not helped matters. Things have seemed to have got out of hand as Greg Chappell [Images] appears to think that he's dropped Ganguly in the best interests of the team whereas Ganguly's supporters -including some of the players - feel that he still has a lot to offer with his experience. He needs some big scores so that they would have no option but to pick him again.
---
ravimca18 asked, hi sir what is comment on wanderers one day match between Aus and South Africa, we belive that it one of finest match, which may not seen agian what is your comment
Farokh Engineer answers, For me the man of the match was the groundsman for having prepared such a fanatastic batting track that both sides capitalised on to create the biggest batting spectacle ever seen in a limited-overs game!
---
rajesh asked, Sir, you were a very good wicket keeper batsmen in your playing days. Did you follow any special exercises to keep your physically fit for the demands of wicketkeeping and batting?
Farokh Engineer answers, Skipping was one of the best exercises in my day along with several other ways of keeping myself supremely fit. It was left to your own devices to maintain your form and physical fitness and in my opinion one of the main requirements for top-class wicket-keeping.
---
RANJITH asked, WHAT IS THE DIFFERENCE BETWEEN TODAYS CRICKET AND CRICKET IN 1960'S & 70'S.
Farokh Engineer answers, There's more cricket played these days, especially internationally, which I wish we did in our days as I for one would never have complained of too much cricket. I just loved playing.
---
Amitabh [Images] asked, Hi Sir , How are you ? How much cricket do you think is left in sachin
Farokh Engineer answers, Sachin is unique and has been a truely great batsman and ambassadorfor Indian cricket. I'm sure when his injury problems are over he will continue where he left off and and prove once again that he is one of the greatest batsmen in the world today.
---
pat asked, Sir, what are India's chances at the 2007 world cup games?
Farokh Engineer answers, Excellent chances as we have a very talented and balanced side, capable of even giving the mighty Australians a run for their money.
---
pat asked, Sir, what can the past cricketers give to Indian cricket and how? Do you have any plans which you can suggest to the BCCI?
Farokh Engineer answers, I would love nothing more than to be asked to be involved in helping young budding talent that's in abundance amongst young Indian cricketers. Not only in wicket-keeping, batting but inspiring them to play positive cricket
---
srikanth asked, who is best batman in the world
Farokh Engineer answers, Apart from our own Sachin and the great Brian Lara [Images] we have our own Rahul Dravid [Images], who doesn't realise how great a batsman he is. And of course there is Ricky Ponting [Images]. There are the four top most batsmen in the world today.
---
ajisan asked, Did Prasanna bowl the 'doosra' ? Also why are the Aussies weak against off-spin bowling ?
Farokh Engineer answers, Not really in the same manner as Murali does today, but Prasanna certainly did bowl an excellent floater which deceived some of the finest batsmen in the world.
---
brijesh asked, Sir, Why do you think the current indian cricket team is not as good as test cricket ?
Farokh Engineer answers, With India being so much better at the more popular version of limited-overs cricket, certain batsmen apart from the likes of Dravid have been unable to get big hundreds which is so essential towards winning Test matches.
---
daboo asked, Sir, Do you think our top-order batsmen will be successful in West-Indies?
Farokh Engineer answers, Yes, most definitely! All we need is a good start from our opening batsmen.
---
nadeem asked, hi mr engineer, do u think freddie is destined to b future english captain
Farokh Engineer answers, Most definitely so in my opinion as he is not only my chela but one who has impressed me so very much over the years. I have seen his progress and the lad has so much talent without being big-headed. He should be the England [Images] captain for many years, but I'm not sure if the coach, Duncan Fletcher, shares my view.
---
satish asked, Hi Farokh Sir, I just want to ask one thing how much do u think politics in cricket has been curbed since your days to now. Or u think it is still the same???
Farokh Engineer answers, Politics in cricket was most dreadful in my time, I'm sad to say. But I would like to think that things are so much better now for the sake of our Indian cricket.
---
rajj asked, Hi Sir What do u think that India need to improve to compete Teams like Australia?
Farokh Engineer answers, Australia have certainly set the benchmark and they are THE team to beat. We certainly have the talent and the potential to take them head-on, but our fielding needs vast improvement and our batsmen have to got to get big hundreds to compete with them.
---
Rahil asked, Why dont you undertake professional coaching in any level ?
Farokh Engineer answers, I still help youngsters whenever asked and will always willingly continue to do so without ever expecting anything in return.
---
Ranjit asked, Farookh, who do you think is a polished wicket keeper.. Dinesh or Dhoni... I want to know only on the keeping capabilities
Farokh Engineer answers, Dhoni has impressed me immensely as he reminds me of my younger days. But I must admit I was very impressed with Dinesh's wicket-keeping when he toured England. It's wonderful to have healthy competition so noone gets complacent which can only be good for Indian cricket.
---
beerbelly asked, Is Dhoni not as good a keeper as Karthik or people say that because he is such a good batsment that people think he has to be an average keeper. My impression (it is just an impression) is that he has missed fewer catches and stumpings than both kathik and patel
Farokh Engineer answers, Dhoni certainly has the right aggressive approach to both wicket-keeping and batting, and he should continue enjoying the game as he seems to be doing. In wicket-keeping alone there is very little to choose between the top Indian 'keepers but it's Dhoni's batting that makes him stand out above others.
---
ksatyanarayanan asked, Do you remember two 0s against west indies in Bombay during 74-75 series. What was your feelings during that time?
Farokh Engineer answers, One of the saddest days of my life in all honesty. But isn't it funny that people remmember and remind me of that incident of the fastest hundred I've scored in Test cricket in only 46 balls on the first morning of the Test match against the mighty West Indian attack of Wes Hall, Charlie Griffith, Sobers ans the like.
---
Farokh asked, Hello Farokh bhai, How r u? Who is the best opening pair now for our country? Asif Ali, B'lr
Farokh Engineer answers, Certainly Sehwag and we've got to find another one and stick to him, possibly Jaffer.
---
SHARAD asked, Hi Farokh, What do you do in London [Images]? Have you become a British Citizen?
Farokh Engineer answers, I live in Manchester now, close to Old Trafford, and have done for many years now. I love this country, Lancashire and London. in fact I was in London last night with Freddie Flintoff and the boys!
---
rinku asked, sir do think players in modern era is looks more talented due top media hype then in your time
Farokh Engineer answers, I think that has a lot to do with it yes, but I was the first to do advertising within the Indian cricket team so maybe it started with me! Since the early 90s the media have definitely hyped up our team, but with the likes of Tendulkar it hasn't mattered as he had the talent already.
---
binoj asked, Hi farokh : do you think west indies wil regain its past glory
Farokh Engineer answers, I played against the best and fastest bowlers in the world in the West Indies [Images] team. Looking at the current side, it looks unlikely that they will regain that era for a while yet. The administration needs to find a way to nature the young bowlers and also find a way of clearing out the problems surrounding the contracts dispute.
---
rinku asked, do u think 105 days criket in a year is too much
Farokh Engineer answers, There is a lot of international cricket these days, but as I said earlier I would have loved to be in this position today. It is very healthy for the game both in terms of viewing aspects and commercial terms, but just as long as they don't put in more games every year.
---
indian asked, what makes dhoni and gilchrist so special?
Farokh Engineer answers, Dhoni and Gilchrist are both supremely talented players, and while Gilchrist has been unchallenged in the Aussie team, Dhoni must at least be given a chance to mature in the Indian team. Dhoni reminds me of myself, when I played, as he is not afraid to go for his shots. He mustn't let other people get in the way of his cricket as what happened to me when I listened to others when I should have let my cricket do the talking.
---
Farokh Engineer says, Okay, that's it from me. If you want to find out more about Farokh Engineer log on to: www.nobok.com Thanks for all your questions!
- Courtesy: Nobok Sports