Advertisement
February 14, 2006


Mired in controversies that he describes as "needless", India's cricket coach Greg Chappell [Images] has momentarily wondered whether he should stay on. On Tuesday though he told his detractors he is not going to flinch.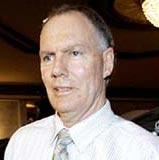 The tough-talking Australian, who found himself at the centre of a row regarding Sourav Ganguly's [Images] place in the team after taking over as coach eight months ago, said, "There have been people around the team and outside the team who have tried to make issues much bigger than they have really been."
Given the controversies did he ever think it may not be worth it?
"It has probably flashed across my mind once or twice, but I have never actually got to the stage where I thought it is not worth it," he told M K Razdan of the Press Trust of India in an interview.
"You think, is it worth it? Then I ask myself that question and the answer is always yes, it is. I have an unflinching commitment to the job. I am more committed today than I was the day I started, because I have seen what can be done; I have seen what can be achieved if we get the right people with the right commitment together."
Chappell's strong personality evokes a mixture of praise, criticism of his methods and unsubstantiated whispers about his "agenda."
In fact, a Pakistani spectator had held a placard during Monday's Lahore [Images] one-day international that said, 'Chappell vs Ganguly'.
The coach dismissed such talk by stating that he has a "very happy and committed" dressing room, although he is saddened by needless controversies that have gone on since he took over. Most of the controversies have been "engendered from outside the team," he added.
When he accepted "one of the most challenging and demanding jobs in cricket" he knew "some feathers would be ruffled along the way to make the changes that were necessary", Chappell said, pointing out that from time to time any coach will need to take tough decisions, pull the players aside and talk to them about developing their game and their focus.
Nevertheless, he describes his experience so far as "fascinating" and by and large "wonderful".
>"The more important side is that we have made some wonderful progress and seen some wonderful change in individuals, the way they have gone applying themselves to their cricket.
"I have seen some terrifically exciting changes with young players coming into the squad, which is reinvigorated. The older players and the whole group has been refreshed by the youth and enthusiasm that has come into the team. I think that has been misunderstood and misrepresented in certain quarters to the detriment of Indian cricket," Chappell said, as he went on to express his views on a variety of issues concerning Indian cricket:
His agenda: "I have only one agenda from the day I arrived. I was employed to try to improve the Indian cricket team. I came here with that agenda and that is the only agenda I have."
His commitment, he said, is to excellence, and he is working very hard along with his support staff, skipper Rahul Dravid [Images] and the team towards that goal.
"We are seeing results of that on the field. The job is only partly done. It is probably not even half done, in the sense of what we need to be able to do on a consistent basis to win cricket matches."
Controversies: "I knew to make change was going to be difficult. To change the way people perceive things, the way people think, whether it is the players, the media or general public takes time. Along the way there are bound to be some fluctuations. I cannot get involved in that and cannot get distracted by that."
Does former India captain Sourav Ganguly figure in his plans for World Cup 2007?
"I am not able to say at this stage who will be in that squad. As I said to the group of 30-odd players when we started in Bangalore in June, who plays in 2007 World Cup has nothing to do with me, nothing to do with selectors. In any case I am one of the seven people involved in the process. It is actually up to each individual to either select themselves in or select themselves out, and that will be by performance, by their attitude, by their ability to fit into all the criteria that are needed to be a Test cricketer or a one-day international player.
"It has less to do with the runs made and wickets taken. It has to do with having everything that makes up the individual who blends into a group that can be a successful team. It has a lot to do with individuals and their commitment to getting better as a person, getting better as player. It is not just about batting or bowling; fielding is a very important part of it.
"Then there is attitude -- your attitude towards the team, towards your team mates. There is a checklist of about ten points each individual needs to be able to meet to fit into the future of the Indian cricket."
In other words, is it up to Gunguly?
"It is up to all of us. It is up to any individual who is playing cricket to display qualities that are necessary to meet the requirements of a successful team."
Bowling coach: Does India need one?
"No, we do not need a bowling coach. We have got hundreds of bowling coaches. We have got Michael Holding on television who tells us everything that we have to do. We have Imran Khan [Images] on television everyday telling us what we have to do."
Is he worried by the drop in pace of Irfan Pathan [Images] and Zaheer Khan [Images]?
"Some bowlers start their careers as medium pacers and they finish up as fast bowlers like Imran Khan did. You have got others who start as fast bowlers but finish up as medium fast bowlers like Richard Hadlee. You have got other bowlers like Kapil Dev [Images] who were swing bowlers who bowled at 130 kmph. They got hundreds of wickets in Test cricket.
"I am not sure Pathan has dropped that much pace -- he still bowls 136 or 137 kmph from time to time. In Zimbabwe a few months ago he bowled in high 130s."
"He is a young man who is developing. There has been way too much emotion and energy devoted to this particular subject. There are not many cricketers in the history of the game at 21 years of age who have got the record Pathan has got. Let us accept he is not a fast bowler. Once we accept that we might not have all this emotional claptrap that goes on about Pathan."
World Cup 2007: "I do not have worries as such. I have some focuses. There are some areas we need to develop such as our batting, bowling and fielding, our flexibility, our ability to handle all types of situations that can come up on the field during a cricket match. If we keep developing in all these areas we will be a competitive team that will have a chance to win the World Cup. If we can get to semi-finals anyone can win from that point."
Indian dressing room: "We have a very happy and committed dressing room. We have a bunch of cricketers from Sachin Tendulkar [Images], who has played hundreds of Test matches and hundreds of limited over matches, to cricketers who have played two or three one-day games. We have a good blend of personalities, good blend of talent, youth and experience."
Search for fast bowlers: "If Indian cricket lacks anything through its history it is that we have not had a lot of fast bowlers. That has a lot to do with culture, climate and conditions. The BCCI needs to look at types of players that win Test matches. History of cricket tells you that fast bowlers have a big part to play. We need to look at parts of India that are likely to develop fast bowlers. The sort of wickets we play on domestic cricket makes a very big difference to the types of bowlers that get developed."
© Copyright 2004 PTI. All rights reserved. Republication or redistribution of PTI content, including by framing or similar means, is expressly prohibited without the prior written consent.

More Interviews