Advertisement
March 17, 2005


Steve Bucknor spent the whole day under the blazing Kolkata sun, but he was as relaxed as ever as he obliged autograph hunters at the Taj Bengal in Kolkata after returning from the Eden Gardens at the end of play on day 2 in the second Test between India and Pakistan on Thursday.

The 58-year old Jamaican, officiating in his 100th Test, even posed for photographs with the many fans who waited outside the hotel to get a glimpse of their favourite cricketers.

'Who will win this Test match? India or Pakistan? yelled someone from the crowd.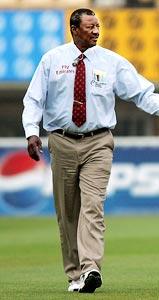 "I don't know," replied Bucknor.
Another fan repeated the question. To which Bucknor's riposte came like a Calypso tune.
"I don't know, I really don't know.
"How can I know about tomorrow.
"Do you know who will take more wickets tomorrow?
"Will it rain tomorrow?
"Will someone get a triple hundred tomorrow?" he shot back.
The crowd was bemused and just stared at the lanky figure.
Then Bucknor continued: "See, you also don't know. Even I don't know. I don't know about tomorrow."
Came another question: `Mr. Bucknor, how much is the hot weather of Kolkata affecting you?'
"I am from Jamaica," he replied.
Then, pointing to his skin, he added: "Look here; do you think this weather will affect me?
"The weather is just like back home in Jamaica. I am enjoying the weather here."
Bucknor also tried to show off his little knowledge of Hindi when he shook hands with a child.
"Chota, chota," he addressed the toddler to the delight of the crowd.
Encouraged by his simplicity, a fan took the liberty to ask him ask him a favour.
`Steve, I have a request for you. Please don't give Sachin Tendulkar [Images] out leg before wicket next time.'
Pat came Bucknor's response: "That wouldn't be fair. Would it?"
He then retreated to the comfort of his hotel room with a nod, a broad smile and "goodnight".