Advertisement
August 04, 2005 19:55 IST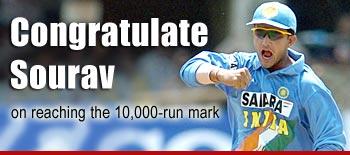 Sourav Ganguly returned from a four-match ban with a fighting knock of 51 in the fourth one-day international of the IndianOil Cup tri-series against Sri Lanka [Images] on Wednesday.
During the course of the innings he completed 10,000 runs in the shorter version of the game, only the third batsman after Sachin Tendulkar [Images] and Inzamam-ul Haq to do so.
Ganguly, who led India for five years and changed the face of Indian cricket before handing over the throne to Rahul Dravid [Images] for the current competition, showed great spirit while overcoming a lean patch.
Congratulate Dada on his feat!