Home > Cricket > Column > Darshak Mehta


The next Brett Lee?

March 29, 2004



When Brett Lee recently aggravated his ankle injury in Sri Lanka, the Australian selectors sent as his replacement a 'bolter' -- a tearaway rookie who they hope will play Lee's role of the enforcer, in future.

He didn't have a passport, hadn't been overseas before and even his father thought Andy Bichel was a more likely candidate.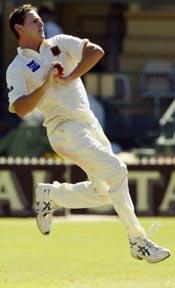 Twenty-one year-old  Shaun Tait is a breath of fresh air in Australian cricket, where there are several fast medium bowlers but hardly any fast bowlers. Tait is genuinely fast but wayward with a slingy action reminiscent of Waqar Younis.
Tait, of Adelaide in South Australia, was playing computer games on his Playstation when Australia's Chairman of Selectors, Trevor Hohns, rang to convey the news that he had been selected (over Andy Bichel, Nathan Bracken and the redoubtable Glenn McGrath) to replace the injured Lee.
At first he thought it was a prank being played by one of his mates but soon realized it really was Hohns on the line and he was not pulling his leg!
He was over the moon and cracked a celebratory beer with Dad, Phil.
Tait has impressed seasoned observers, colleagues and opponents alike this season with his raw pace. He is next only to Brett Lee as the fastest bowler in Australia - regularly in the high 140's.
A 2003 scholar at the Commonwealth Bank Cricket Academy, Tait was last month named the Bradman Young Cricketer of the Year at the Allan Border Medal presentation. The award, presented to the nation's most outstanding player under the age of 24, was voted on by all contracted first-class players.
The Allan Border Medal night is like Oscar night - for the cricketers.
He was also nominated as the ING Cup's Best New Talent in season 2003-04.
Only 21, Tait's selection was a surprise. Just three seasons ago he had been struggling to make an impression in Adelaide C-grade cricket for his club Sturt! He was not picked for the champion Australian Youth World Cup side three years ago either, but since then Tait has had a meteoric rise through the ranks - he has so far played only 14 First Class games since his Pura Cup debut in December 2002.
This season he has taken 33 wickets to add to last season's 20. The first hint that Tait was destined for higher honours emerged when he was picked to play for Australia `A' against the touring Zimbabweans and then against India in Hobart.
Zimbabwean captain Heath Streak regards him as an outstanding prospect.
Tait drew the spotlight this year with a One-day haul of 8 for 43 against Tasmania, a record tally of wickets in an Australian domestic Limited Overs match.
Steve Waugh rates him the quickest and meanest bowler in first class cricket, and Tait has developed a reputation as the bowler, batsmen here would least like to face.
Australian selectors have always tended to pick their genuine bowling prospects very young and more on potential than on form or performance. Brett Lee, Jason Gillespie, Glen McGrath, Craig McDermott, Bruce Reid, Dennis Lillie, Jeff Thompson… the list goes on.
Tait is a strike bowler. He has the extreme pace, bounce and aggression to rock most batsmen. He almost put skipper Ricky Ponting - the world's pre-eminent player of pace bowling - out of the reckoning for the third Test in Sri Lanka by hitting him on the side of his helmet and bloodying him.
He says compliments from former Test captain Steve Waugh on his recent performances have helped his confidence.
"I think bowling to him and bowling well to him just made me put my name up there and helped me out a bit," he said.
Tait's blistering pace afforded him the license from Australia `A' captain Michael Hussey to "go hard at the Indians" in Hobart during the Tour match in December.
"I'm not really a zone bowler that bores them out," said Tait.
"I'm more of a bowler trying to bowl as many wicket balls as I possibly can.
"I think it's good to have a license like that; I can concentrate on just bowling fast. They might not come out straight away how I want them to but there's always bound to be a good ball in there which is a wicket ball.
South Australia coach Wayne Phillips said despite Tait's lack of experience he had no doubts that the bowler was ready for the step up.
"He bowls with good pace and good shape and obviously the selectors like that," Phillips said.
It is a fair bet that Tait will be in the Australian side to tour India in October this year and will lend it the fire-power which Australia has lacked of late due to injuries to most of their fast bowlers.
Editor's note: Rediff believes that like its own editorial staffers, readers too have points of view on the many issues relating to cricket as it is played.
Therefore, Rediff provides in its editorial section space for readers to write in, with their views. The views expressed by the readers are carried as written, in order to preserve the original voice.
However, it needs mentioning that guest columns are opinion pieces, and reflect only the feelings of the individual concerned -- the fact that they are published on Rediff's cricket site does not amount to an endorsement by the editorial staff of the opinions expressed in these columns.
More Columns


What do you think about the story?








Read what others have to say:





Number of User Comments: 1








Sub: Whatever...

Dear brett happy birthday , many many happy returns of the day . may god blast u [just kiddin] i just wanna tell u that ...


Posted by Nigar






Disclaimer