Home > Cricket > Reuters > Report

Murali to make full recovery, says surgeon

August 17, 2004 10:39 IST

Sri Lanka's Muttiah Muralitharan had shoulder surgery overnight and will be back to full fitness in five months, the off spinner's surgeon David Young said on Tuesday.

"He'll start bowling around three months post-surgery, but I want him to take it quietly for the first month," Young told Australian Broadcasting Corp. Radio.

"(He won't be) fully fit at international level for four to five months."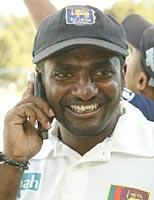 The surgeon had advised world record Test wicket-taker his future in the game may be under threat if he did not have surgery on his troublesome right shoulder.
"I was pleasantly surprised. He's a 32-year-old who's been playing international cricket for 12 years," Young said.
"I thought there would be a fair bit of wear and tear on the shoulder. We didn't find that, we found a lesion and that in turn was pressing on a nerve and starting to weaken the muscle and that was our real concern."
Muralitharan has 532 wickets, five more than Australia leg spinner Shane Warne.
The 34-year-old Warne had drawn level with the Sri Lankan on 527 last month when Australia hosted Sri Lanka in a two-Test series.
Muralitharan told reporters last week in Melbourne he thought Warne was a wonderful bowler and fully deserved the title of world record holder.
| | |
| --- | --- |
| | Also Read |
| | |
Warne, who completed a 12-month doping ban in February this year, will have his chance to claim the record outright during Australia's four-Test tour of India in October.

Australia will then host two Tests against New Zealand and three against Pakistan.

Muralitharan pulled out of the second and final Test against South Africa which started in Colombo last week and is set to miss the ICC Champions Trophy one-day tournament in England next month and Sri Lanka's tour of New Zealand in December.

Muralitharan, who has previously been called for throwing during tours of Australia but has since had his action cleared by officials, has taken his wickets in 91 Tests.

Warne has taken 112 matches to reach his total.





© Copyright 2006 Reuters Limited. All rights reserved. Republication or redistribution of Reuters content, including by framing or similar means, is expressly prohibited without the prior written consent of Reuters. Reuters shall not be liable for any errors or delays in the content, or for any actions taken in reliance thereon.