Home > Cricket > Report


Sehwag begins new innings with Aarti

Onkar Singh in New Delhi | April 23, 2004 01:52 IST
Last Updated: April 23, 2004 01:54 IST



After giving them the slip on his arrival from Pakistan, Virendra Sehwag on Thursday once again gave the royal ditch to hundreds of mediapersons who had turned up on Thursday to cover his wedding in Delhi.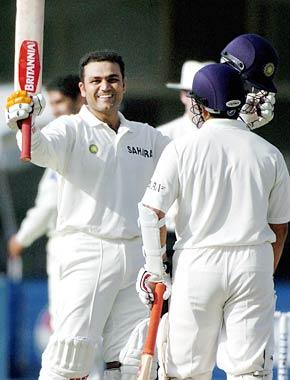 The Nawab of Najafgarh reached the venue in a Mercedes car and entered by a side entrance, Union Labour Minister Sahib Singh Verma in tow.
Sehwag tied the nuptial knot with Aarti Ahlawat, daughter of advocate Suraj Singh Ahlawat. He wore a designer achkan specially tailored for the occasion while the bride wore a pink lehnga choli with heavy gold embroidery.
Tight security and unseasonal rains tried to play spoilsport. The Delhi police (VIP security branch) had thrown a three-ring cordon to prevent unauthorised entry into the venue. "It may sound strange but we had instructions to provide the best possible security cover," a senior police official present at the venue revealed.
The venue 9, Ashoka Road is the official residence of Union Law Minister and Delhi Arun Jaitley who is also the president of the Delhi and District Cricket Association. The BJP leader could not make it as he was campaigning in Bangalore.
Guests complained of harassment as no one was allowed to enter without an invitation card but the elaborate menu, including 16 varieties of desserts, must have helped cool the tempers.
But no such luck for mediapersons who could neither meet the couple nor even enter the venue. Some lost their cool and hurled the choicest abuses at Verma, who had earlier denied them an opportunity to talk to the cricketer when the triumphant Indian cricket team returned from Pakistan last week. Even those who had gone to Sehwag's Laxmi Garden residence had to return empty-handed as police kept them away.
Sehwag's colleagues in the Indian team were not spotted at the venue though they are expected to turn up at a reception to be held on Saturday at a five-star hotel in Delhi, with the possible exception of Sachin Tendulkar, who will be celebrating his birthday on that day.
However, Board of Control for Cricket in India president Jagmohan Dalmiya did turn up to wish a century partnership to the couple.
| | |
| --- | --- |
| | Also Read |
| | |
Among others present on the occasion were Union Minister of State for Sports and Youth Affairs Vijay Goel, Bharatiya Janata Party spokesman Prakash Javadekar, senior Congress leader Jagdish Tytler, Hero Group chairman Pawan Munjal and film star Poonam Dhillon.

Both Goel and Tytler claimed to have known the family of the girl who lives in the Delhi Sadar parliamentary constituency. Goel and Tytler are contesting this seat for the BJP and Congress, respectively.

Sehwag is among thousands of grooms who tied the nuptial knot on April 22, which coincides with Akshay Tritiya, which is a particularly auspicious day for weddings. He and his wife are expected to fly out to Europe for their honeymoon.

With inputs from PTI

Photo: Getty Images


What do you think about the story?








Read what others have to say:





Number of User Comments: 24








Sub: best luck viru &arti bhabi

wish you happy married life. viru u r only one batsman who can make double century in future.i like your each & every shot & ...


Posted by vyankatesh sharma









Sub: hey indian star, keep rising, dont ever stop

hi sehwag, i m one of the millions of indians who praises our cricket team. first of all my heartly wishes on ur marraige and ...


Posted by chintan









Sub: Sehwag and Aarti, wishing you both a happy married life.

Wishing you both a happy married life. Sehwag all the best for the future.


Posted by Praveena Prabhakaran









Sub: hit triple century once again

may u again hit triple century in ur wedding life also. may god bless ur couple & have a wonderful life with ur life(wife). ...


Posted by srujana









Sub: Congrats to Veeru !

May the blessings of God be with you !


Posted by Dr. Cajetan Coelho






Disclaimer