Home > Cricket > Report


Who clicked, who didn't at the Challengers

Mohandas Menon | September 17, 2003 10:45 IST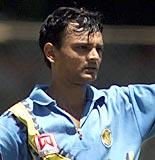 Tamil Nadu middle order batsman Hemang Badani topped the batting averages at last week's TVS Salve Challenger Cup tournament in Bangalore while Punjab batsman and part-time left-arm spinner Dinesh Mongia surprisingly took the bowling honours.
Badani had the stupendous average of 134 from his two innings in the tournament. Yuvraj Singh, who has been selected for the Rest of India side to play against Ranji Trophy champion Bombay in the Irani Cup starting Thursday was second in the batting averages with 94, followed by Rohan Gavaskar, another possible player for Rest of India, with 72.50.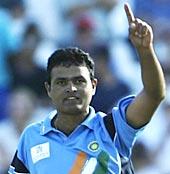 Mongia himself had a good run with the bat, averaging 62.50, and features at the top of the list among the 25 bowlers on show, taking seven wickets for 114 runs for the excellent average of 16.28. Next best was Tamil Nadu pace bowler Lakshmipathy Balaji, who also took seven wickets, but at an average of 18 runs apiece.
The tables below present the batting and bowling statistics of all the players at the Challenger. Players are listed in alphabetical order.
Batting statistics:
| | | | | | | | | | | |
| --- | --- | --- | --- | --- | --- | --- | --- | --- | --- | --- |
| Name | M | I | NO | Runs | HS | Avg | 100 | 50 | Ct | St |
| Ajit B Agarkar | 2 | 2 | 0 | 58 | 57 | 29.00 | - | 1 | - | - |
| Hemang K Badani | 2 | 2 | 1 | 134 | 73 | 134.00 | - | 2 | - | - |
| Sairaj Bahutule | 3 | 1 | 1 | 55 | 55* | - | - | 1 | 1 | - |
| L Balaji | 2 | 0 | 0 | 0 | 0 | - | - | - | 1 | - |
| Sanjay B Bangar | 2 | 2 | 0 | 129 | 66 | 64.50 | - | 2 | - | - |
| Amit Bhandari | 3 | 1 | 0 | 8 | 8 | 8.00 | - | - | 1 | - |
| Shib Sundar Das | 2 | 2 | 0 | 51 | 33 | 25.50 | - | - | 1 | - |
| Rahul S Dravid | 3 | 2 | 0 | 134 | 107 | 67.00 | 1 | - | 1 | - |
| Gautam Gambhir | 3 | 3 | 0 | 100 | 58 | 33.33 | - | 1 | - | - |
| Sourav Ganguly | 2 | 2 | 0 | 52 | 27 | 26.00 | - | - | 1 | - |
| Rohan Gavaskar | 3 | 3 | 1 | 145 | 79* | 72.50 | - | 2 | 1 | - |
| Murali Karthik | 2 | 2 | 1 | 1 | 1* | 1.00 | - | - | - | - |
| Anil Kumble | 3 | 2 | 0 | 10 | 8 | 5.00 | - | - | - | - |
| V V S Laxman | 2 | 2 | 0 | 48 | 30 | 24.00 | - | - | 3 | - |
| Mithun Manhas | 1 | 1 | 0 | 38 | 38 | 38.00 | - | - | - | - |
| Amit Mishra | 1 | 1 | 0 | 0 | 0 | 0.00 | - | - | - | - |
| Mohammad Kaif | 3 | 3 | 0 | 77 | 38 | 25.66 | - | - | 2 | - |
| Dinesh Mongia | 3 | 2 | 0 | 125 | 121 | 62.50 | 1 | - | 1 | - |
| V S Thilak Naidu | 3 | 2 | 1 | 48 | 47* | 48.00 | - | - | 1 | 3 |
| Satyajit Parab | 1 | 1 | 0 | 41 | 41 | 41.00 | - | - | - | - |
| Parthiv Patel A | 2 | 2 | 0 | 30 | 30 | 15.00 | - | - | - | - |
| Irfan Pathan Jr | 3 | 2 | 2 | 7 | 7* | - | - | - | 1 | - |
| Ramesh Powar | 3 | 3 | 1 | 19 | 10 | 9.50 | - | - | - | - |
| Ajay Ratra | 3 | 2 | 0 | 1 | 1 | 0.50 | - | - | 1 | 1 |
| Ambati T Rayudu | 2 | 2 | 0 | 6 | 4 | 3.00 | - | - | 1 | - |
| Aavishkar Salvi | 3 | 1 | 0 | 0 | 0 | 0.00 | - | - | 1 | - |
| Harbhajan Singh | 1 | 1 | 0 | 14 | 14 | 14.00 | - | - | 1 | - |
| Sarandeep Singh | 3 | 1 | 0 | 11 | 11 | 11.00 | - | - | 2 | - |
| Yuvraj Singh | 3 | 3 | 1 | 188 | 111* | 94.00 | 1 | - | 1 | - |
| Reetinder Sodhi | 2 | 2 | 1 | 65 | 51 | 65.00 | - | 1 | - | - |
| S Sriram | 3 | 3 | 0 | 176 | 77 | 58.66 | - | 2 | - | - |
| Sachin Tendulkar | 3 | 3 | 0 | 155 | 88 | 51.66 | - | 1 | 1 | - |
| Siddharth Trivedi | 1 | 0 | 0 | 0 | 0 | - | - | - | - | - |
| Vijay Bharadwaj | 3 | 2 | 1 | 43 | 41* | 43.00 | - | - | - | - |
| Wasim Jaffer | 2 | 2 | 0 | 27 | 16 | 13.50 | - | - | - | - |
| Jai Prakash Yadav | 3 | 2 | 1 | 39 | 23 | 39.00 | - | - | 2 | - |
| Zaheer Khan | 2 | 1 | 1 | 1 | 1* | - | - | - | - | - |
Bowling statistics

| | | | | | | | | |
| --- | --- | --- | --- | --- | --- | --- | --- | --- |
| Name | O | M | R | W | Avg | Best | 5w | Econ |
| Ajit B Agarkar | 18 | 1 | 98 | 1 | 98.00 | 1-34 | - | 5.44 |
| Sairaj Bahutule | 21.2 | 0 | 128 | 4 | 32.00 | 2-28 | - | 6.00 |
| L Balaji | 20 | 0 | 126 | 7 | 18.00 | 5-50 | 1 | 6.30 |
| Sanjay B Bangar | 13.5 | 0 | 77 | 0 | - | - | - | 5.56 |
| Amit Bhandari | 23 | 1 | 144 | 4 | 36.00 | 2-48 | - | 6.26 |
| Sourav Ganguly | 6 | 0 | 33 | 0 | - | - | - | 5.50 |
| Rohan Gavaskar | 2 | 0 | 12 | 0 | - | - | - | 6.00 |
| Murali Karthik | 18 | 0 | 84 | 1 | 84.00 | 1-47 | - | 4.66 |
| Anil Kumble | 28 | 1 | 170 | 6 | 28.33 | 3-56 | - | 6.07 |
| Mithun Manhas | 4 | 0 | 29 | 0 | - | - | - | 7.25 |
| Amit Mishra | 7 | 0 | 51 | 0 | - | - | - | 7.28 |
| Dinesh Mongia | 23 | 0 | 114 | 7 | 16.28 | 4-31 | - | 4.95 |
| Irfan Pathan Jr | 27 | 3 | 158 | 2 | 79.00 | 1-44 | - | 5.85 |
| Ramesh Powar | 25.1 | 0 | 136 | 3 | 45.33 | 3-29 | - | 5.40 |
| Ambati T Rayudu | 3 | 0 | 27 | 1 | 27.00 | 1-27 | - | 9.00 |
| Aavishkar Salvi | 29 | 0 | 158 | 3 | 52.66 | 2-49 | - | 5.44 |
| Harbhajan Singh | 10 | 1 | 47 | 1 | 47.00 | 1-47 | - | 4.70 |
| Sarandeep Singh | 21 | 0 | 133 | 3 | 44.33 | 1-41 | - | 6.33 |
| Reetinder Sodhi | 7 | 0 | 47 | 0 | - | - | - | 6.71 |
| S Sriram | 4 | 0 | 26 | 0 | - | - | - | 6.50 |
| Sachin Tendulkar | 22 | 0 | 96 | 2 | 48.00 | 1-22 | - | 4.36 |
| Siddharth Trivedi | 4 | 0 | 34 | 1 | 34.00 | 1-34 | - | 8.50 |
| Vijay Bharadwaj | 5 | 0 | 36 | 0 | - | - | - | 7.20 |
| Jai Prakash Yadav | 20 | 2 | 107 | 3 | 35.66 | 1-27 | - | 5.35 |
| Zaheer Khan | 15.1 | 0 | 96 | 1 | 96.00 | 1-26 | - | 6.32 |


What do you think about the story?








Read what others have to say:





Number of User Comments: 3








Sub: Very Poor

Why dont they select hemand badani for upcoming match. This is not a good selection. They prooved once again that their selection is not in ...


Posted by gibbslakers









Sub: s.sriram not selected

on the selection of rest of india team i suggest sridharan sriram as best compared to rohan .he is well experienced and consistent domestic record. ...


Posted by lajeesh









Sub: Challenger series-Cricket

Why Rohan Gavaskar was preferred ahed of S Sriram for Rest of India team


Posted by C.G.Ramaswamy






Disclaimer