Home > Cricket > PTI > Report


Time to adopt a path of honour in cricket: Tony Greig

September 14, 2003 19:50 IST



Former England captain Tony Greig believes the game desperately needs cricketers who can adopt the 'path of honour' and be honest to themselves as well as the sport.

"I think there comes a time in the evolution of the game where you need to change the directions a little bit. I think that time is now. If cricket wanted to look at anything as an example, golf is good example... it's the honour aspect," he said in Bangalore on Sunday.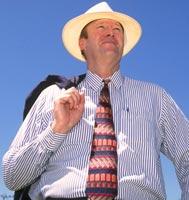 On a visit to Bangalore to take part in the McDowell's Signature Celebrity Golf, the ace commentator said golf is a game of honour. "If one pushes the ball [in golf], one gets rubbed off [the tournament]", he pointed out.
Stressing that cricket could take a cue from golf, he said cricketers should be honest enough and walk off if they feel they are out.
"What's wrong in walking [back to the pavilion]? If you are out, you are out... why make it harder for the umpire... there lies an opportunity for the game to take a cue from golf," he said.
Greig, who first came to India in 1968, said he has been enjoying his visits since then and added: "I always think India is the headquarters of cricket.
"Slowly but surely, India is becoming headquarters in more than the enthusiastic sense... in terms of the finances of the game as well. I suppose the whole thing is based on the love that Indians have for this game."
While "I have never lived in the shoes of Sachin Tendulkar", the master blaster continues to attract adulation in places like Austraia and England, he added.
On the upcoming series between India and New Zealand, he said Sourav Ganguly and his men are hard to beat at home. Tendulkar, Ganguly, V V S Laxman and Rahul Dravid are "very, very good batsmen", he said, adding  "I do not see the New Zealand bowlers dominating".
However, he cautioned that the Kiwis should not be underestimated. He said New Zealanders are fighters and always work hard; they play according to a match plan and face problems when it goes wrong.
Greig said he played two Tests at Eden Gardens in Kolkata and could never forget the experience of playing before massive crowds.
When asked which team he roots for, considering he was born in South Africa, was captain of the England cricket team and is now an Australian citizen, he replied: "I am a world person. As years go by, it [supporting a particular national cricket team] becomes less and less important for me."
But he added that as far as rugby is concerned, he supports the Australian team.
© Copyright 2006 PTI. All rights reserved. Republication or redistribution of PTI content, including by framing or similar means, is expressly prohibited without the prior written consent.



What do you think about the story?








Read what others have to say:





Number of User Comments: 1








Sub: Greig's honor

Look who's talking about honor. Tony Greig did not walk on many an occasion when he got the benefit of the doubt(during the 70's as ...


Posted by Muralidhar Rao






Disclaimer