Home > Cricket > PTI > Report


Former India captain Ramchand dead

September 08, 2003 09:45 IST
Last Updated: September 08, 2003 17:12 IST



Former India cricket captain Gulabrai Sipahimalani Ramchand died of heart complications at the Hinduja Hospital, in Mumbai, on Sunday night.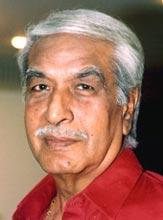 He was admitted to the hospital on September 1 and was said to be making steady progress, but was shifted to the Intensive Care Unit after his condition deteriorated on Sunday night.
Ramchand, under whose captaincy Indian registered its first Test victory, against Australia in the 1959-60 home series, was 76. He is survived by his wife, son and daughter.
He had suffered cardiac arrest in 1995 but recovered well to lead a normal life. He suffered a second stroke on August 4 this year and was admitted to the Hinduja hospital before being discharged on August 20.
On August 28 his condition worsened and was again admitted to the ICU of the same hospital but never recovered, his family said.
The funeral will be held on Tuesday after his daughter returns from the United States.
Ramchand, who made his Test debut in 1952 as an all-rounder, was part of the Indian team for the next eight years. Born in Sind, he was an aggressive batsman and a fine medium pacer.
His best moment in Test cricket was when he led India against a strong Australian team, captained by Richie Benaud, in the 1959-60 home series. Though the Aussies won 2-1, Ramchand earned praise for the way he led his team fron the front after everybody expected a 4-0 washout.
Ramchand, who retired as a station manager from Air India after serving for 26 years, played in 33 Test matches, scoring 1,180 runs at an average of 25.00, which also included two centuries, and took 41 wickets, his best being four for 49 off 28 overs against Pakistan at Karachi in 1954-55.
Among the two centuries he scored, the knock to be remembered is a fine 109 against the Aussies at Mumbai in 1956, when he faced the likes of Richie Benaud, Allan Davidson and Ray Lindwall with guts and determination.
Ramchand, who played for the country from 1952 to 1960, had a very good first class record playing for Mumbai. In Ranji Trophy alone he scored 2,569 runs at an average of 75.55 which also included 10 centuries.
He was also very popular among the younger generation cricketers and was the manager of the 1975 inaugural World Cup Indian team.
His first overseas tour was to the West Indies, in 1952-53, under the captaincy of Vijay Hazare. He also toured Pakistan in 1954-55 for a five-Test series and Ceylon (now Sri Lanka) for a two-Test (unofficial) series in 1956-57.
© Copyright 2005 PTI. All rights reserved. Republication or redistribution of PTI content, including by framing or similar means, is expressly prohibited without the prior written consent.



What do you think about the story?








Read what others have to say:





Number of User Comments: 1








Sub: Comment about the Ramchand article

This is a very good coverage of his career. After reading this only i came to know who was the fisrt Indian captain who led ...


Posted by Anil kumar






Disclaimer