Home > Cricket > Interview


The Rediff Cricket Interview / Sandy Gordon

Faisal Shariff | July 01, 2003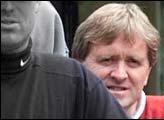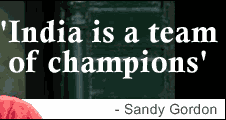 Psychologist Dr Sandy Gordon was the most talked about member of the Indian contingent during the World Cup in South Africa. Every Indian player spoke about the sessions they had with him. Yuvraj Singh got over his disappointment of not scoring a hundred after Gordon pointed out that finishing games was more important for a number six batsman; Parthiv Patel and Sanjay Bangar, who didn't play a single game, were taught the importance of achieving individual goals through team goals.
During the 1999 World Cup final between Pakistan and Australia at Lord's, when Saeed Anwar asked for his handle rubber to be replaced, Gordon, watching the match from the pavilion, told Aussie manager Steve Bernard, who was sitting next to him, that Anwar shouldn't be distracting himself. And true to his prediction, almost immediately, the Pakistan opener, his concentration diluted, was dismissed.
Gordon was in Chennai during the weekend attending the coaches seminar, organised by the MRF Bowling Academy, and was delighted by the presence of Indian legends. Their good humour, he felt, helped in getting their messages across.
"I didn't have to make a case for the importance of mental toughness," he said, when talking about the coaches who attended the camp.
"They are very knowledgeable and interested in knowing more. They have passion and are very enthusiastic about the game. They are ready for information and it looks good for all levels of coaching in India. The expertise and the standard of questioning indicated maturity."
Mental toughness is a term with an Australian copyright. What makes an Australian cricketer so tough?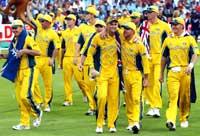 "The [Australian] players have come through a domestic program that is second to none. The players who played in the Sheffield Shield earlier and now the Pura Cup (Australia's premier domestic tournament) have learnt lot of mental skills. When I joined the team I was pleasantly surprised to find that they only needed fine-tuning. The domestic structure of Australia is producing tough cricketers; that is the key to Australia's success right now. It comes from a very healthy infrastructure."
Gordon had worked with the Australian World Cup team of 1999 and the Indian outfit that reached the final of the 2003 edition of the tournament.
Drawing comparisons between the two sides that started the tournament poorly, Gordon said: "The circumstances were similar and so was the approach. Both teams set out to execute team plans and individual game plans. John Wright did a wonderful job along with senior players in cementing a game plan for each team. It didn't result in perfect performance, but perfect preparation. That is what consistent teams do consistently.
"The players made it easy for me. I am a good listener and probe questions, which elicit responses that I am looking for. I found the players very interested. They acknowledged that this part of training had been underdone among Indian players earlier. When you have players who readily acknowledge this it becomes easy for me."
He added that the players themselves acknowledged that other international teams perceived them as weak.
"I don't have a barometer whether they are right or wrong. The players believed themselves that that was an area they could improve on."
The poor performance of the Indian team overseas has been a sore issue for years and Gordon reiterates the importance of a sound domestic structure to counter that deficiency.
"The standard of domestic cricket gives the resilience, perseverance and the courage to compete. The intense competitive environment that the Aussies come out off makes them well-equipped to take on international teams.
"I don't say that Ranji teams or Indians aren't competitive or not suited to produce mental toughness. I might be off base, but I don't buy that environment is the reason. It sounds like an excuse to me; that is an excuse to me."
The Board of Control for Cricket in India has assigned Gordon the task of researching extensively on the levels of India's mental toughness.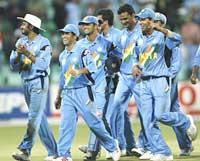 "It is such a mental game. 96 per cent of the time cricketers are thinking. The remaining four per cent of the time they are in touch with the ball or other fielding activities. When you ask coaches how much of the game is mental, they reply 80 to 90 per cent. Then when you ask them how much time they devote to it there is an embarrassed silence.
"Mental demands and what's happening in training should be similar to increase performance levels," he says, before finally defining a champion.
"It is a combination of talent, work ethic, willingness to prepare and practice in much game-like situations. The ability to understand the body only works if it is physically fueled well. Emotional intelligence is a must. Mentally tough people have unshakable self-belief, a drive to get better; an ability to come back from failure and thrive on pressure; an ability to focus on the right thing at the right time and not be distracted by other things.
"The beauty of it all is that it is untrainable. Natural talent is not enough. Plenty of work beyond natural talent is what makes a champion."
So, does the Indian team have any champions?
"Of course, they are a team of champions!"
Could he point out three changes the Indian team has undergone after sessions with him?
"Passion and intensity through the game;
"A competitive, unshakable self belief in individual and team;
"Sense of encouragement and fun when they huddle together... body language."
More Interviews


What do you think about the story?








Read what others have to say:





Number of User Comments: 4








Sub: India Team of Champions

Played Baseball and Basketball in Los Angeles from High School, District and College and message you always get from coaches was: "It not over till ...


Posted by Ashvin Oza









Sub: Typo in the article....Pak and AUs were in 99 finals not Eng

Typo in the article....Pak and Aus were in 99 finals not Eng..as mentioned in the article...in the begenning


Posted by eashwar









Sub: ho-hum! another one.........?

Dear whoever-reads-this, Whats with this series of inane articles on cricket?Quickly cooked up in order to wean the reader away from possible viewing of tennis ...


Posted by Chatur Chaman Chooran









Sub: It is the system

The domestic cricket system in India for the last 15 years does not make it conducive for players representing the country. It would be really ...


Posted by Vijay






Disclaimer