The Tendulkar master class
Faisal Shariff
As the Indian team was being put through the grind by John Wright on the lush outfield of Bangalore's Chinnaswamy Stadium, there was another bunch of lads practising behind that stadium.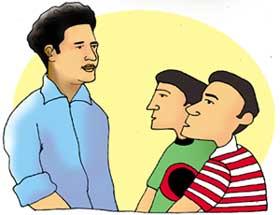 The Indians under Wright were preparing for the immediate future and the tour of Zimbabwe now imminent. The ones behind the stadium were preparing for the long distance future, for the day they themselves would don the India cap.
And perhaps because it was their future they were preparing for, the second bunch, the one outside the stadium proper, were practising far harder than any Indian team I have ever seen.
The time I spent at the National Cricket Academy proved to be a revelation -- but more on that in a diary next week. For now, I'll stick with one incident that deserves mention.
As I wandered around the Academy premises -- and very tastefully done up it is, too, with top-quality infrastructure and a state-of-the-art gymnasium -- I spotted Sachin Tendulkar working out on the treadmill.
Shortly thereafter, the little master emerged from the gym, and entered the academy practise area. And a strange kind of buzz went up, a muted sort of activity. Everyone knew he had arrived, everyone had eyes only for him, yet no one ventured up to him, or even close.
It was coach Balwinder Singh Sandhu who finally breached that invisible wall. Walking up to Sachin, Sandhu -- who has, during his stint as Mumbai's Ranji coach earlier, been responsible for Sachin as well -- requested him to talk to the youngsters.
"Of course!," Sachin responded. "Just give me ten minutes."
You associate Sachin with many qualities. Not just on the field but off it as well. But oratory is not one of them. During a very extensive interview I did with him a while ago, I found that when you ask him a question, he will respond, thoughtfully and precisely and, when needed, at length, getting his point of view across very clearly. But if you put him on a stage and say, talk, Sachin is revealed at somewhat of a disadvantage.
This session, therefore, was a revelation for me. Sachin strolled back in ten minutes later, sat down on a training school, looked around the arc of young hopefuls surrounding him, and spoke. And how he spoke! Extempore, from the heart, every word filled with his love, passion, for the game.
"Hi guys," he stuttered initially, "I hope what I tell you all makes a difference to you."
And then he eased into the subject of cricket. The stutter vanished, the voice strengthened, and so did the spell he cast.
"The mind is very powerful," he declared.
"I want to tell you that when you play your cricket, play it to enjoy the game, not merely to achieve. It is important that you play not with your conscious, but with your subconscious mind. And when you reach the peak of your concentration, you will not even notice whether the bowler is at you from around the wicket or over the wicket. All you will see is the ball, and then your subconscious mind will do the rest."
There was a silence. Throughout that talk, that is how it went. He would say something. And then there would be a pause, while he collected his thoughts. No one moved, no one disturbed the silence.
"A good batsman is one who controls the pace of the game. He decides when to slow the game, when to speed it up. He basically lets the opposition know who is in-charge. He finds gaps which don't exist, he gets the opposition thinking."
Pause.
"I wasn't good at studies. And I knew the one way to stay away from books was to score runs; and I did that because at that age, I would do anything to get away from my books. But my father told me to be sincere in whatever I pursued. He told me that he wanted me to enjoy what I did, he told me that as long as I enjoyed whatever it was, he would gladly let me do it."
Pause.
"Don't let failures stop you. Only when you make mistakes will you learn. If you don't make mistakes, then you will not learn."
Pause.
"It is important that you focus on the big games. You must realize that you will have to prove your class against Pakistan, South Africa and Australia. These are the top teams in the world. And remember, they are not going to give you anything for free. Do whatever it takes to win. Aggression is important. Even I have screamed back at bowlers who have tried to unsettle me, but after a point of time, those 'f'-words don't help. It is your score, the runs and the way you got the opposition by the neck that will finally count."
Pause.
"Do you guys have any questions?" he asked.
And finally, the spell of silence was broken.
"How do you plan your innings?" asked one youngster.
"One thing to keep in mind when planning an innings is to be ready to improvise. Have a plan when you walk out, but remember that what you plan in the dressing room is different from what happens in the middle. Be ready to study the situation and adapt to it. I still get nervous, but I don't show it. Body language is very important. Even if you are not middling the ball well, don' t let the bowler know. Be in charge at all times. There have been times when I have realised that I need to bat time. If I think that the conditions are difficult, that batting at that time is difficult, then I will focus on survival. I will defend, I won't play any extravagant shots. I don't know if anyone noticed, but I changed my stance in the third Test against Australia, to adapt to the wicket.
"You need to read the wicket, you have to read what the conditions are, whether it is helping seam or spin. Prepare yourself before a game by visualizing the game. See yourself facing the bowlers. Visualize the strokes you will play if he bowls in a certain manner. And play by your instinct."
And Sachin left.
It was just ten minutes. And most of what he said would, as you read it here, strike you as pretty obvious.
But to understand what it meant, you had to have been there, to have seen those boys who collectively comprise the future of Indian cricket, and to see the expression on their faces.
It was Sachin Tendulkar talking to them, about something he does well. Something they, every single one of them, hope to do well.
And that, for them, made all the difference.