An encounter with Laloo Prasad Yadav
Prof Ratnakar Shetty, honorary joint secretary of the Mumbai Cricket Association and member of the BCCI's affiliation committee, recently called on president of the Bihar Cricket Association, Laloo Prasad. Yadav
I had heard a lot about Laloo Prasad Yadav, particularly the jokes about him on Shekhar Suman's 'Movers and Shakers'. I first encountered Laloo in Mumbai when he was attending the wedding of his friend's daughter, and he came across as a very energetic and smart man.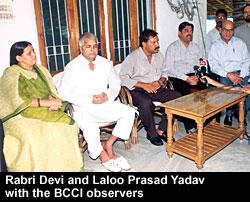 Former national selector Shivlal Yadav, BCCI executive secretary Sharad Diwadkar and I were excited at the opportunity to meet a political personality who is extremely popular in his own way. This was during our visit to Bihar, to inspect existing cricket infrastructure following the shift of the Bihar Cricket Asociation from Patna to Jamshedpur. It needs to be remembered that the shift was made necessary by the division of the state into Jharkhand and Bihar.
We met Laloo at his Patna residence, and I was impressed with his simple household. They call him the king of Bihar, but his house was very modest much the same as his attire.
We asked him to pose with a bat in his hand, as a photo-op. Laloo shot back, saying he was not fool enough to pose for a silly visual that would be beamed worldwide to show how cricket in run in Bihar.
Laloo then made clear that he was not interested in holding office as the BCA chief, and was initially reluctant to contest the election. However, he said, he was impressed by the support of people who argued that if Sharad Pawar could be president of the Mumbai Cricket Association and Chattisgarh Chief Minister Ajit Jogi could make a bid for a similar post in that state, then there was no reason why Laloo could not head the BCA.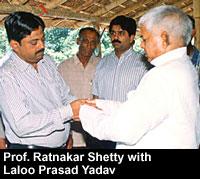 Making jokes about the fact that he was elected unopposed, he said that some newspapers might argue that his booth-capturing history might have frightened away other contestants. Laloo, we noticed, does not let any chance to take a dig at the media go unutilised.
Laloo said that his short term goal was to organise an India-Pakistan match, and said that he believed cricket was the only game that could bring people together.
We explained what the BCCI expected of him, and pointed out that the emphasis needed to be on raising the standards of cricket played across the country, and not merely on organising international fixtures.
Laloo agreed, and promised all co-operation with the board in this regard. He has already requested the Bihar government to help us in our junior cricket development programme. Improvements to the Moin-Ul-Haq stadium are also underway, under the aegis of government agencies and the PWD.
Laloo in fact has been very helpful when cricket matches were organised in his part of the world. I remember once, when Jamshedpur was hosting an international fixture and overnight rains made the outfield unfit for play, it was Laloo who summoned helicopters to hover over the ground and dry the outfield. He remained at the ground throughout the operation, and ensured that the ground became fit for play much quicker than it would otherwise have been.
Once we were done discussing cricket, Laloo insisted on showing us his hobbyhorse. He dragged us along to inspect his extensive cowsheds, and made us inspect his range of cows.
Chief Minister Rabri Devi also made an appearance, and told her that the government would cooperate with the board in every possible way.
I came away with the feeling that Laloo, despite his not having a cricketing background, will be good for the game in the region. More so as Bihar has long been a neglected area. Anyone who can help popularise the game, without playing political games, should be welcome. All said and done, I believe that for an association to progress it needs the help of the government agency and the local authorities.