< Main page | Chandrasekhar | Eknath Solkar | Dilip Sardesai | Ray Illingworth | Ajit Wadekar
'If I'd bowled Luckhurst earlier, we'd have won'
Then English skipper Ray Illingworth tells Shyam Bhatia
Former England cricket captain Ray Illingworth believes he could have won the 1971 Test series against India if he had deployed Brian Luckhurst instead of Derek Underwood against India's batsmen.
On the 30th anniversary of India's win against England the Yorkshire-born Illingworth, who now writes occasional sports columns, blamed the weather and a sluggish pitch for England's disastrous performance in the final Test.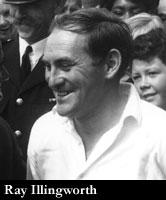 "It was a slow pitch and didn't suit Underwood," he said. "Luckhurst was a left hand spinner; I keep thinking if I'd just brought him in place of Derek Underwood, we'd have won the match."
Illingworth concedes that India had a huge advantage in leg-spinner Bhagwat Chandrashekhar. His success, says 'Illy', was all the more astonishing considering Chandra had to cope with a shorter left arm that had been affected in his youth by polio.
"Two of the wickets he got that day were very good caught and bowleds and when you've got a deformed arm like that, they were amazingly good catches," says the former England captain.
"You could describe him as a leg spinner but he probably bowled as many run-on balls and googlies as Shane Warne."
With the first two Tests of the series affected by the weather, the real drama, recalls Illy, was reserved for the third Test.
England had a lead of 100 in the first innings. Then Chandra started to weave his magic and the England batsmen collapsed.
"India wanted 170 or 180 to win," says Illingworth. "And they managed to reach home with 170 for seven or eight or something like that. It was a very good Test."


< Main page | Chandrasekhar | Eknath Solkar | Dilip Sardesai | Ray Illingworth | Ajit Wadekar