'… You may fault it for what it's not done.'
Srei Infrastructure's vice-chairman -- and former Assocham president -- Sunil Kanoria discusses the Kanoria businesses and his impression of the Modi government with Ishita Ayan Dutt and Namrata Acharya.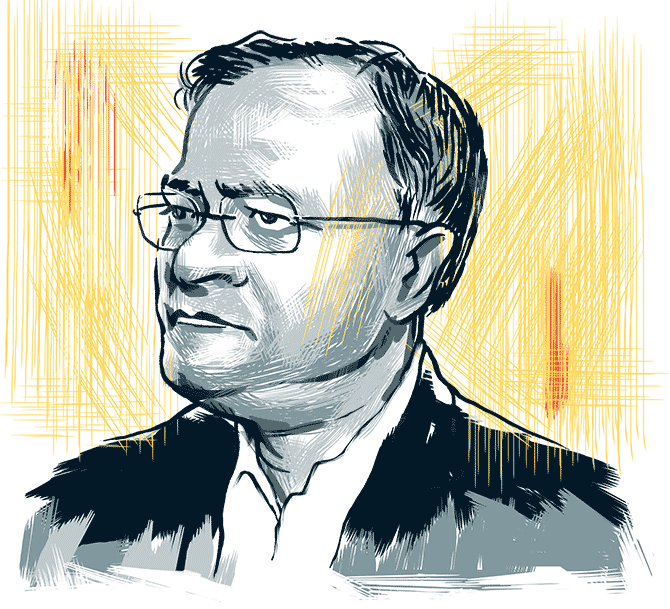 Illustration: Dominic Xavier/Rediff.com
Srei Infrastructure's vice-chairman Sunil Kanoria is known to be matter-of-fact, making him a rather difficult candidate for a luncheon interview. So, when he chose the staid and stately Belvedere Club at the Oberoi Grand in Kolkata as the venue to have lunch, it just gave credence to the belief.
Keen to be on time, we arrive a few minutes ahead of schedule and make ourselves comfortable on the leather couches at the Belvedere Club. Kanoria walks in and promptly apologises for the delay.
For the sweltering heat outside (the Yahoo! weather app reads 36ºCelsius, but it feels like 42ºC) Kanoria looks fashionably dressed. His navy blue bundy, light blue shirt and the grey-blue pocket square with paisley print -- the puff in the middle peeking from the bundy pocket -- are immaculate. Is that an Assocham (Associated Chambers of Commerce of India) hangover, we can't help but wonder.
Lunch is in the adjoining room; the chairs here are stark and matter-of-fact. Is that going to be the running theme, a random thought flashes through the mind.
We don't ask our guest about his attire, but steer the conversation towards Assocham.
Kanoria's term as the chamber's national president came to an end in February and it's quite clear that it's been a hectic but enjoyable stint that's taken a toll on the fitness buff's diet.
As the rather large menu cards (an imprint of five-star hotels) are placed before us -- we have a choice of Baan Thai and the newly-opened Threesixtythree that we were so looking forward to -- Kanoria announces, much to our disappointment, that he is on a diet.
"I have had to travel 22 days a month during my tenure as Assocham president, so I have had absolutely no control on my diet. But the last one month, I've been on a diet and it's working well," he says.
The satisfaction shows up on his face and it's not something we want to disturb.
So, it's mushroom, spinach and barley soup (85 calories) for him, followed by a quinoa and Darjeeling orange with pomegranate, baby spinach, pistachio salad with cider dressing (110 calories).
Guilt pangs strike and one of us orders the essence of Porcini Soup and the Ahi Tuna Salad (144 calories). The other succumbs to carbohydrates and orders Penne Pomodoro.
'When this government came to power, there were 125 toll roads stuck at different stages.
The projects were just not moving, either for want of land, or capital.
Today, only seven are stuck.
We were witness to it.'
With the oversized menu cards out of the way, we get back to Assocham.
It appears that the chamber has given Kanoria an insight into the workings of the government and to say that he has come out impressed, would definitely be putting it blandly.
"This government uses the chambers a lot for the policy advocacy part," he says.
But what about decision making, isn't it all centralised, we quip.
"When you have to make a dramatic change, you need to drive it from the top. You can't fault this government with what it's done, you may fault it with what it's not done," Kanoria says with a lot of passion.
Those are great quotes, but we need examples and we are obliged.
"If you see the road sector, when this government came to power, there were 125 toll roads stuck at different stages. The projects were just not moving, either for want of land, or capital. Today, only seven are stuck. We were witness to it because we had a huge exposure in terms of our customers. We, ourselves, had a project."
The Kanorias have a gamut of business interests today. From running family-owned flour mills once-upon-a-time, today they are a leading non-banking finance company (NBFC).
And if we look at the Kanoria Foundation, that's the holding company, the entire investments and assets under management would be to the tune of $10 billion.
Fortunately, the Kanorias, have more appetite for business than for food.
Srei's businesses, in particular, include equipment finance in which it has a 30 per cent market share, infrastructure project finance, advisory and development, and finally, it has equity investments across the infrastructure space. The big deal happened two years back when the group's telecom tower business, Viom Networks, was sold to American Tower Corporation.
The telecom tower venture was ahead of its times.
"The idea of telecom tower business was born in 2005 under Quippo Telecom; in 2009, it entered into a partnership with Tata Teleservices with the merger of their passive infrastructure businesses, creating Viom Networks."
"We had invested ₹3 crore then and we sold the business at an enterprise value of ₹22,000 crore," Kanoria says with some pride.
After all, Srei, along with other Kanoria block holders took home a neat ₹3,000 crore for their stake.
The next venture which promises to be unique, is already taking shape. It's iQuippo.
Kanoria thinks, it will 'Uberise' the construction equipment financing business.
"I will create the network. So, anyone can rent to anyone. Just like you book a car using the Uber network, you can book an equipment for usage, and decide on the tenure of usage. That is my future growth story."
But for an engrossing discussion, we would have surely noticed it's been more than an hour since we ordered our soup.
'Spirituality plays a big role, and spirituality has nothing to do with religion. It helps me not to discard people outright.
Even Valmiki was a crook.'
Being an NBFC, Srei doesn't have the trappings of a bank. So, in stressed assets, where banks have hit a dead end, Kanoria appears to be making some headway.
Hyderabad-based media firm, Deccan Chronicle Holdings, is one such. Srei has initiated the process of taking control of the company.
"Our objective is basically to realise our money. The company is in a mess, it has an outstanding debt of ₹3,800 crore and the business cannot support this kind of debt. We have been trying for the last two-three years, but did not get support from the public sector banks (PSBs). The problem is that there is no decision making in the PSB banking system," Kanoria laments.
That, probably, is a common complaint among corporates. And one of the few things that's binding a fragmented business community.
Kanoria's model is an inspiration from GE Capital. "They are a non-bank also. They would structure the deal in such a way that during challenging times they would take over the business, turn it around, brand it GE and then sell it. That way they would be able to protect their investment and get a better return."
NPA resolution is something everyone is talking but nothing much is happening, Kanoria sighs.
True -- everyone is talking. From the Finance Minister to SBI chairman. But is there really a remedy, we ask Kanoria.
"One of the best laws that India has come up with post-independence is the Insolvency and Bankruptcy Law. India will realise the value and importance of this law in the next couple of years.
"Through the Bankruptcy Code, banks can file the scheme with the insolvency practitioner. If 75 per cent lenders agree, the insolvency practitioner can file it with the court. Once, the case gets a court stamp, the fear is resolved.
"Globally, this is what happens. Companies like General Motors and United Airlines have gone through it. If the company has value, it will survive. A 'bad bank' is not required."
What's Kanoria's underlying philosophy when dealing with stressed assets?
He believes that inherently a businessman is not a crook. That's his value system speaking.
"Spirituality plays a big role and spirituality has nothing to do with religion. It helps me not to discard people outright. Even Valmiki was a crook."
We sincerely hope Kanoria will not be trolled for saying that.
We give dessert a miss and order a quick coffee that, thankfully, is more prompt than the food. It's a double expresso for Kanoria and Americano for us.
After a more than two-and-a-half-hour lunch, he still looks at us expecting another round of questions. But there is work waiting for us in office and we take leave before our curiosity quotient is challenged further.