Theresa May's visit to a Bengaluru aerospace systems supplier is seen as the UK's strategy to pursue new defence deals.
Raghu Krishnan/Business Standard reports.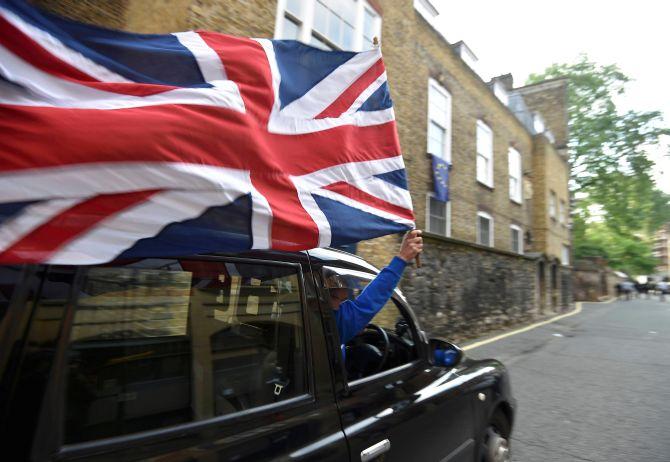 In a rare departure from precedent, visiting British Prime Minister Theresa May will skip Bengaluru's famous software companies.
She will, instead, visit Dynamatics Technologies -- an aerospace and hydraulic pumps manufacturer, which has three factories in the UK generating jobs there -- when she visits Bengaluru on Tuesday, November 8.
While Dynamatics, founded by Air Commodore Ravish Malhotra, doesn't have the brand name of an Infosys or a Wipro, the company is a respected supplier of systems for Boeing and Airbus, besides Hindustan Aeronautics.
It ranks among the world's largest suppliers of hydraulic pumps and also has built a model of generating local jobs in the UK, while offshoring work to India.
Over the past two decades, successive British PMs John Major, Tony Blair, Gordon Brown and David Cameron have made it a point to visit Infosys or Wipro campuses in Bengaluru and interact with young software engineers.
Blair became the first foreign country leader to start his visit outside Delhi from Bengaluru, during the peak of the India-Pakistan standoff in January 2002.
Other leaders have used the visit to software campuses in Bengaluru to boost their local image such as Japanese Prime Minister Yashiro Mori, whose ratings among young Japanese shored after he played golf in the mini golf course at Infosys.
For May, the trip is different. Her Conservative party government has already pledged to reduce migrants into the UK, a promise that helped Brexit happen.
So, her decision to skip software companies on November 8 in Bengaluru comes after her government moved to tighten visa rules, making it difficult for Indian information technology professionals to work in the UK.
The visa rules have set higher threshold for salaries and tougher language norms for family members of visa holders.
India's software sector, which is struggling for growth, is miffed.
The restrictions will further hurt the sector, which generates 20 per cent of the $108 billion software exports revenue from the UK.
Software lobby group Nasscom (National Association of Software and Services Companies) has already warned the move of restricting working professionals would backfire and restrict the growth and productivity of the economy of the UK.
"The broader sentiment is the move by the UK is not pro-outsourcing. It is very inward-looking and veering towards protectionism," says Sanchit Vir Gogia, chief analyst and chief executive officer, Greyhound Research.
May's visit to a local aerospace systems supplier is also seen as the UK's strategy to pursue new defence deals.
India, among the world's top importers of defence equipment, is already the biggest buyer of Hawk advanced jet trainers outside the UK.
"Defence is a strong area for the UK in India. That is an area they would pursue aggressively and May's visit aligns with their goals in defence," said an industry official, requesting not to be identified.
IMAGE: A London cabbie celebrates Brexit, the result of the EU referendum. Photograph: Toby Melville/Reuters