Old-timers say Jet boss Naresh Goyal, although still razor sharp, doesn't have the same energy he once did and this reflects in his 'baby', says Anjuli Bhargava.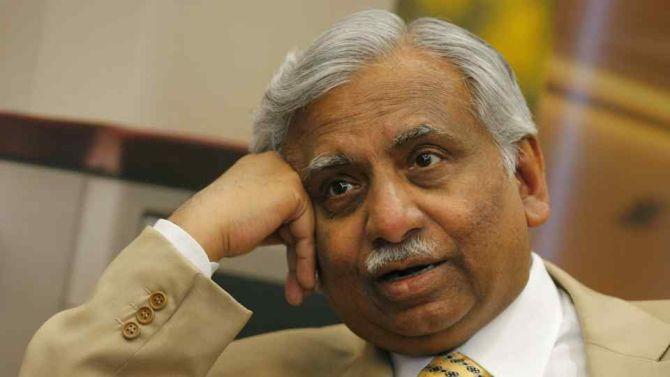 It's fair to say that there are two or three players in the Indian aviation space who remain quite a mystery to everyone in the sector.
To cite a few instances: What exactly does Go Air stand for and where is it headed? What is Air Asia India attempting to do?
Old-timers will remember the same question being asked about Sahara Airlines. It was never quite clear what it stood for.
Jet Airways -- which took to the skies in 1993 -- was the country's premier private airline.
Jet redefined service standards and showed people that flying could indeed be a pleasurable experience.
It came like a breath of fresh air for a country tired of the stodgy Indian Airlines and its public sector look and feel.
Jet added frequencies, smart aircraft and cabin crew, giving a new lease of life to aviation in India.
But today, as it celebrates its 25th anniversary, Jet Airways is floundering.
Old-timers say they find it hard to understand where the airline is headed, if at all it is headed anywhere.
It has lost its dominant position in the domestic skies.
The market share of Jet Airways and JetLite together has slipped from 21.7 per cent at the end of December 2014 to 17.8 per cent at the end of December 2017.
Yet, it cannot be described as having a clear and strong presence in the international movements in and out of India.
The airline looks tired and the service has lost its sheen.
On-time performance has taken a severe beating, falling below Air India's, which usually is at the bottom of the heap.
Jet's frequent flier programme -- which once read as the who's who of Indian industry -- is long forgotten by most, and finding a Jet frequent flier is now a challenge.
Pilots and cabin crew are often locked in battles with the management.
"Jet seems to be suffering from an identity crisis," says Shakti Lumba, an industry expert and former commander of Indian Airlines. Many in the aviation sector agree.
By all accounts, Jet's present state looks less than happy.
The last two to three years have been relatively calm for the industry, with the sharp drop in oil prices helping airlines world over make good money.
Jet, too, managed to turn the corner after years of making losses.
Yet its financial situation remains precarious. In March this year, the airline delayed payment of salaries.
"One would expect a listed company of Jet's size to have some back-up and a handle on finances for at least a three-month window," said an airline industry expert.
Company officials say that the airline is perpetually on a cost-cutting drive and yet the 'good days' never seem to arrive.
The airline responded by saying it did not wish to comment on why salaries were delayed and that the troubles were behind them.
Through 2017, Jet led the pack of laggards on on-time performance for eight months out of 12, with a third of its departures being late.
With its hub in Mumbai, Jet does take a larger proportion of the disruption caused by Mumbai's severe capacity constraints, but even taking that into account, the drop in on-time performance has been quite sharp.
In response, a spokesperson for the airline said they had taken "several measures to improve its performance at its hubs -- such as optimising aircraft rotations and streamlining internal processes, besides provisioning spare aircraft at Delhi and Mumbai, to overcome last minute challenges."
If flights are late, passengers say the airline has a tired look and feel about itself.
A senior aviation industry professional who was with Jet Airways in 1996 says that Naresh Goyal, the founder chairman of the airline, left no stone unturned in bringing the absolute best in the market.
"When everyone else had B737-200, Jet brought in 737-400s, the reservation system, the crew, the food, the livery -- everything was top notch."
Goyal, he says, tried to model the airline after Singapore Airlines and he succeeded.
There was a time when people used influence to get a seat on Jet's business class -- often a spot for heads of companies to meet others and even strike deals.
"That edge that Jet had in terms of a smart service seems to have gone," adds Lumba.
A second reason why frequent fliers are 'not so frequent' is that the airline is missing on many key routes.
The Delhi-Hyderabad route, for example, is underserved with only one flight a day.
"Even SpiceJet flies thrice a day and IndiGo has 11 flights a day, and I don't need to remind you who came into the market earlier," says a former Jet employee.
Jet is also absent from other routes like Kolkata-Bengaluru and Kolkata-Chennai.
Observers and commanders cannot understand the reason for what they see as Jet's withdrawal from many domestic sectors.
The airline, however, says it deploys its assets "wherever they yield a higher return on investment" and in a manner that enables it to synergise operations between its three domestic hubs and four global gateways to ensure seamless travel for its guests across the network.
Of late, the airline has been making a concerted effort to step up aircraft utilisation and that has led to its own set of problems.
Last year, the airline managed to upset its junior pilots by offering them a work-life option that sought to reduce the amount they were paid by reducing the number of hours flown.
Now, senior commanders and pilots say the airline's 'pairing optimiser', a new software to pair crew with aircraft, is creating mayhem with rosters and schedules, a charge the airline denies.
If the present is not so happy, the future too looks uncertain.
The relationship with Etihad Airways that bought a stake in the airline in 2013 has been through its own share of ups and downs, and the market buzz is that Etihad is looking to divest its stake in the carrier.
But perhaps the more serious question mark has arisen over the airline's future leadership.
The last four years have seen six CEOs come and go, with the current chief, Vinay Dube, taking charge in August last year.
Old timers argue that Goyal, 68, although still razor sharp, doesn't have the same energy he once did and this reflects in his 'baby'.
With the relationship with Etihad now on the brink, it is unclear who will steer the Jet ship forward.