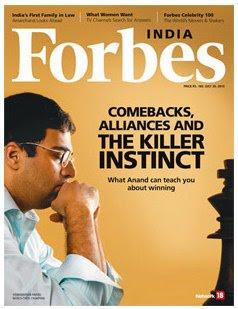 Why did four senior editors at Forbes India, run by the Rs 2,400-crore Network18 group, leave in the last week of May? Was it because of the hurry to rush into a digital future? Or was it because the owner of CNBC-TV18 and CNN-IBN among other channels was not willing to give employee stock ownership plans (ESOPs) to the Forbes edit team?
Going by chief operating officer Ajay Chacko's own admission, Forbes India is a success.
It sells a claimed 50,000 copies and made just over Rs 25 crore (Rs 250 million) in topline, within five years of launch. It is now on the verge of a breakeven on the Rs 30 odd crore invested in it since the American brand was brought into India in 2009.

In a market where 25-year-old business magazines are still under Rs 50 crore (Rs 500 million) and struggling to make money, this is good. "Forbes is a good brand and we have no intention of getting out of it," says Chacko.
Why then was the team that created this product asked to leave? Indrajit Gupta (the editor), Charles Assisi (managing editor), Shishir Prasad (executive editor) and Dinesh Krishnan (director, photography) were called into a room (on separate days) and asked to agree to a new deal and dispensation or just leave.
Gupta refused to resign because he wasn't allowed to discuss his severance package with a lawyer. His services were terminated. Prasad, Assisi and Krishnan resigned under duress.
There are two reasons being dished out. Gupta believes the edit team was forced out because it had become more vocal in demanding ESOPs that were expressly promised in their appointment letters in 2008.
Chacko's point, "When Digital18, the company that runs Forbes is still making losses how can you give stock options? Digital18 shares have a negative value," says he. Plus, says he, an ESOP has to have a liquidity event. This means a point of time when staffers could encash the shares.
Gupta says the liquidity event was the consolidation or merger of Digital18 into Network18 that happened some time after Forbes was launched. That is when the Forbes India team started asking for the commitments to be honoured.
After some denial, the company offered a substitute "dud ESOP scheme" with only 36 hours to accept it, says Gupta. When the team asked for more clarifications, the company chose to ignore it, he adds. A day later, the sackings took place. Chacko dismisses much of this. He points out that the total value of the payout would have been Rs 1.7 crore or so, not a very large figure for a company that size.
Chacko's puts it down to a "Clash of work styles." In March this year, R. Jagannathan, editor of Firstpost.com, was pushed up to the position of editor-in-chief of the combined web properties of the group.
The idea was to have as many journalists as possible in an integrated newsroom feeding into various digital brands such as Firstpost, Moneycontrol.com, IBNlive and Forbes India. This would cut costs and rationalise news gathering. Gupta and his team had a problem with that, says Chacko.
Gupta disagrees. "In the early stages, the Forbes India team contributed stories and blog posts to Firstpost. Once Forbes India gained traction, it was difficult for the same team of 40 odd people (including design, desk and photo) to manage the fortnightly Forbes India, its website and ForbesLife India, a quarterly lifestyle magazine.
Also, a common newsroom with Forbes and Firstpost posed its own integration challenges. Firstpost is about provocative, edgy armchair journalism. Forbes India is about in-depth analysis done by domain experts," says he.
For a long time, the management was simply not able to understand these differences in newsroom cultures, thinks Gupta. But he says that over time, the differences had narrowed and the synergies were finally beginning to come through.
At no point, says Gupta, was the question of any redundancies ever discussed or foreseen. BBC, Guardian, New York Times, almost every major media company is struggling with the whole 'integrated newsroom' concept. Except perhaps for CNN, nobody has mastered it.
This is because the skills needed to do generic, commodity news and those to do analysis are different. Are Gupta and the others causalities in an experiment that media companies are still struggling with? Or were they being punished for demanding their ESOPs.
As both the parties explore their options, wait for some more clarity on this one.