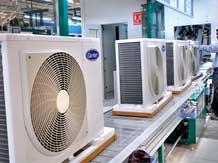 UTC India is playing up the umbrella brand of Carrier and OTIS to push integrated services.
When early in 2010 the diversified US manufacturer, United Technologies Corporation (UTC) set the ball rolling on its 'One UTC' strategy, it was more than just a corporate branding initiative.
Some of the brands of the Connecticut-based company such as Otis elevators (first installed in Raj Bhawan, Kolkata, in 1892), Carrier air conditioners (1934), Sikorsky helicopters (1954), Pratt & Whitney aircraft engines (Air India, 1960) have had a run in the Indian market for many decades.

"The idea was to create synergies between the business units. The output should be more than the sum of the parts to get synergies," says Zubin Irani, who took charge in 2010 of all the commercial companies as senior managing director. Till then, he was heading one of the group companies, Carrier India.
UTC opened its India headquarters in Delhi in June, 2010. The office was a hub for looking at ways each business unit could partner with the others, oversee a localisation drive in products and solutions, scout for merger and acquisitions (M&A), and work more closely with key customer accounts.
A corporate branding strategy followed, highlighting UTC as a collection of companies which have strong brand equities in their verticals. The outreach programme included a mix of out-of-home campaigns in key markets - Mumbai, Delhi, Bangalore, Hyderabad, Pune, Ahmedabad and Kolkata - and across the print media.
Cut to 2013: UTC's India business has raked in more than $1 billion (around Rs 5,500 crore) in 2012. This is a far cry from $500 million of business that the group companies had clocked in 2010 (around Rs 2,250 crore then). The target that UTC chairman and CEO Louis Chenevert has set for the India business is around $2.5 billion by 2015. And Irani says they are on course. "We have built a good platform over the last three years," he says.
Urbanisation powers UTC
With urbanisation gathering pace, studies show another 250-odd million people will move to cities by 2030, with 70-odd cities having a population of 1 million or more.

"That's a mega trend that we like in India," says Irani. That translates to the need for more hospitals, schools, living quarters, roads, airports and air travel. It bodes well for businesses that UTC is in: Elevators and escalators, air conditioners, heating systems, security and safety solutions, air travel, among others. Before 2010, these UTC businesses worked within their own silos. However, that has changed in the last three years with UTC's branding initiative.
Market research indicated that there were 40-50 key customers who drove 60-70 per cent of business for commercial equipment, be it air conditioners, heating systems, fire and safety systems or elevators.
"We focused on broadening the relationship with these customers and grow the business together," says Irani. Some key customers included construction and real estate majors like DLF and L&T.
As a result, many of its existing and new customers began to place orders for integrated building management systems that included climate control, fire and security solutions and elevator systems, involving more than one of UTC's many businesses.
For instance, an IT-park developer who had initially ordered for chillers, extended the contract to building control and security systems. Irani says, in 2013, key accounts have already contributed more than 75 per cent of what they had contributed in 2012.
Key functions get on board
The M&A team, too, worked to strengthen the integration of the various business offerings.

In 2011, UTC announced picking up a majority stake in two Chennai-based companies in the building management space, Sauter Race Technologiesm and Agnice Fire Protection. "We are now constantly looking for inorganic opportunities for growth," says Irani. The deals should complement project execution, access to customers and product solutions.
Perhaps one of the biggest benefits of the 'One UTC' strategy has been in the employer brand, improving the group's ability to attract and develop talent. At engineering and management campuses, UTC presents a common face for all the group companies. Fresh hires mandatorily spend time across all business units. Key talent move across business units creating a win-win for employees and the company, says Irani.
Challenges Ahead
As UTC gets ready to take its corporate branding to the next level through a digital multi-media campaign, India-specific website and on-ground events, brand experts point out that the biggest challenge is up ahead.

When building the brand equity of the mother brand, UTC India, care has to be taken not to dilute the brand traction of individual business units. Unlike GE India or Boeing India, where the mother brand becomes the calling card for various business, for UTC, it is the business unit brands that will continue to drive the business such as Carrier and OTIS.

Irani says, "Our business unit brands are strong, and will continue to be strong. The customer will see us as a collection of companies and UTC as an over-arching brand," he says.
M Unni Krishnan, global strategy director, Brand Finance India, an advisory firm, say "Brand UTC is an insurance policy for the synergy value of its group companies. However for drawing sustainable synergies from the product-brands, the mother brand has to create a unity of purpose for all the product-brands to flourish. This calls for leadership focus." India is the test-bed for assessing UTC's 'One UTC' slogan as it is among the first markets to witness the integration.