Unlike its competitors, RR's overarching presence in all key related goods and services that has potential to influence buying patterns is its biggest advantage, says Arnab Dutta.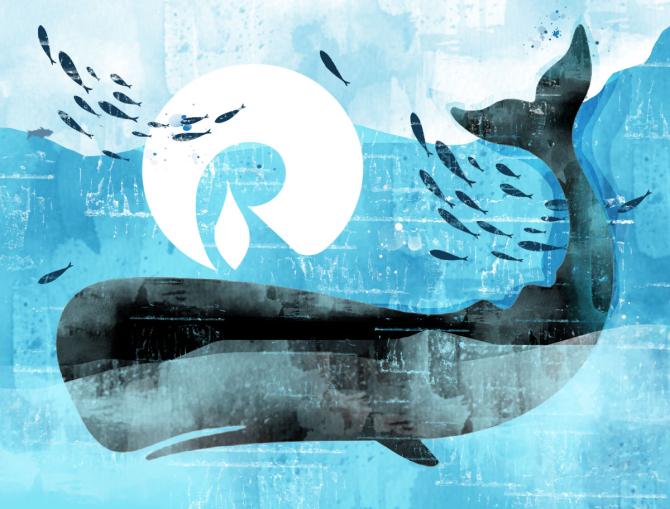 Even as regulatory focus has zeroed in on foreign e-commerce giant Amazon, a domestic retail giant has been created almost below the radar in Reliance Retail (RR), one of the most crucial businesses for the group's future.
From doorstep delivery of groceries, apparels to branded jewellery, medicines, toys, furniture to high street retailing, RR's presence in the world's fourth largest consumer market is just one part of the story.
What makes RR a unique venture in India is the recent moves it has made to create this retail empire.
Recently, for example, there was buzz around Reliance Group's plans to acquire Just Dial (JD) — one of the largest retail information firms with a massive presence among India's billion-odd consumers — for Rs 3,500 crore.
From offering locations and contact details of businesses and retail outlets, the online service plays a key role in influencing consumers for any such establishments through its ratings and suggestions.
According to analysts at Jefferies, JD had about 150 million unique average quarterly visitors in FY20.
Referring to JD's original business model of promoting businesses and brands against classifieds and Ambani's vision of bringing 10 million merchant partners under RR's fold by 2024, the analysts at the multinational investment and financial services firm listed out the bunch of successful dozen-odd acquisitions that RR has finalised in the recent past that have formed the basis of its stupendous rise.
Since the Covid-19 pandemic, the country's largest retailer has acquired a series of prominent firms in the retail space, such as NetMed and Urban Ladder, and has ventured into new territories such as convenience stores (7-Eleven) and premium retail chain formats (Jio World Drive), apart from steady expansion of its existing brands both in physical and online retail. To fuel its growth, for instance, RR raised Rs 47,265 crore in FY21.
The venture that now owns and/or operates over a dozen retail brands and well over 12,700 physical outlets, grew its store count by 123 during the peak of the second Covid-19 wave in the April-June quarter.
RR's management said the second wave of the pandemic impacted its operations, supply chain and mobility, but it was ready with over 700 new stores in the pipeline by the end of the various state-level lockdowns.
That, too, excluding the physical strength of once the largest modern chain in the country — Future Retail — which is locked in a contractual dispute with Amazon.
RR's operations are already by far the largest in the country. According to a report by Goldman Sachs, amid the pandemic-induced disruptions, RR added over 1,500 stores and sold 500,000 units per day.
Ajio, its flagship e-commerce platform for fashion and apparel, now has a total listing of 500,000 options and contributes to over 25 per cent of the apparel business revenues.
In consumer electronics, sales stood at 45 million units, with an omni-channel offering in over 1,300 cities through Reliance Digital.
In the country's nascent grocery e-delivery segment, it sold over a billion units through JioMart, with the online offering clocking 650,000 peak orders in a single day.
RR, which partners with 300,000 merchants across 150 cities, is set to become the latest player in grocery retail with at least 55 per cent market share by FY30, Goldman Sachs noted.
Prabhudas Lilladher estimates that Reliance Industries' net revenue will nearly double to Rs 476,533 crore by FY24 from Rs 245,667 crore in FY21, principally backed by superior growth by its retail arm.
In FY21, RR managed to grow its top-line marginally by 27 per cent in spite of the overall economic gloom.
At a time when market watchers, analysts and experts are bullish about RR's rapid growth over the next few years, what remains unsaid is the contrast with Amazon, which is owned by Jeff Bezos, Mukesh Ambani's largest competitor in the global arena of billionaires.
Amazon is focused on expanding its presence in the second most populous country through its e-commerce and web services ventures.
What positions RR at a vantage point is its all-encompassing presence in the fastest growing major consumer goods market in the world that is already the fourth largest after the US, China and Germany.
Unlike its competitors, RR's overarching presence in all key related goods and services that has potential to influence buying patterns is its biggest advantage.
From being a key player in telecom services to news, consumer insights, mobile handsets and in physical and online retail, it is present in all key aspects of people's daily lives.
"RIL, with its focused approach to buy niche players, will evolve into a one-stop-shop for customers.
"Furthermore, strategic partnership with global technology players like Facebook and Google will help garner a disproportionate share of customer's wallets, too," noted analyst Avishek Datta at Prabhudas Lilladher.