"If telecom changed the game for how business was done in India, then we need 20 more of those systemic game-changers to take us to the next level," Ronnie Screwvala tells Pavan Lall.
Illustration: Dominic Xavier/Rediff.com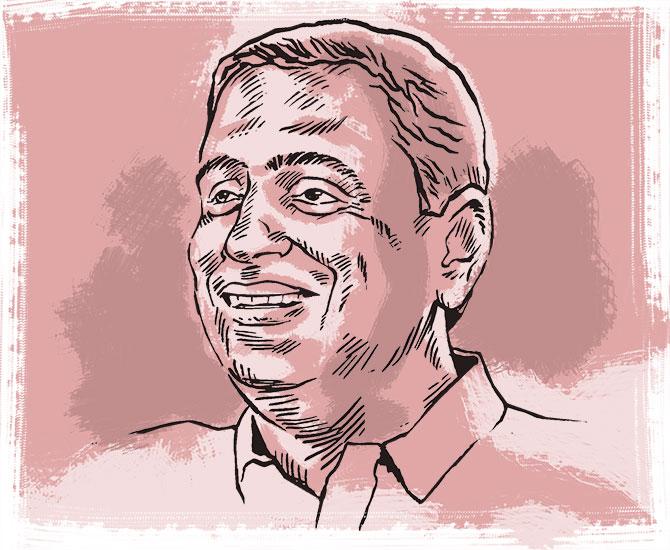 Seven years after he sold motion picture company UTV to Disney for $454 million, 63-year-old Ronnie Screwvala shows no sign of slowing down as he says he's only half-way to achieving what he set out to do.
I'm invited over for a Saturday lunch to Screwvala's home in Breach Candy in Mumbai, the city where he was born and raised.
I press the doorbell and it's opened a few seconds later by Screwvala himself who is dressed, as almost always, is in a premium-twill T-shirt and everyday slacks and leather slip-ons minus socks.
Inside his apartment that would seem massive even in Los Angeles, Screwvala, who has produced over 50 films including hits such as Jodha Akbar, A Wednesday, Chennai Express, Rang De Basanti and Barfi!, leads me into an alcove that doubles up as a dining area where a table for two has been laid out.
I'm guided to sit opposite the window and am arrested by the scenic horizon that features tranquil greenery and water as far as the eye can see.
By any standards, it's a knockout view.
Screwvala is easily the most successful entrepreneur the tightly-knit and insular film business in India has seen in the last decade or so and his success is all the more crucial given that he is a rank outsider.
"Happy in life, almost there?" I ask? "Those are two separate questions and well, yes happier with the mix in life in many ways," he concedes.
Has time mellowed Screwvala and his risk-taking ability? On the contrary, it's actually increased, I am told.
"After I sold UTV I did the whole PE investor thing for a while and ended up spending the weekends with wealth managers and realised very fast that this is not what I am going to do," he shares.
"One becomes an entrepreneur to break the glass ceiling and that's when you grow the market. Of course, in that process you have to be prepared to get hurt. You will get hurt. But I'm a doer and I like taking risks."
It's Parsi lunch for the day, I'm told.
I soon realise what that means -- multiple courses -- and plan for an extended jog the next day.
Our first course, a beetroot, orange and candied-walnut salad with mixed greens is served and we both dig in.
Born in a middle-class family, Screwvala's ascent is remarkable and leads him to explain how his father who recently passed away would chide him for not owning enough shares in listed companies.
"I chose to invest everything in my own private companies," he says.
He doesn't get into specifics, but shares how he held the loan record for a home and "borrowed all the way for his daughter's education".
His daughter Trishya attended Sevenoaks School (England), followed by the University of California, Los Angeles, and then the University of Southern California.
Screwvala now divides his time between four different ventures: UpGrad, which is an online educational start-up and the one he's most involved in; Unilazer Ventures, which serves as a holding and investment company for his other start-ups that include Lenskart, a bot company and more; U Mumba which funds and supports teams playing football, kabaddi, table tennis and other sports; and Swades a non-profit he runs along with wife Zarina Mehta.
Screwvala narrates an incident that happened when he was helping some lower income group people in metros move back to rural areas so that they could enjoy a better quality of life.
That was largely successful but sprung unexpected challenges.
One individual who had moved to Mumbai and put in charge of a fishing pond in the countryside.
Weeks later, Screwvala got a call saying that a crocodile had entered the pond and that person was scared for his life.
"We had to drain the pond to get the crocodile out, but the man made his way back to Mumbai never wanting to go back," he shrugs.
Course two is a Parsi breakfast classic -- tamata per eedu (fried eggs smothered in stewed spices and tomatoes) -- which can pass off easily as a Spanish starter.
Screwvala says he has invested around Rs 400 crore in his avatar as a private equity partner in ventures that range from pomegranate farms to online optometry.
He's invested another Rs 400 crore in his own ground-up businesses.
Once his non-compete clause with Disney expired, Screwvala wasted no time in resurrecting his film business through a firm called RSVP.
"It's just a coincidence that the initials expand into Ronnie Screwvala Productions -- we actually called it that because no one in the business does RSVP'."
Much has changed while Screwvala waited it out.
For one, Netflix, Amazon Prime, Hotstar are chasing market share even as big telcos watch from the sidelines.
Equally, growth in the entertainment and media sector has been challenged.
"The subscription model for OTT has yet to take off in India and media grows at just about 7% a year," he says.
That's at least partly why he will limit RSVP to around three or four films a year that he personally believes in and wants to do, and include the likes of the recently made Uri and The Sky is Pink.
We come face to face with our main course saas ni machhi, which is pomfret cooked Parsi style and doused in a mild sour sauce.
It comes accompanied with a dry khichdi-styled pilaf.
I grab what appears to be half of a perfectly cooked flaky fresh fish.
Screwvala helps himself and then insists I try it with the sauce.
He also insists I try the Parsi lagaan nu achaar (pickle served at Parsi weddings) with the khichdi.
I don't regret it.
Education is growing at double digits -- the reason he's putting his heft behind UpGrad.
Screwvala owns 75% of the venture.
Since inception, it has signed on 15,000 students who spend an average of Rs 2.8 lakh on various courses, and is clocking Rs 240 crore (Rs 2.4 billion) in annual revenue.
It is what Screwvala says will be his biggest play yet.
"If telecom changed the game for how business was done in India, then we need 20 more of those systemic game-changers to take us to the next level."
He counts education and tourism as examples.
Dessert comes in the form of a chocolate pie.
I can't resist asking what is the next big blockbuster to stay tuned for? It's a futuristic version of Ashwatthama, one of the most complex characters in the Mahabharata.