A combination of demonetisation, a poorly and hurriedly implemented GST, and more recently the "botched up" lockdown of the economy to control the spread of Covid has brought the economy to its knees.
Anjuli Bhargava chats with economist Kaushik Basu.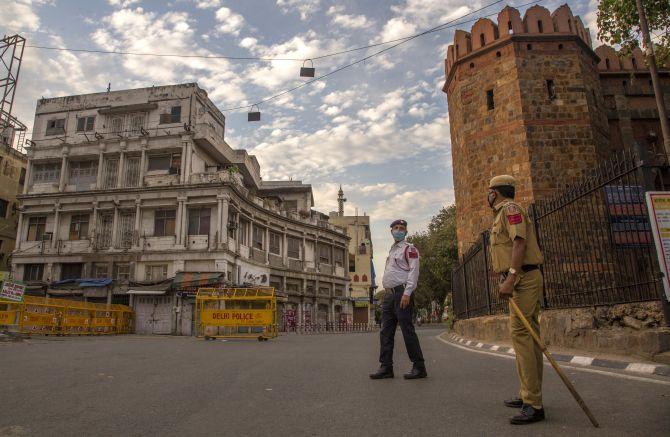 On June 23, 2012, soon after he decided to return to his academic life at Cornell University, I received a reply to my email asking the then chief economic advisor what finally sealed his decision.
"Diminishing marginal returns, I suppose," replied Kaushik Basu, who had for the first time donned a policy hat as opposed to his academic one at the behest of then prime minister Manmohan Singh, spending over two years in the role.
He and I had interacted closely during that period (2009-2012), and it was ironically Singh who had a hand in convincing Basu to take up his next assignment as the chief economist of the World Bank when the offer came just as he was winding up as CEA.
Singh pointed out that it would be the first time an Indian would be at the helm of economic affairs at the Bank and Basu was persuaded to delay his return to Cornell and his first love -- research -- even further.
Basu (in Cornell) and I (in Dehradun) have connected over Zoom for coffee in March, a few days after his now famous chat with Rahul Gandhi.
At the time, India has been through the first Covid wave, locked down its economy and suffering the consequences, but we are still unaware of what awaits us.
After finishing his bachelor in economics at St Stephen's College, Delhi, in 1972, Basu fell under the spell of economics, its power of logical deduction, Amartya Sen and his breathtaking insights, and love for pure economic theory -- almost like a composer does with music.
After his PhD in London, he spent 19 years teaching at the Delhi School of Economics and set up its Centre for Development Economics, but when Cornell offered him an opportunity to pursue his first love, unadulterated and unhindered, he grabbed the chance.
A call from the prime minister's office while on a vacation to India persuaded him to join the government as CEA and plunge headlong into the policy world, despite no experience of it.
Secular, non-partisan and with no defined political allegiances, Basu clarified that he could at best limit his contributions to pure economic logic, but Singh convinced him he wanted the best inputs to go into the country's economic policy-making.
Singh wasn't looking for 'yes men', but diverse opinions, the best ideas and thoughts that could converge to take India to its logical place in the world, he says.
His government stint was "phenomenal": He spent many pleasurable hours every few weeks discussing how to tame inflation or how best to design the 3G auction from an economic point of view with the PM who, he says, took a deep, abiding interest, always much more an "economist than a politician".
The time, however, wasn't without the usual share of controversy and frustrations.
The hierarchical structure of government and the bureaucrats' "set ways of doing things" led to a snail-like pace of change even when consensus was arrived at.
Add to this Basu's own proclivity to freely express his thoughts and you had all the makings of a mini-crisis: A paper he wrote as CEA suggesting a legal amendment for bribe givers and takers led to a furore and Basu had privately decided that if he was asked to remove the paper from the ministry's Web site, he would do so and then step down.
Although the PM and others did not "agree" with his views on the subject, Singh remained true to his word and nobody asked him to take his paper down -- evidence of the tolerance towards dissenting views at the time.
I pull him back to the present. How does he see the present dispensation dealing with some of what he's just mentioned? Dissent, self-criticism, intellectual openness?
Although the political ideology behind the ruling coalition is not something he is in sync with, he was hopeful that the new dispensation would administer better and many policy initiatives that appeared stuck would get a fillip, taking India's growth trajectory to another level.
It has reached a new level, yes, but quite opposite to the one he was hoping for.
India slipped from being in the top three fastest growing economies in 2009 to the top ten by 2016-2017 (at 7.1 per cent), but it is what has happened after that that leaves him both alarmed and puzzled.
A combination of demonetisation, a poorly and hurriedly implemented GST, and more recently the "botched up" lockdown of the economy to control the spread of Covid has brought the Indian economy to its knees in an unprecedented manner, he says.
Year 2016 acted as an inflexion point followed by four years of "step-down" in terms of growth, each successive year worse than the previous.
India has plummeted from its position of being in the top ten fastest growing economies in 2016 to 164th (2020 calendar year, according to StatisticsTimes) in the pecking order, a dramatic fall by any yardstick.
The extent of it has taken him by surprise despite our strong foundations and intellectual capital.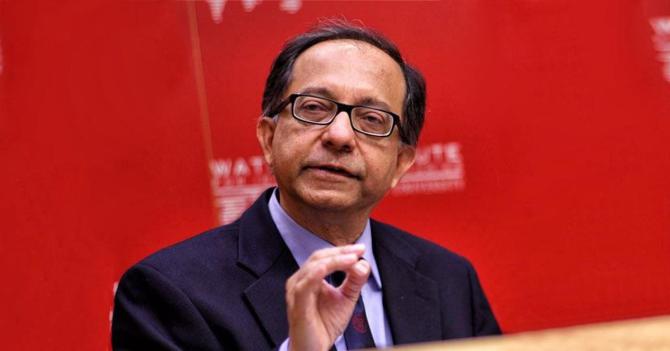 What explains India's sharp fall? Basu is deeply concerned that matters have gone beyond "pure economics" and "India is dispirited" like never before (this pre-second wave!).
The divisive environment, an intellectual vacuum and lack of collective unity he sees every time he visits is beginning to hurt and spread.
The polarisation that he first perceived as emanating from Delhi is now pervasive in Mumbai and Kolkata.
The economy, he argues, is not isolated from society; it is "embedded in the environment, political discourse and societal narrative".
When the society gets as polarised and distrustful as it has, it begins to hurt the economy in ways you can't easily discern, he says.
A space for new ideas is critical as is an appetite for self-criticism.
"If everyone you call in for expertise is supposed to give the same idea, the purpose is defeated," he points out.
He sounds far from convincing, but he tells me it's not all gloom and doom.
The 2021 Budget and steps announced in it, the insolvency and bankruptcy code -- "an excellent piece of legislation" -- and cutting down the cost of doing business in India are among some of the positives.
Moving ahead, he expects major shifts in the structuring of the global economy post-pandemic, trends India is well-placed to take full advantage of.
The information technology and outsourcing sector is going to take off globally like never before as we have had "one year of practice of the kind no one had anticipated".
Be it Webex meetings, Webinars and lectures on Zoom, there's a level of comfort with online technology like never before.
Whether the world likes it or not, competitive pressures will ensure that this segment grows and India, if able to reverse its regressive politics and with its first-mover advantage in this space, is well-poised to capitalise on this.
Second, as populations consume more health products seeking greater longevity, India, with its robust pharma industry, can hone in.
Last, he sees the arts -- be it literature, music or creative thinking -- fields where "computers and IT cannot easily replace human labour" -- flourishing.
India is critically placed to take advantage of these emerging economic trends, provided it "puts its own house in order".
A tall order, I think to myself, a very tall order.
A few days before this piece goes to press and after the second wave, we reconnect.
I sense a change in his mood. The secularist in him sounds more optimistic, saying he discerns a distinct change in the popular political opinion.
The India he envisions might just begin to resemble the one he left behind more closely.
Hope remains alive and eternal.